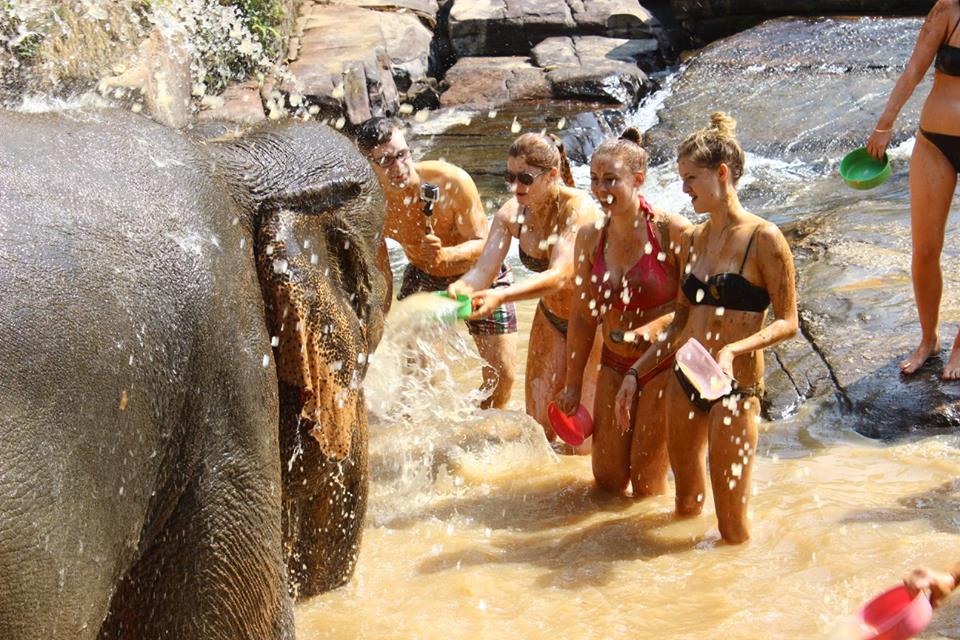 As my time in Thailand was coming to a close, I decided it was finally time to do the one thing I've always dreamed of: visiting an elephant sanctuary! I did a lot of research to make sure I was going to a quality sanctuary, and decided to book it for Valentine's day. Because why not treat myself to something special! It was one of the most expensive activities I booked during my trip to Asia (2,400 THB or around $69 USD), but it was SO worth every penny.
I don't want this post to be overly preachy but I do have something to say about the treatment of elephants in Asia and elephant tourism. Before I left for my trip, I was sitting at home one night around Christmas time and scanning the TV guide for something to watch. I found a program on Al Jazeera America regarding the treatment of elephants in Southeast Asia. I don't remember the name of the exact program, but a quick google search on the topic will give you hundreds of results on this topic I'm sure.
Here's a BBC article about the elephant trade and abuses in Southeast Asia
And here's one about elephant abuse in India
For this reason I was extremely excited to visit a sanctuary for abused circus and riding elephants. I booked my day trip through Elephant Jungle Sanctuary, which had tons of amazing reviews. While I did hear some stories about sanctuaries that only pretend to be sanctuaries, while continuing to abuse the animals and raking in money from tourists like me, I don't believe the Elephant Jungle Sanctuary was like that from what I saw. However, you never know what goes on behind closed doors.
I was picked up from my hostel early in the morning. I was expecting some type of little tour bus/van that are popular for day tours in Thailand. But what pulled up in front of the hostel was an old pickup truck. The bed of the truck had a little roof over the top and I could see a couple people sitting on benches in the back. As usual during my trip in Asia, despite my moment of terror, I went along with it anyway, crossing my fingers that this is normal. And, as usual, everything turned out fine. I met three lovely Canadian tourists in the back of the truck, before we went to pick up two English girls and an Australian couple. The group of us were all fairly close in age and got along famously during the long, bumpy ride into the mountains.
Once we finally reached our destination, we joined up with another pickup truck full of tourists for a quick trek down to the camp where we would meet the elephants!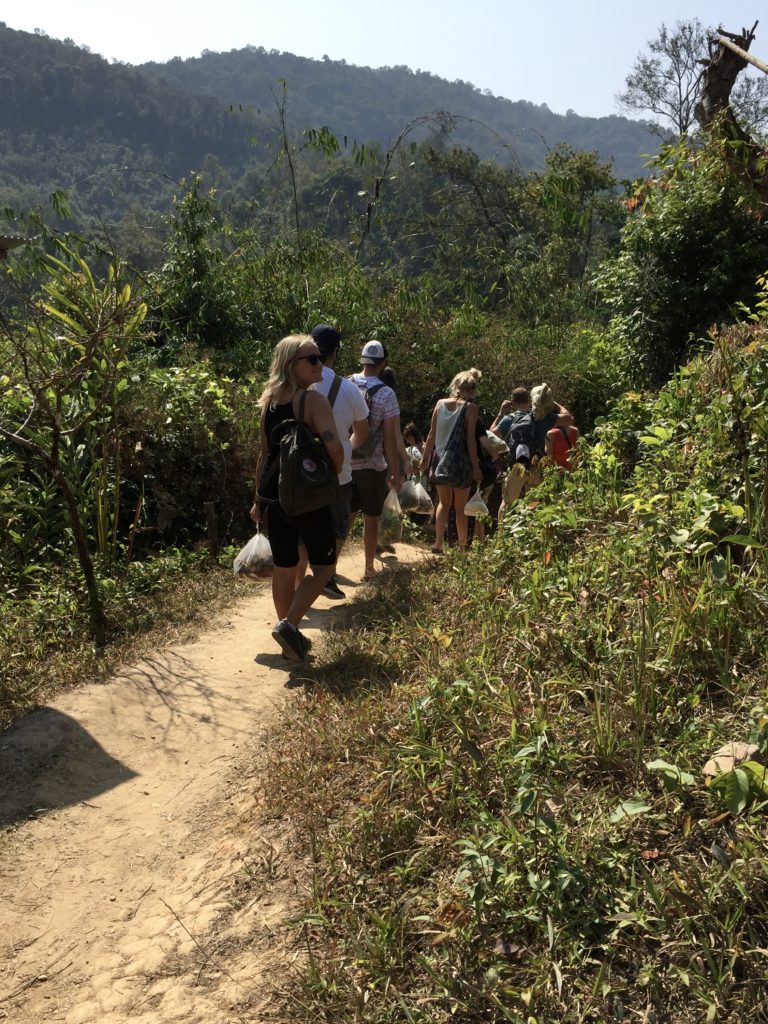 We reached the camp site, which had a few small wooden buildings and canopies where we would leave our belongings and where we would come back a little later to have a traditional lunch. The spot overlooked some dried-out rice terraces and a small river that flowed through some rocks and rapids, before letting out in a pool below us.

First we set off to meet the elephants and feed them some bananas! We were all given traditional shirts to wear for the day that were made by the Karen hill tribe, who run this particular camp. We also got little purses to keep as souvenirs 🙂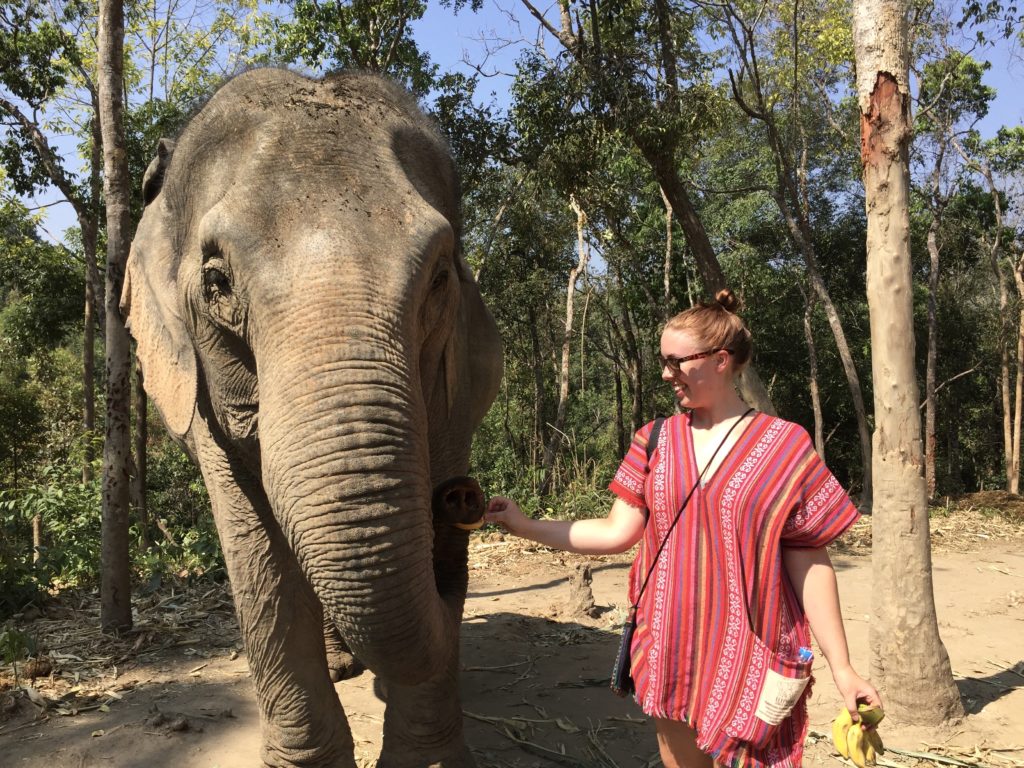 The elephants were as amazing as I'd hoped they'd be. One thing that struck me is that they moved faster than I'd imagined. And how big and powerful they are. That sounds obvious, but it wasn't until I was face to face that it really hit me. As much as I was in awe of them, I was also just a tiny bit afraid that I would get in an elephant's way and have one step on my foot and crush all my bones! Luckily that didn't happen. Here are some more photos because I just couldn't get enough: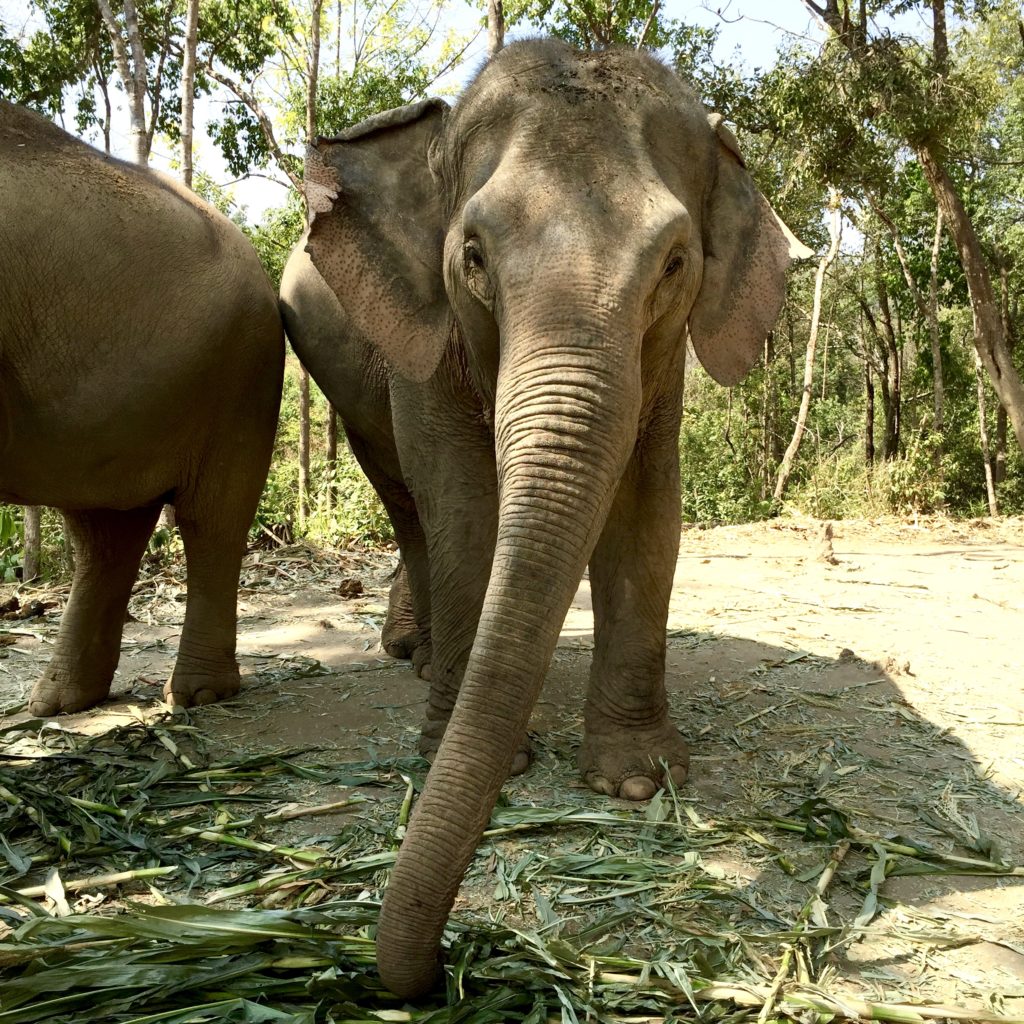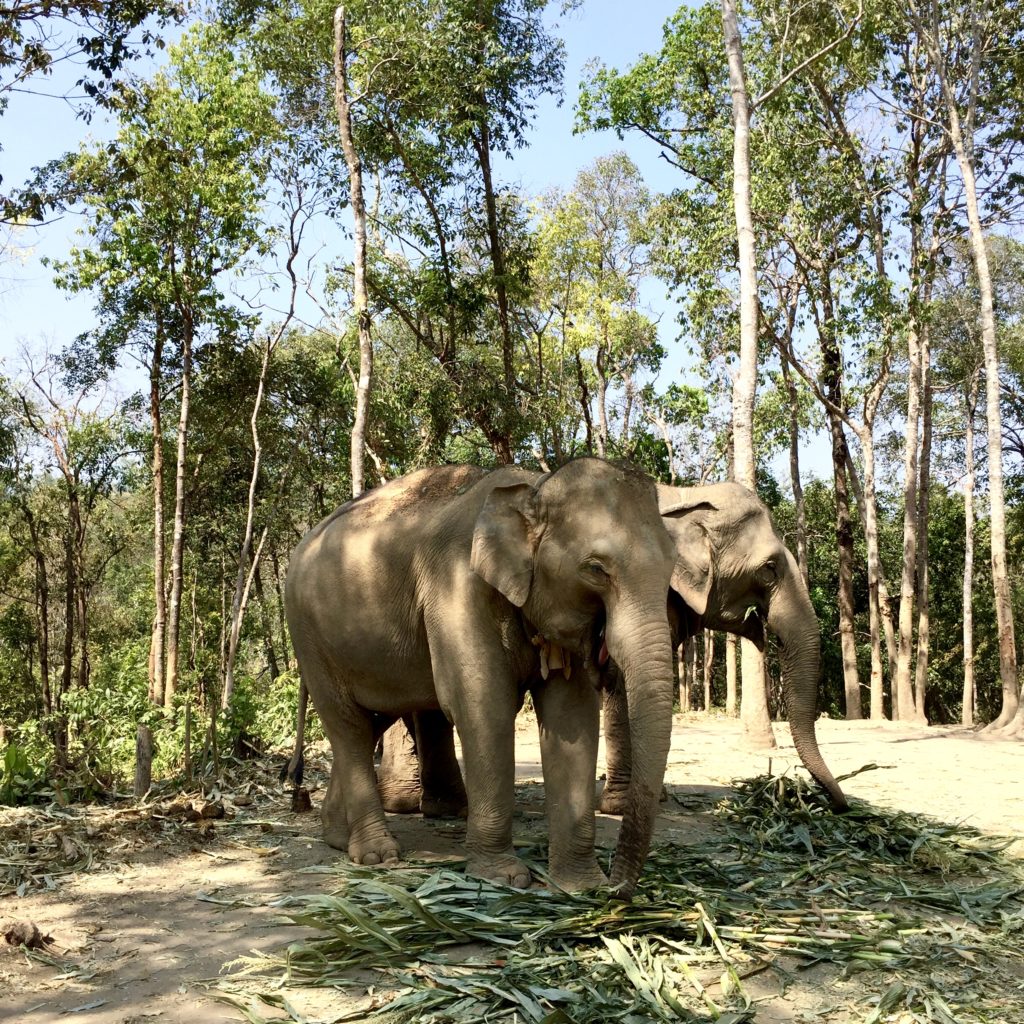 After we'd run out of bananas to give them and we had taken enough photos, we headed back to the camp for a delicious lunch. Then we changed into our bathing suits and were told to leave our cameras behind for the mud bath… things were about to get messy. Luckily the sanctuary provided a photographer to document the mud bath so we didn't have to ruin our cameras and phones!
I have no idea what exactly we were standing in and I'd rather not think about it. It was so slimy and slippery. The guys that worked at the sanctuary would go around and splash mud all over us if we weren't dirty enough, so there was no escaping it. We splashed mud all over the elephants to cool them off. As disgusting as it was, it was a pretty good time!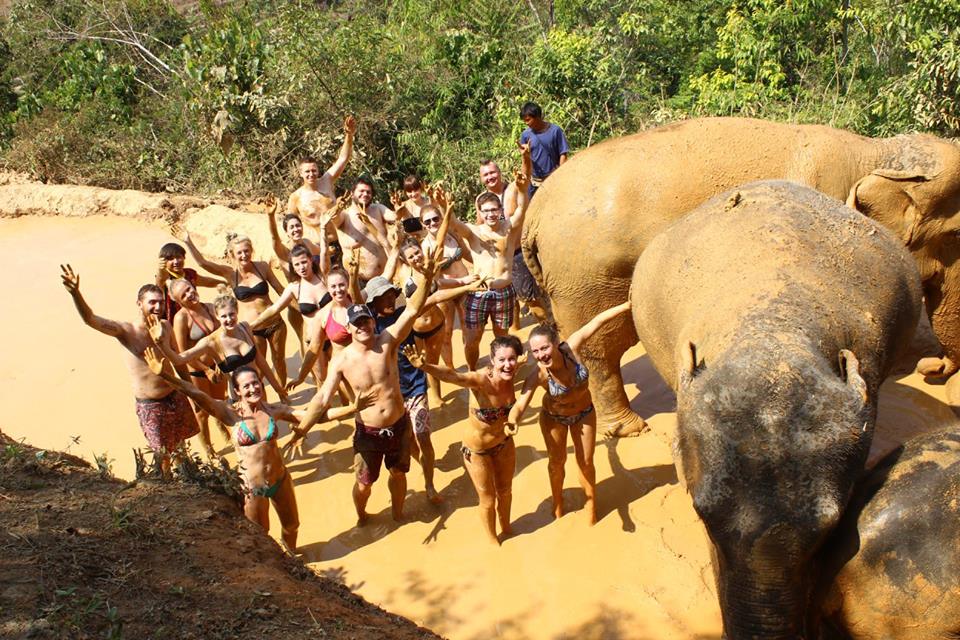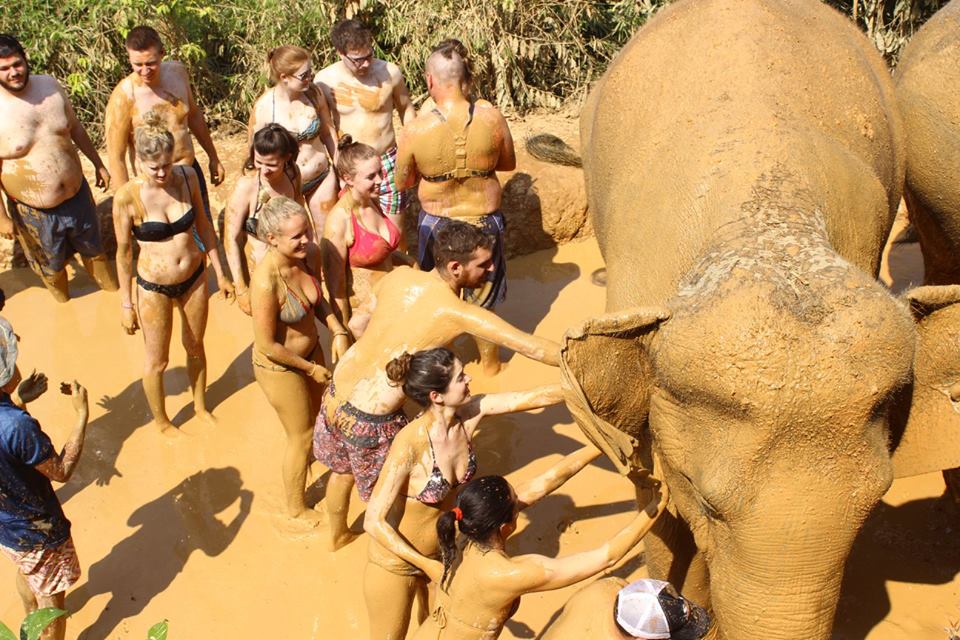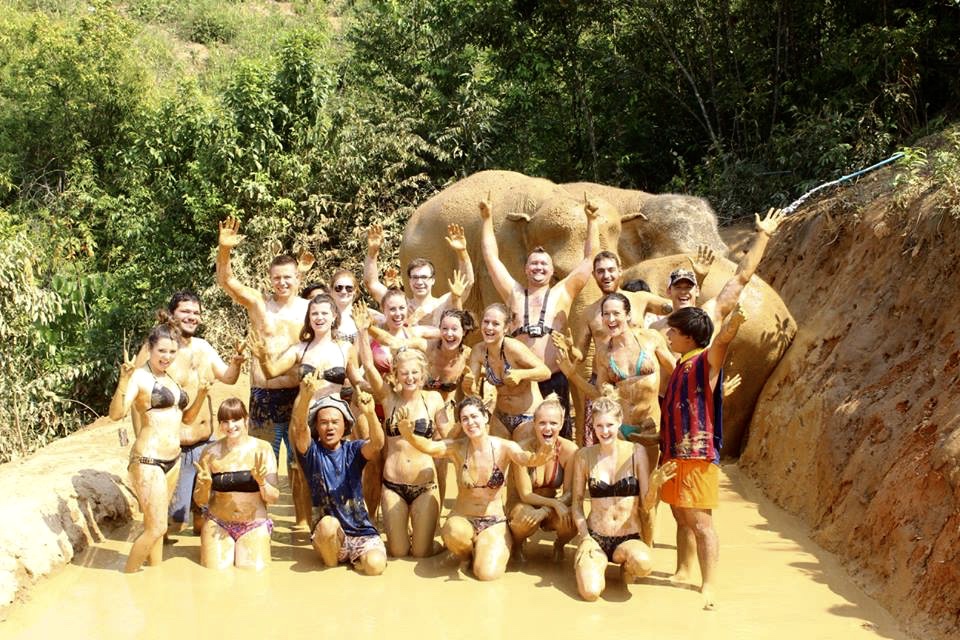 After we were all sufficiently disgusting, we headed down to the river to rinse off the elephants (and ourselves).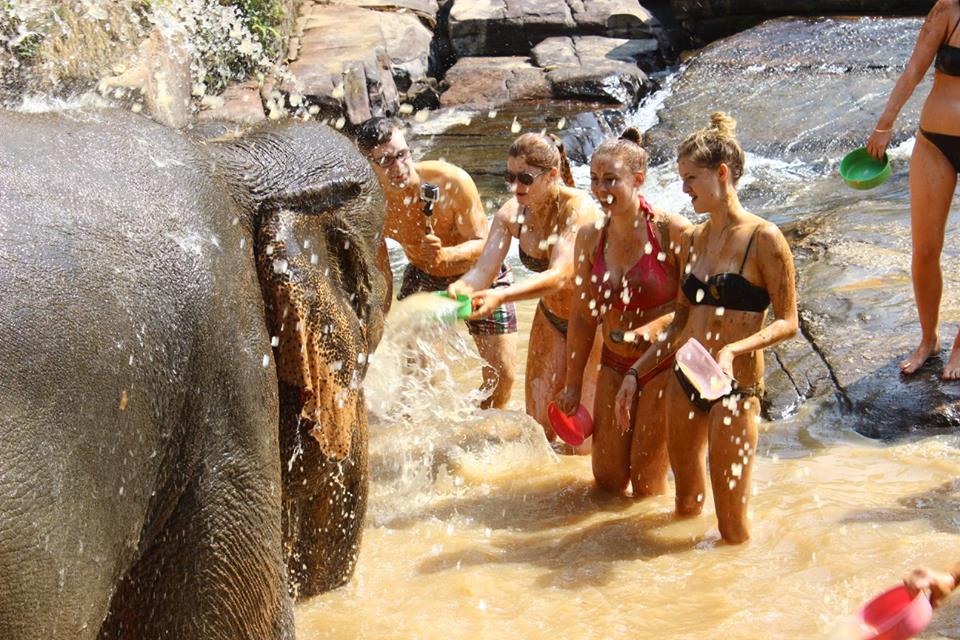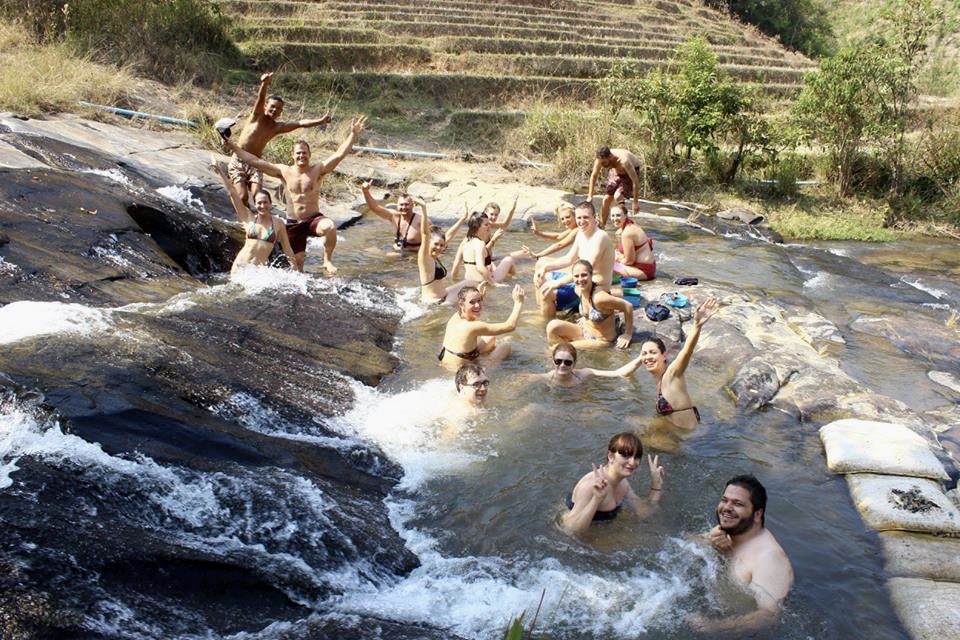 You can probably see why this was the best day of my entire two months in Asia and one I will not soon forget. I'm not sure how any future Valentine's day could top this one! Not only did I have a magical experience with these beautiful creatures, but I also met a bunch of really lovely people who I got to share my experience with.
If anyone is looking for an unforgettable and ethical elephant experience in Thailand, I would highly recommend Elephant Jungle Sanctuary!