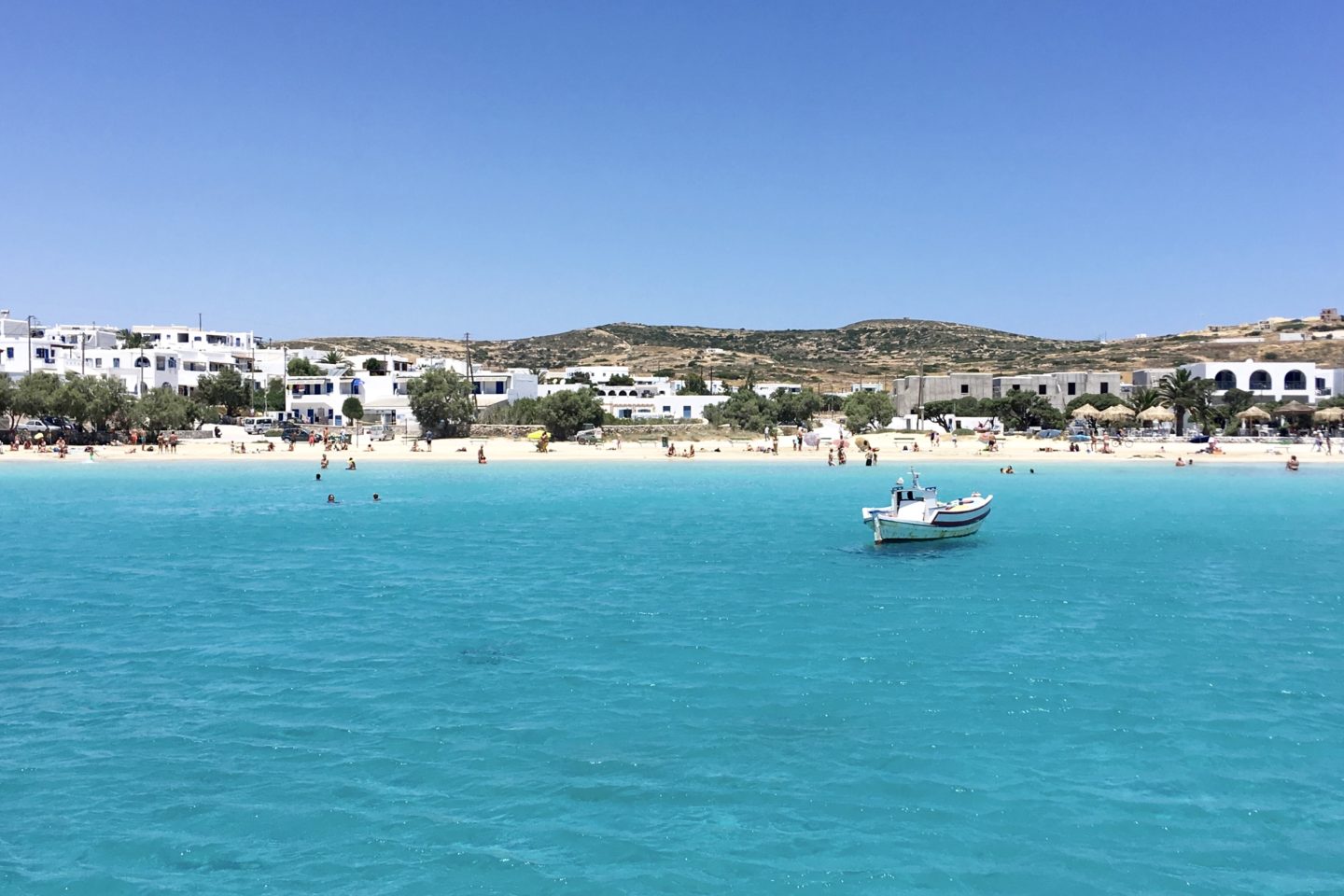 I've always been a budget traveller – staying in hostels, buying food at a local grocery store, opting for free walking tours and museums, etc. I get a weird satisfaction from saving a few bucks and I try not to spend money where I can avoid it. But recently I've begun dabbling in treating myself a bit more that I used to. Maybe it's an age thing, but in June I took my first trip to Greece with the main purpose being to relax!
As such, I booked three full days on the island of Naxos. I planned to spend two days lounging on the beach, but I also wanted to do something interesting or exciting on one of the days. After a fair bit of research, I landed on a sailing excursion day as I had never been on a sailboat and Greece seems like a great place to do it!
There are several sailing companies providing day trips for tourists on Naxos. But it seemed clear the most highly rated tour was led by Captain Panos. At first I was put off by the price tag of €70, but after thinking about it for a few days, I realised that (a) I work full time and I can afford this, and (b) if I'm going to spend money on something, I want it to be travel or a memorable experience. 92% of their Trip Advisor reviews are 5-stars (what?!) and based on what was included I knew I wanted to do it. So why not?
I showed up on the morning of my tour and took my place on the sailboat. There ended up being around 15 passengers in total, including myself. It was all couples, one family with two kids, and then me. I made friends with a couple honeymooning from New York who were really sweet so I wasn't alone all day! There was also Captain Panos and his skipper, Eva. It was a gloriously sunny day and before we had even left the port, Eva was offering us tea, coffee, water, smoothies, or fruit to eat. We set off from Naxos and off towards the Koufonisia Islands, a nearby chain of smaller islands (just one of the tours offered by Captain Panos)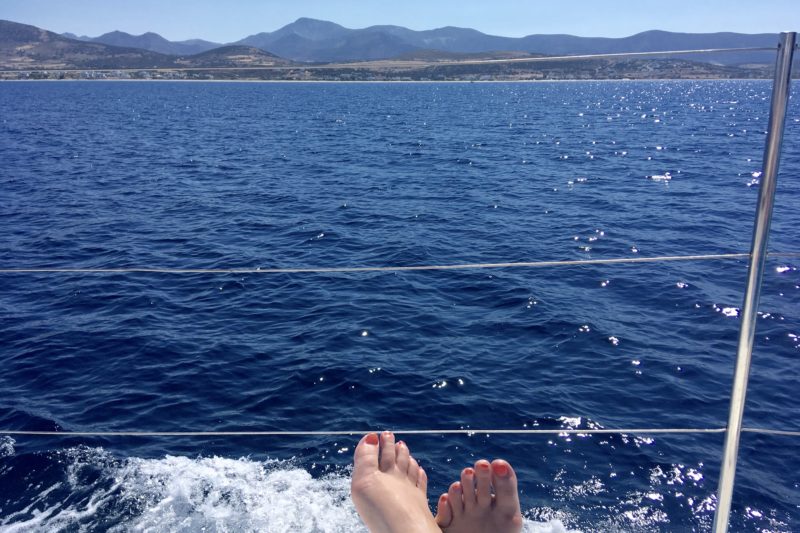 Our first stop was a tiny island (more like a rock formation) out in the ocean. There was no beach but we were told we could jump off the boat for a quick swim if we wanted. Just about everyone did, including myself. I was so excited I was probably the first one in! The water was cold but felt nice in the summer heat. We all paddled around the deep water, some people scaling the rock island before we climbed back onto the boat.
The great thing about the tour is that Eva took photos and videos of us throughout the day on a GoPro. We were all given a CD with the photos at the end of the day to take home as a souvenir. Like this one!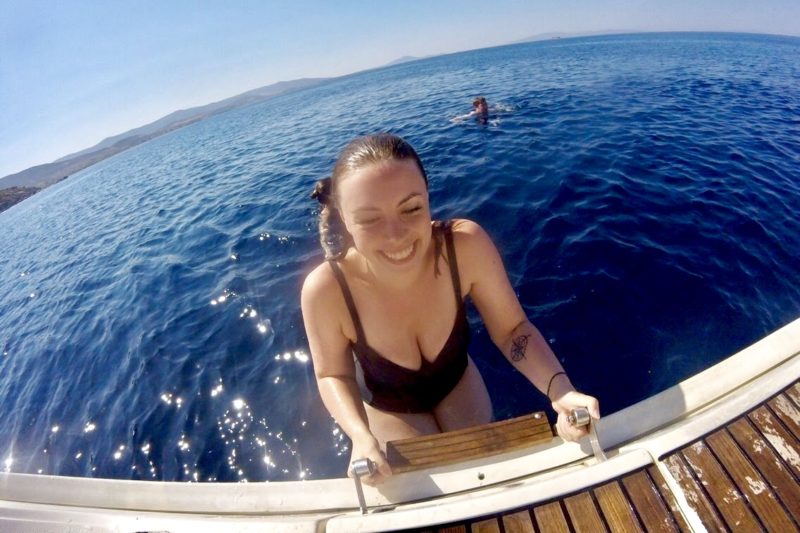 Once we were all back on the boat we continued on, sailing further away from Naxos.
Eventually we came to another swimming spot, a rocky cove somewhere. We were given snorkelling masks and jumped off the boat again. We all swam through the sparkling clear turquoise water up to the rocky shore. The shallows were devoid of any vegetation or fish, as you'd expect from a Greek island, but it was really cool to see how clear the water was with my snorkelling mask!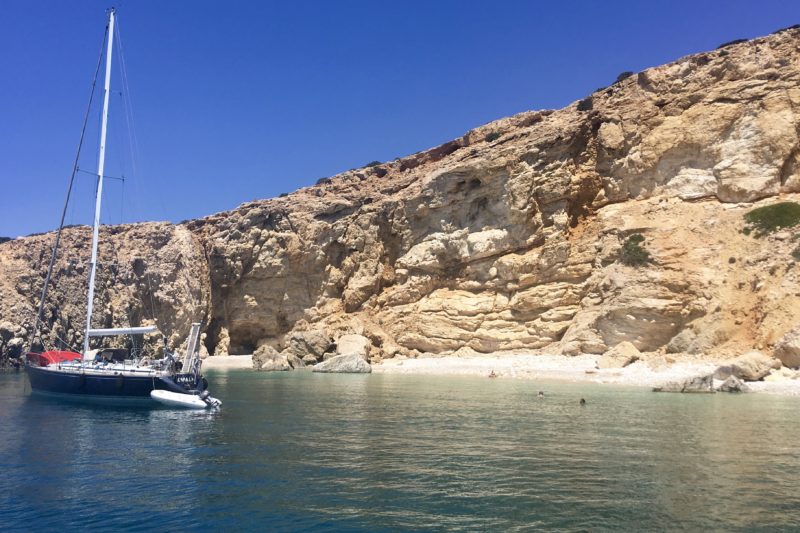 At this point Eva was again offering refreshments, and this time she included beer! At first I was surprised that I really didn't have to pay for it (I'm so accustomed to getting the bare minimum from my budget travel activities) but then I remembered I paid €70 for the day… Heck yes I'll have a beer! Myself and a bunch of other people cracked open our beers for the next leg of the trip. Best day ever?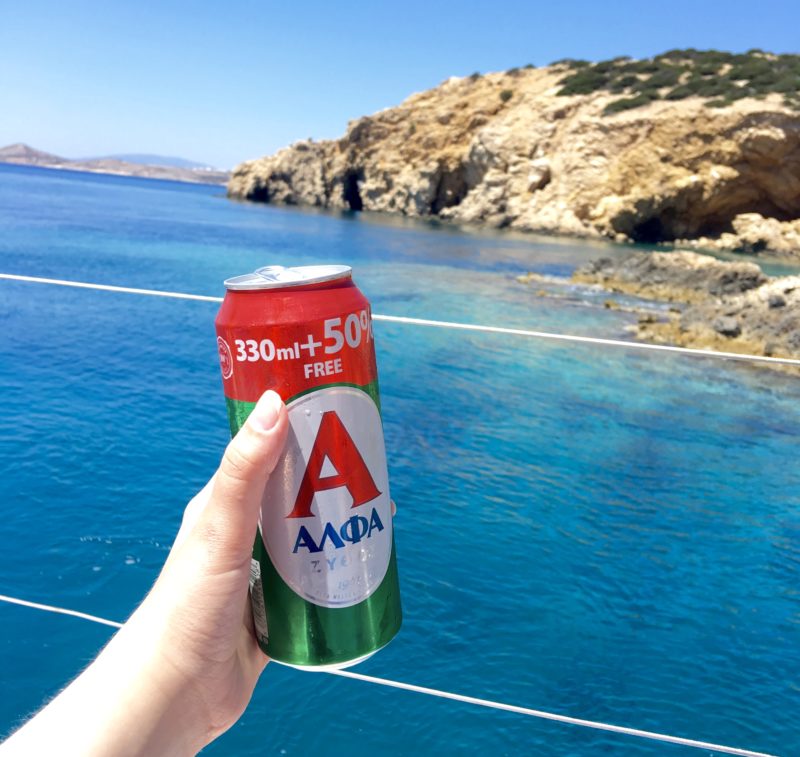 After that we continued sailing along towards another cove surrounded by a cool rock formation. I wouldn't really know how to describe it but here is a photo!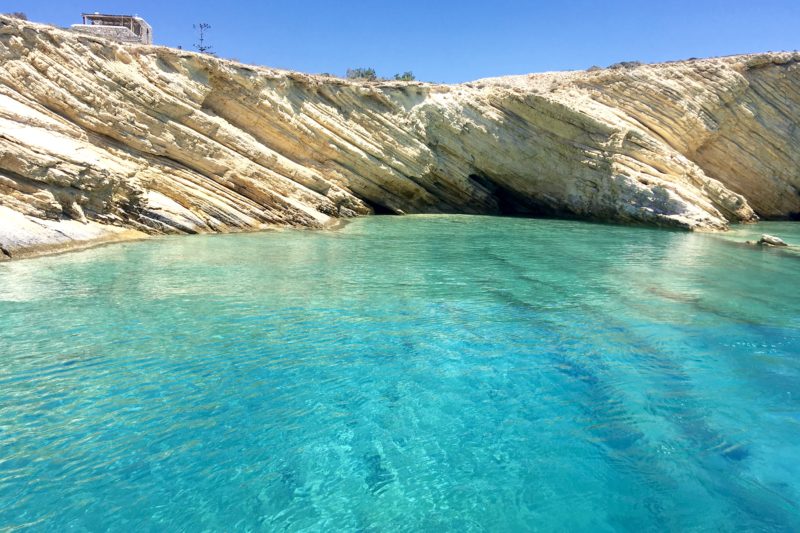 We all jumped off the boat once again and swam over to the side where there was a small sea cave. We were able to climb up on the rocks next to the cave, climb up to the highest point of the cave and jump back down into ocean. Normally I wouldn't like jumping off a high ledge into water but I was feeling impulsive and gave it a go. I'm glad I did it but I hit the water in a funny way which made my shoulder a little sore. Overall I was fine, but I'm not sure I would do that again.
One of my favourite spots of the day was the main beach on Koufonisia. We didn't actually go all the way up to the beach but the sailboat pulled into the brightly coloured shallows and put the anchor down for a bit while we jumped off to swim again. Looking out towards the picturesque beach was like a dream. Everything was so bright and beautiful. Sensory overload!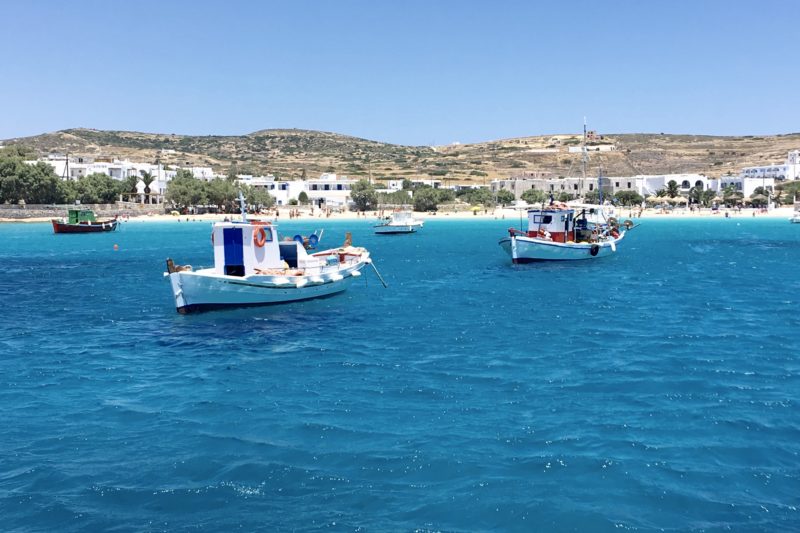 We were taken to a port nearby for lunch. The tour organised a minibus to take us from the port to a nearby restaurant. Lunch wasn't included in the price but I didn't mind. The restaurant was located in an unreal location looking out onto a gorgeous beach. The service was pretty disorganised and the food was ok, but it didn't take away from the rest of the day's experience. How can you have a bad time with views like this?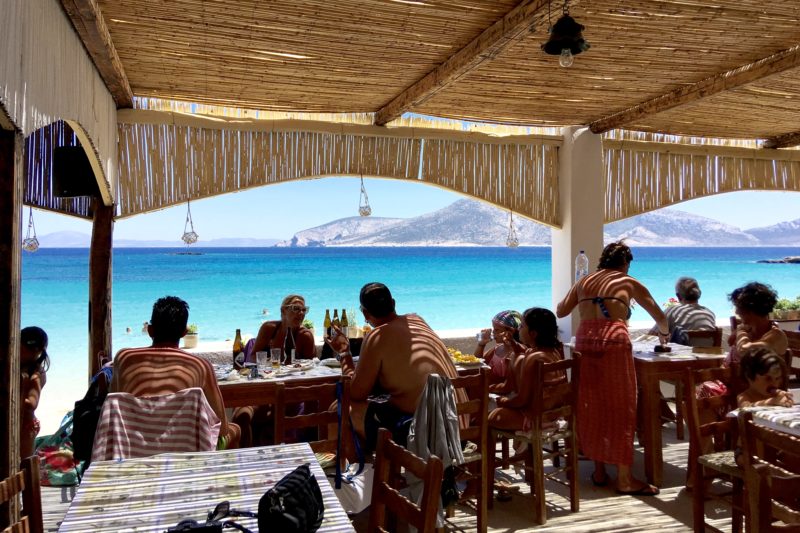 Before long we were back on the boat to hit one last destination before returning to Naxos. This spot was another sea cave, but much bigger than the other one. We all jumped off the boat once again and were given foam noodles to swim with. This time we all got to swim into the dark sea cave, which was really cool!
Then we had the option of climbing up the rock face and jumping off the peak of the sea cave again. After my last jump I opted out. It was really high! The others really seemed to enjoy it though.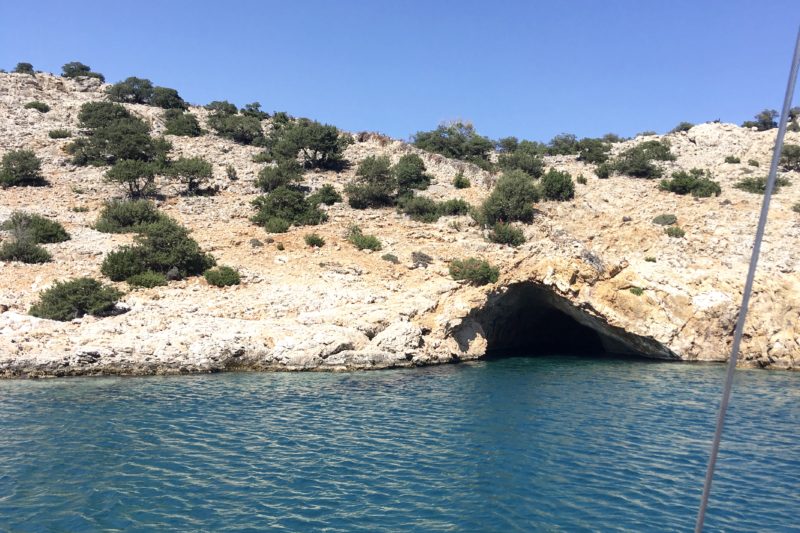 Then we all piled back on the boat for the longish journey bach to Naxos. We were given more beer, plates of fruit, and even cookies, if I remember correctly. Most of us fell asleep in the warm sunshine after an incredible day.
We were back at the port of Naxos as the sun was starting to go down. We were all given our photo CD and thanked Panos & Eva. They were so kind and took the time to get to know us throughout the day which was really nice. Even two days later when I was walking past their boat one evening, Eva called out to me by name to say hello. I was surprised she remembered my name since she runs these tours every day!
The Verdict
If you couldn't tell, I LOVED my excursion to Koufonisia with Captain Panos and I would highly recommend it. It was so nice to have everything taken care of, and receive the absolute best customer service from very friendly people. From the constant refreshments and snacks to the photo CD souvenir, I couldn't have been more pleased with my experience. Not to mention the scenery, beaches, and islands were so spectacular!
€70 was more than I'd usually spend on myself for a single activity but to me it was well worth the money. I'm so happy I decided not to go with a cheaper option simply because of my own stubbornness and aversion to spending money. I would have missed out on an incredible experience!
All opinions expressed here are my own. I am in no way affiliated with Captain Panos Sailing.