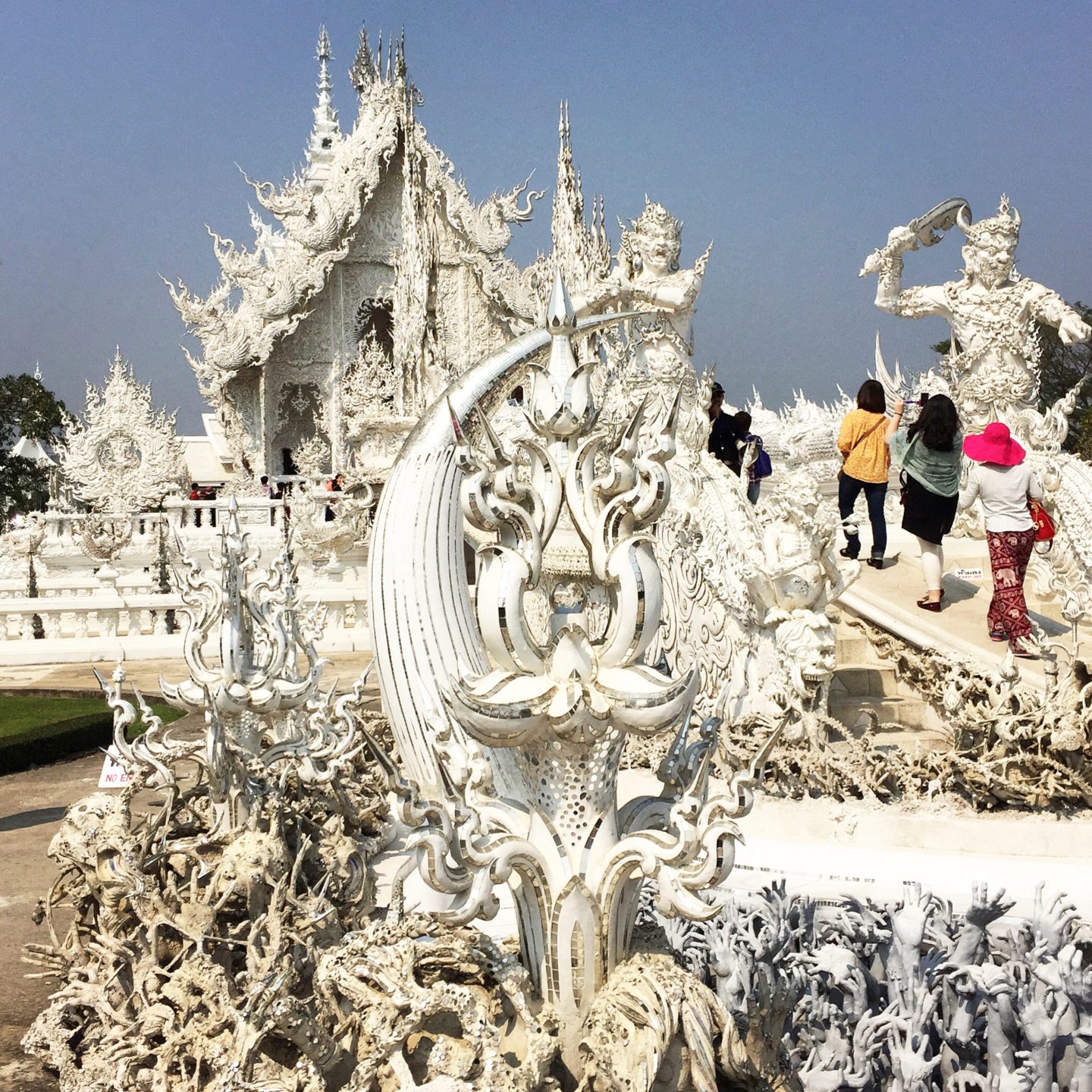 The next day after my elephant experience, I had booked a full day tour that would take me up to Chiang Rai to see the famed White Temple and the Golden Triangle. I signed up mostly to see the White Temple and to get out of Chiang Mai for the day. I didn't know anything about the Golden Triangle until I got there. It's kind of a strange place!
This day trip was less pleasant than the previous day. Not only was it a LONG day of driving, I was the only solo traveler in the group and the other people on the tour were not only unfriendly, but even rude at times. The group varied greatly in age, which I think was a problem and where some of the tension came from. I put my headphones in and tried to ignore all of them after a while. Needless to say, I didn't make any friends that day!
I did my best to enjoy the day and our tour guide was very nice and very patient with our group. I tried to stick with her at times because she was the only one who spoke to me all day. I took this quick video in the tour bus. Sorry about all the background noise, but she is explaining the history of the Lanna Kingdom and the origins of Chiang Rai. I'm no video/sound editor so sorry if you can't hear her clearly!
I don't even have many photos because my camera was stolen in Cambodia not long after this, and I hadn't had a chance to upload my photos from this day before it was taken. Most of the photos I'm posting are from my iPhone or Google. Just a disclaimer: all photos on all my future posts about my trip to Asia will be from my iPhone unfortunately!
Anyway our first stop was to the White Temple, officially called Wat Rong Khun. I had seen photos but in person it was truly spectacular, although smaller than I'd imagined. While it may look from afar as if this temple is completely traditional like any other ancient temple you might see in Thailand, this temple was completely redesigned and renovated in 1997 by artist Chalermchai Kositpipat. Looking at it up close, and visiting the interior, you will see countless modern elements and modern pieces of artwork.
I tried to get a photo without tourists but that was never going to happen! Admittedly my photos are terrible – if you really want to get a sense of it's beauty, I suggest a quick Google image search!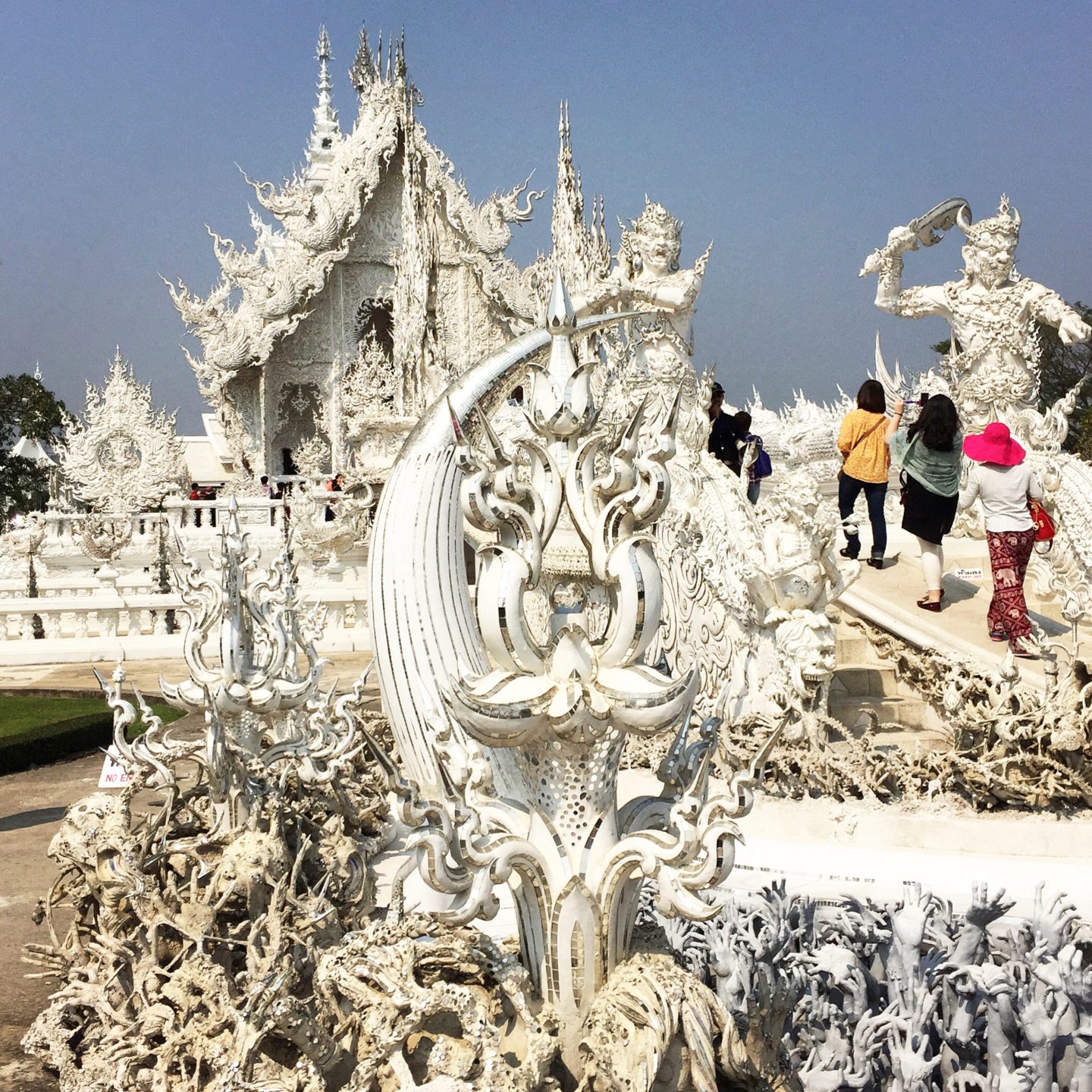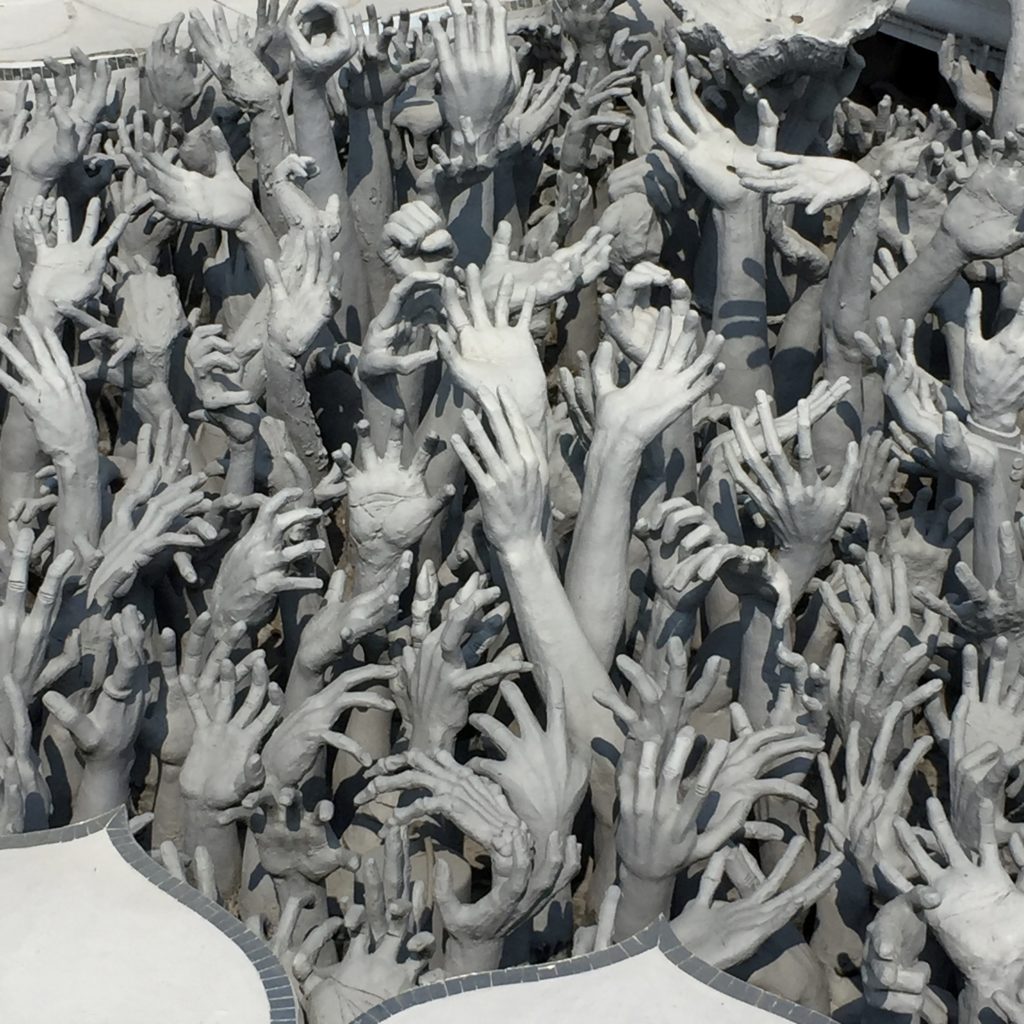 The most interesting part of the temple in inside where you'll see a mural depicting a fantastical battle between good and evil. It depicts all sorts of "modern heroes" from pop culture, literature, etc. It's almost like a "Where's Waldo" drawing in that the more you look at it, the more details you pick up on. The room was small and crowded so I couldn't view the painting for too long, but I spotted all sorts of recognizable characters, like superheroes (Superman, Spiderman, Batman, etc.), Hello Kitty, Harry Potter,  Ninja Turtles, Jack Sparrow, Michael Jackson, Sailor Moon, Minions, the Jigsaw puppet, Yoda, Luck Skywalker, Transformers., and Kung Fu Panda.
We weren't allowed to take any photos unfortunately
Next we headed toward the Mekong River to visit the Golden Triangle, which is the area in which Thailand, Laos, and Myanmar (Burma) all meet
Here's a quick video about modern drug trafficking in the region. To be honest, all of this was news to me, the tour made it seem like it was a place where a lot of drug trafficking happened in the past. We didn't hear about any modern drug problems in the area!
Although I did learn from my tour that it is called the Golden Triangle because there is a small island in the Mekong that functioned as a no man's land. Back in the day (or maybe this still happens??) opium deals would take place here between these three countries. They would use gold as a common currency, hence the name.
And here it is! My crappy Snapchat that I saved. You can clearly see the three countries from the river which is pretty cool.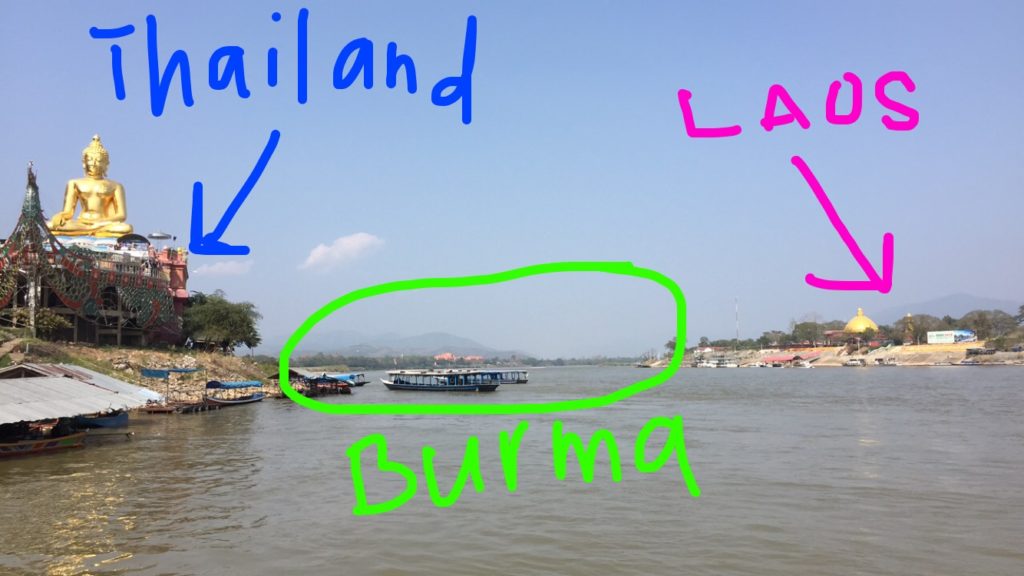 We took a boat across the river from Thailand into Laos. It wasn't really an official visit so they took our passports away until we got back to Thailand so we couldn't flee I guess? Sadly we didn't get a passport stamp 🙁
Our brief stop in Laos was underwhelming. I definitely don't count that experience in the list of countries I've visited. As far as I'm concerned I haven't actually been to Laos. It was just a giant tacky market. So many knockoff handbags and general silly souvenirs. But I had to get a little something to commemorate my terrible opium tour 🙂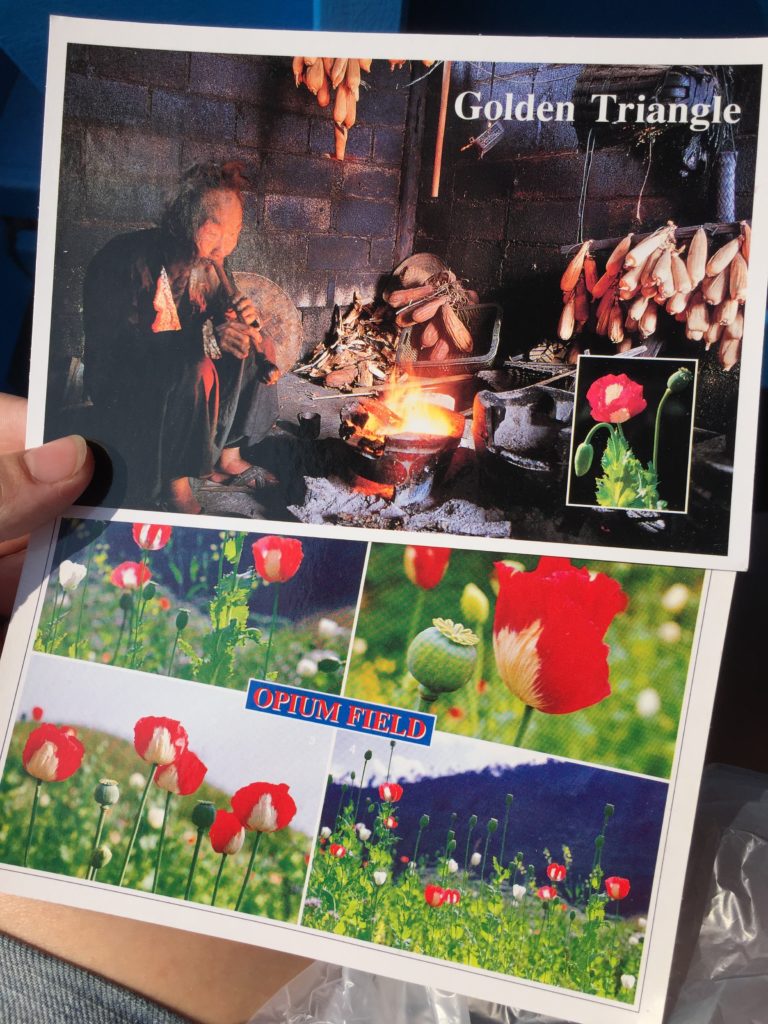 Once we were back in Thailand, we hopped back in the van and that's when the market vs. Black House debate ensued. There was an issue in the tour van at the end of the day about whether to go to a market (as scheduled) or to go visit the Black House as a special treat, highly recommended by our tour guide. I personally had no idea what the Black House was but it sounded much more interesting than going to another market for the millionth time. The decision needed to be unanimous in order to diverge from the official itinerary. I was in awe of how inflexible and unpleasant these strangers could be to each other. There was one German woman who didn't understand why we couldn't just go to the market but everyone else was happy to visit the Black House instead.
It was a long drive so there was plenty of time for certain individuals to make passive aggressive comments to each other. I was sitting next to a middle aged American couple, who although I agreed with them in that we should visit the Black House, they were incessantly whispering loudly to each other about how rude and selfish the German woman was being because they were just SO excited to see the Black House. They were behaving as if she couldn't understand them but she was sitting right in front of them and spoke perfect English. I don't even know who I disliked more. In the end the German was very bitter but finally gave in and we headed for the Black House.
When we arrived I learned that the Black House was the personal property of the same artist/architect who designed the White Temple. The grounds were pretty vast and included all sorts of interesting structures and buildings. Even the interior design and decor was very modern and included a lot of animal bones and furs and wood. I walked around on my own and it was nice to have a peaceful stroll after the stress of the day.
I apparently don't have a single photo on my phone of the Black House and I guess I had taken all my photos on my real camera that was stolen!
I was glad to be back in Chiang Mai and very glad to say goodbye to my fellow tour-mates at the end of the day. Luckily I was able to connect with some friends I had made the previous day at the elephant sanctuary for some drinks that night. They told me they had an amazing day at the Chiang Mai Grand Canyon swimming and cliff jumping. I was bummed and wished I had done that instead since I was off to Cambodia the next day, but I had to remind myself that travel isn't always sunshine and roses. You're bound to have a rough day once in a while, but you'll almost always get some good stories out of it!
We had a fun night drinking beer and chatting with even more cool people. And we even found a "Tacos Bell"! A happy ending if I ever heard one 🙂