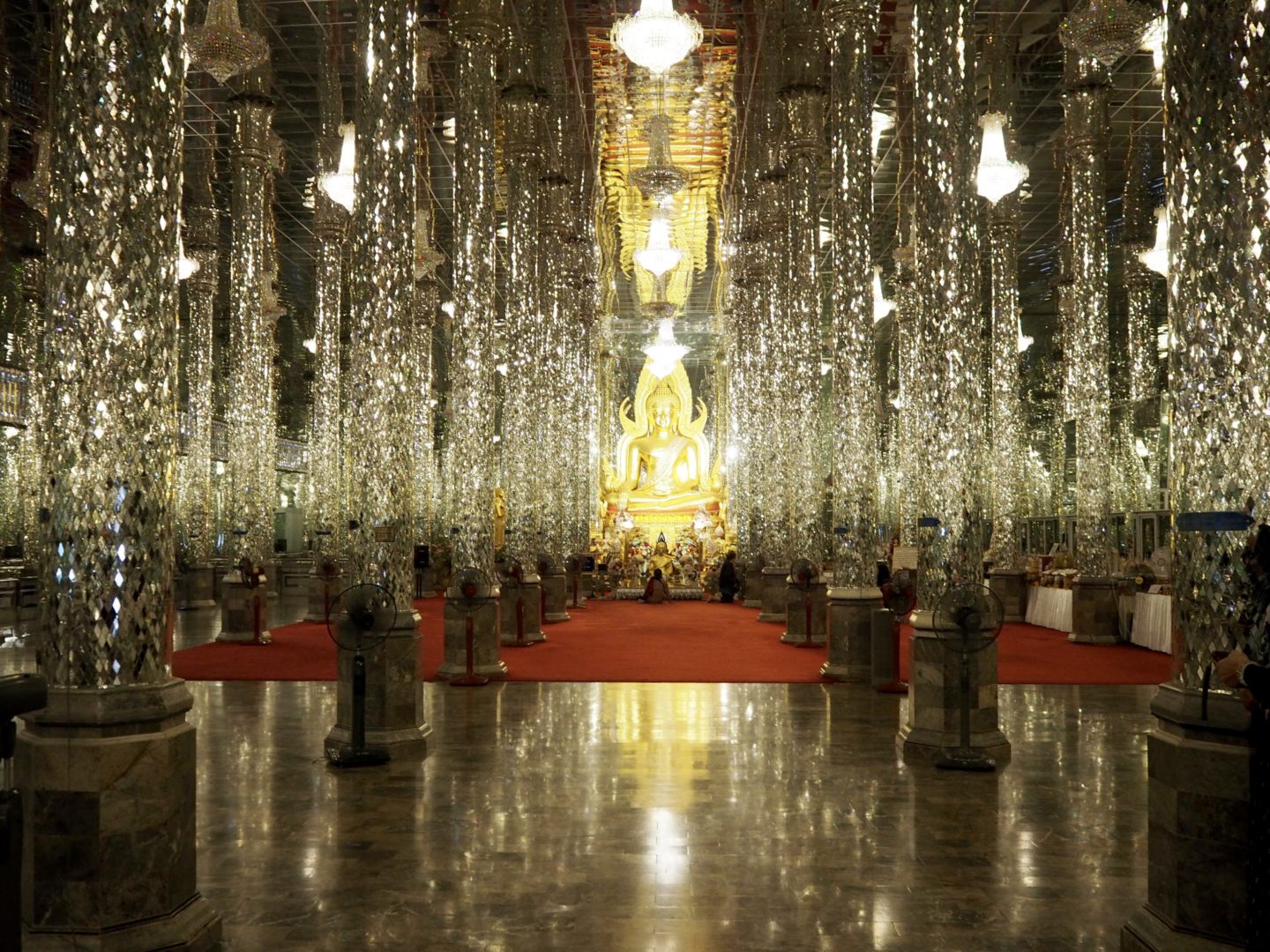 Sorry that I haven't posted in a while! The good news is that I haven't posted because I've been having a blast here in the Thai islands and meeting so many new and interesting friends every day! But as of last night I've arrived on Koh Lanta, which is known as the more chilled-out island where I think I'll have plenty of time to work on my blog. 🙂
Anyway, the plan for my first weekend in Thailand was to meet up with one of my oldest friends, Mary, who is teaching English in a town a few hours north of Bangkok, and together we'd take a weekend trip to Kanchanaburi to visit a national park with some great waterfalls. On Sunday, the two of us would head back to the town where she lives, called Uthai Thani, so she could get to work on Monday and I could visit for a few days!
But as anyone who's traveled in a foreign country before knows, things don't always go as planned. Mary had to wait until the end of her school day on Friday to take the minibus from Uthai Thani to Bangkok. We figured we'd meet at Victory Monument square and hop on the bus to Kanchanaburi from there. But due to traffic she arrived in Bangkok a little later than anticipated and when we reached the desk to buy a ticket for the minibus, they had stopped running for the night. We ended up booking a last minute hostel in Bangkok and had a pretty exciting (and long) night exploring the infamous Khao San Road in Bangkok, where backpackers go to party. It was the craziest place I'd ever been, but I don't think I'm in any hurry to get back there anytime soon!
We were moving pretty slowly the next morning but made it onto the minibus to Uthai Thani in once piece. When we arrived three hours later, we took motorbike taxis from the bus station to her house, which reminded me of a little gingerbread house, it was so cute! It was in this little garden surrounded by other gingerbread houses with plants and a bench swing. Really adorable. On the inside it was just one room with a bathroom attached.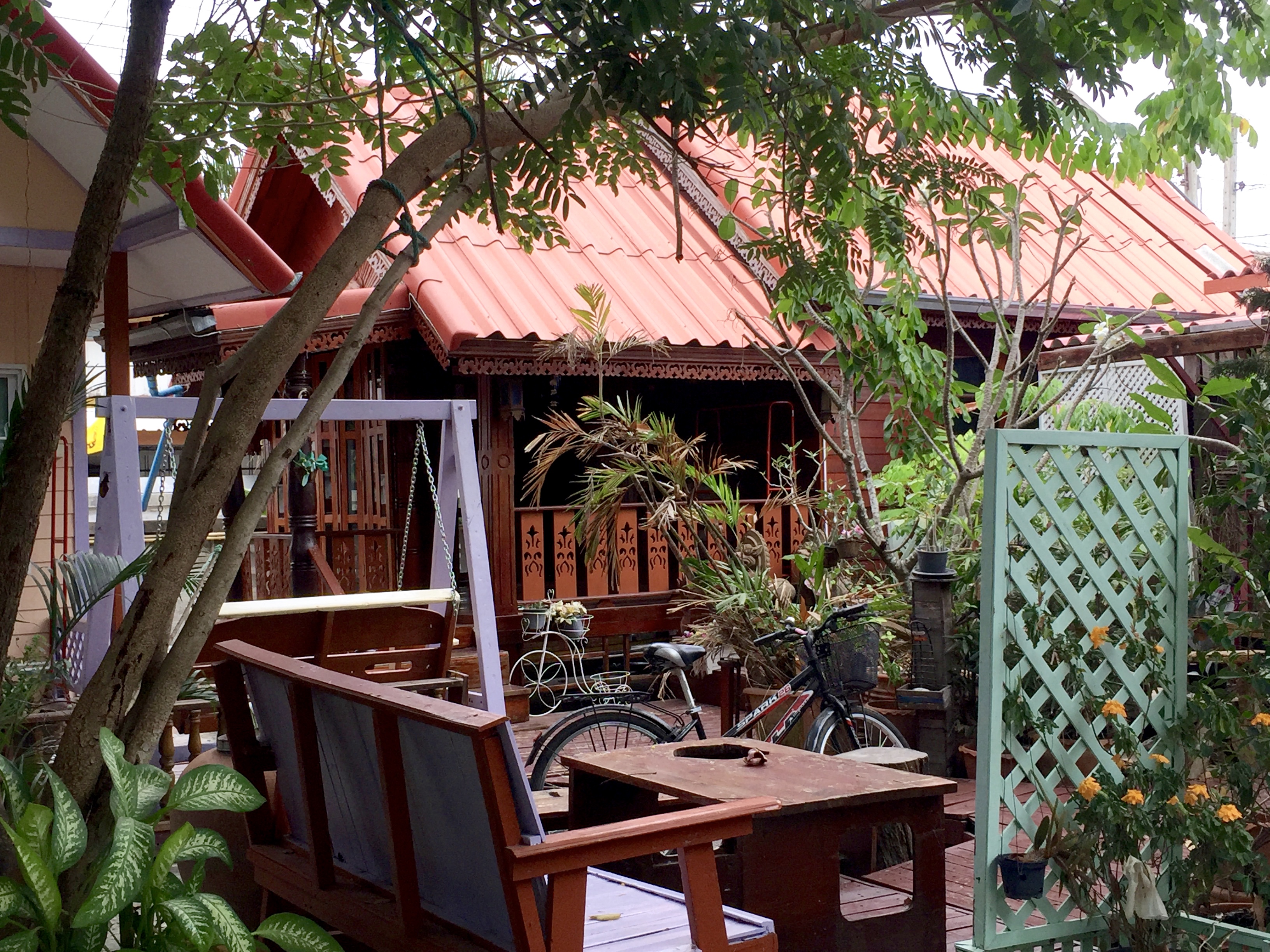 We grabbed dinner and called it quits for the night because my ankles had started swelling to three times their normal size due to the heat… Slightly terrifying!
Sunday was a pretty chill day but on Monday, I went to school with Mary and explored the area around Uthai Thani in the afternoon. I figured that's probably the most interesting day to post about so I'm just going to focus on that one day!
In the morning we biked to school, which I thought was such a nice and relaxing start to the day. She's the only native English speaking English teacher at her school so it's her duty to stand at the front gate each morning to greet the students in English. All the kids would come up to one of the Thai teachers to greet her in Thai, then come to Mary and I and we would exchange "Good morning!"s and then they would greet their Chinese teacher in Chinese before running off to meet their classmates in the schoolyard. It was really cute! The weather was abnormally cold that day and temperatures had dropped from about 95 F to 60 F overnight. All the kiddies were bundled up in heavy coats and sweatshirts!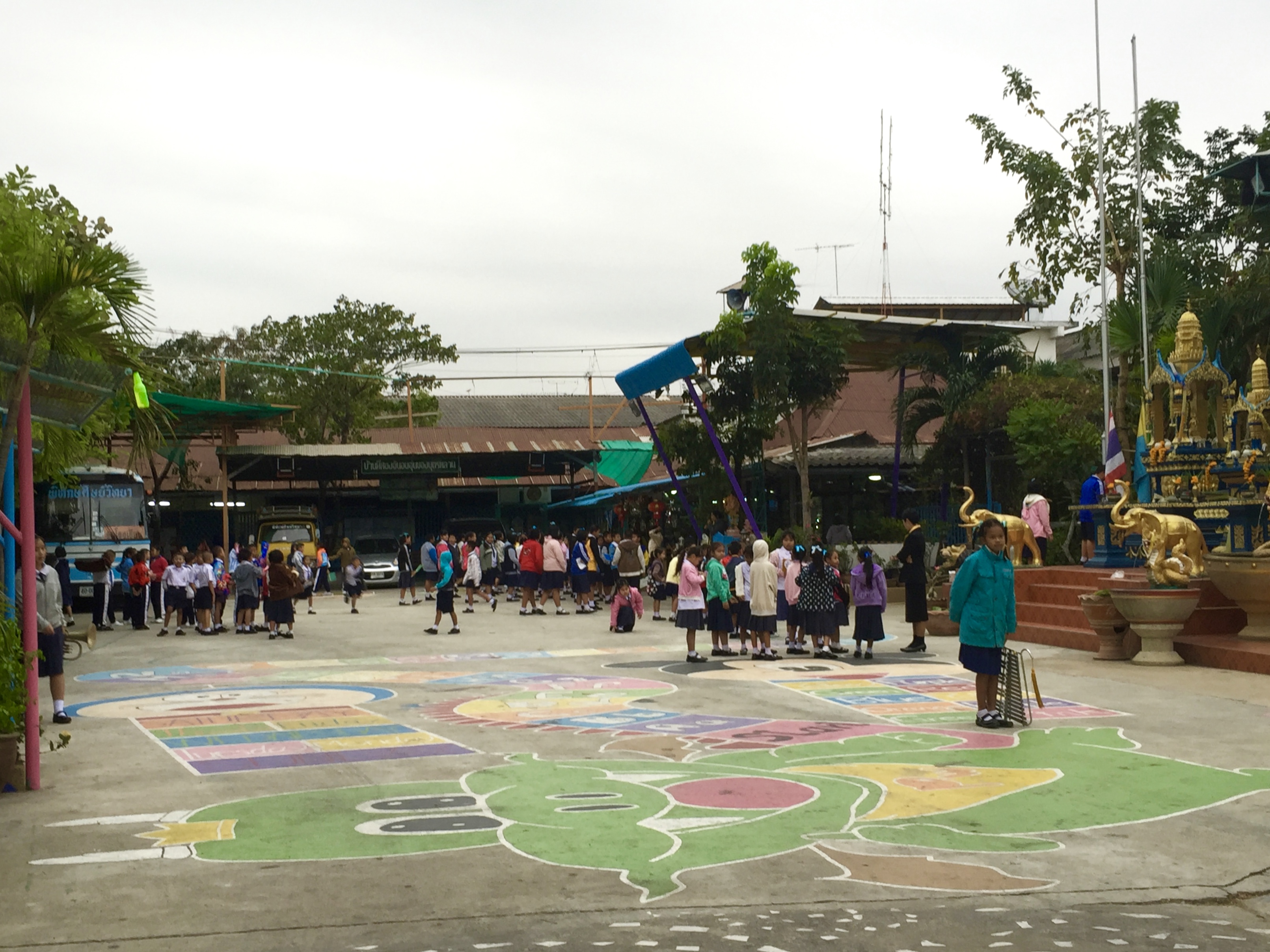 The school band played the National Anthem and the kids did some other singing and dancing before the school Director took the microphone and started speaking for a while. No idea what was going on but he spoke for a long time. I wasn't sure if he was making an important speech, but Mary said this happens pretty much every day and they seem to really like speaking in the microphone.
Mary had three classes to teach that day and it turns out it was basically all the same age group (4th and 5th grades) so they were all going to be going over the same information. Each class learned "places" vocabulary that day: "school", "hospital", "market", "bank," "hotel", "police station", "bus station", etc.
Here are some photos and videos I got in the classroom!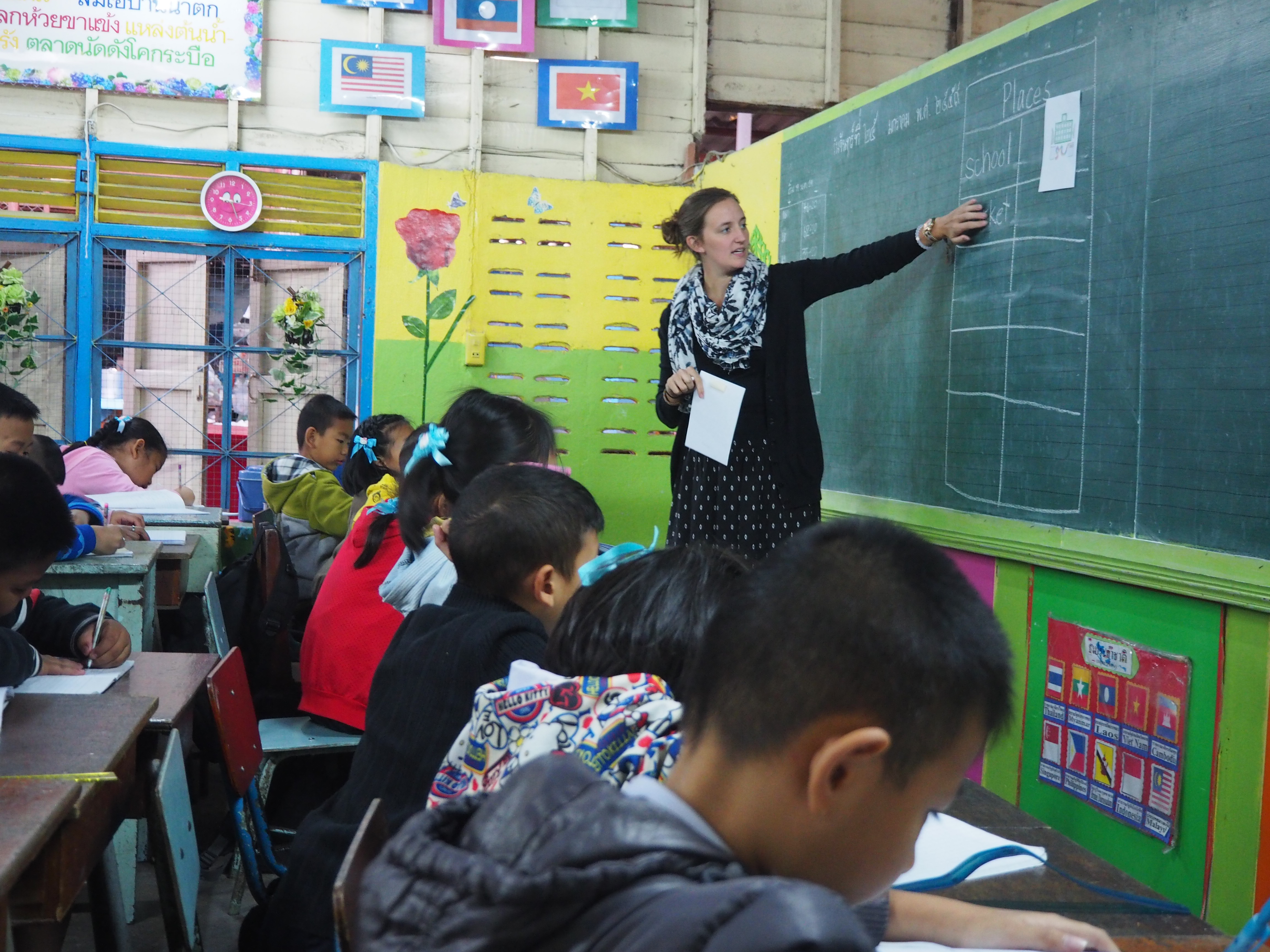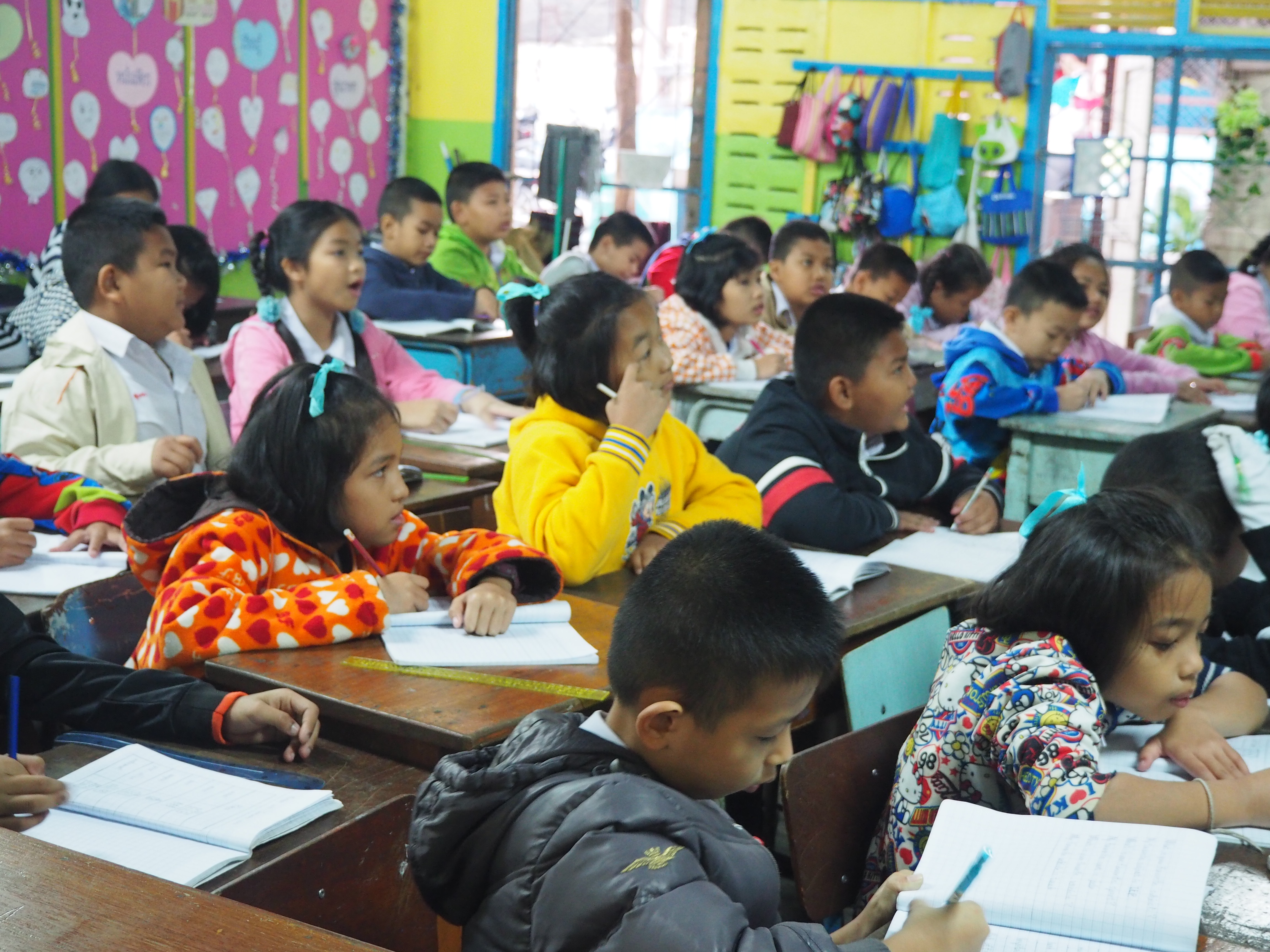 The kids at school were always so polite and respectful. They do this thing when they are handing in their classwork to their teachers where they line up on their knees to turn it in. Then once it's graded they would say "thank you, teacher" as they got up off the ground. I got a really long video of a bunch of Mary's students doing it and cut it down. It's still a little over 1:30 minutes but I think its really funny to watch! I actually can't watch this video without laughing! (wait for it)
At lunchtime, there was quite a big soccer game happening. All the kids were so excited and I saw a green team and a red team warming up outside on the blacktop. They weren't wearing pinney's or whatever I wore in gym class. This was a big deal and they were properly suited up. I think it was the 4th grade team against the 5th grade team. Mary and I ate our lunch quickly so we could watch the game. The whole school turned out and watched from the sidelines. The school monk was even doing commentary with the microphone over the loudspeaker! I thought the whole thing was pretty awesome and hilarious. Here is a quick video I took! (Spoiler: the green team won!)
After school Mary and her friend Kan took me around for a little bit of sightseeing in the local area. Our first stop was Wat Chantharam, or the Glass Temple. It's easy to see where it gets it's name, although I can't say that any of my photos do it justice. Almost like a disco ball, all the pillars are covered in tiny mirrors that create this otherworldly effect. So stunning!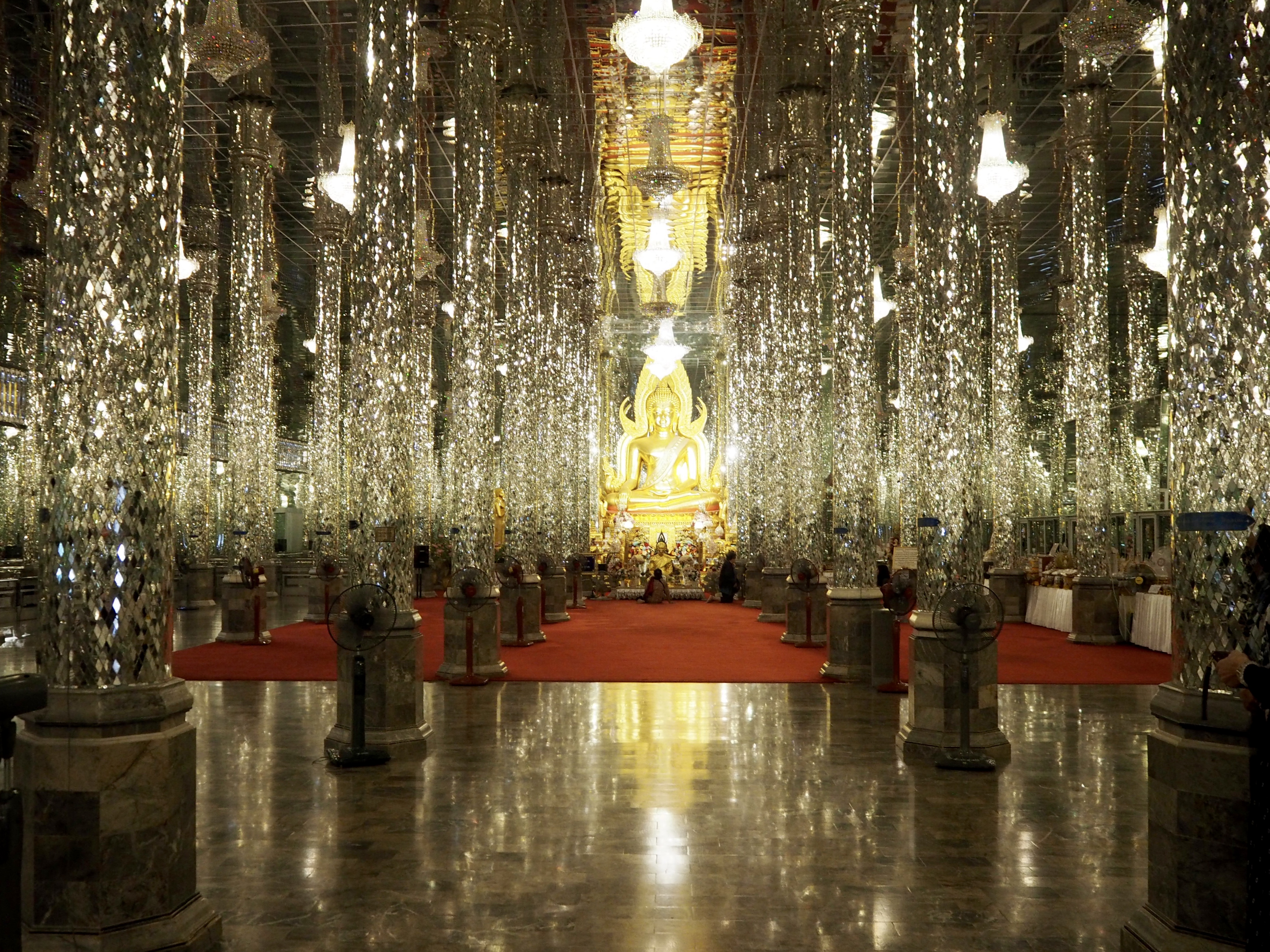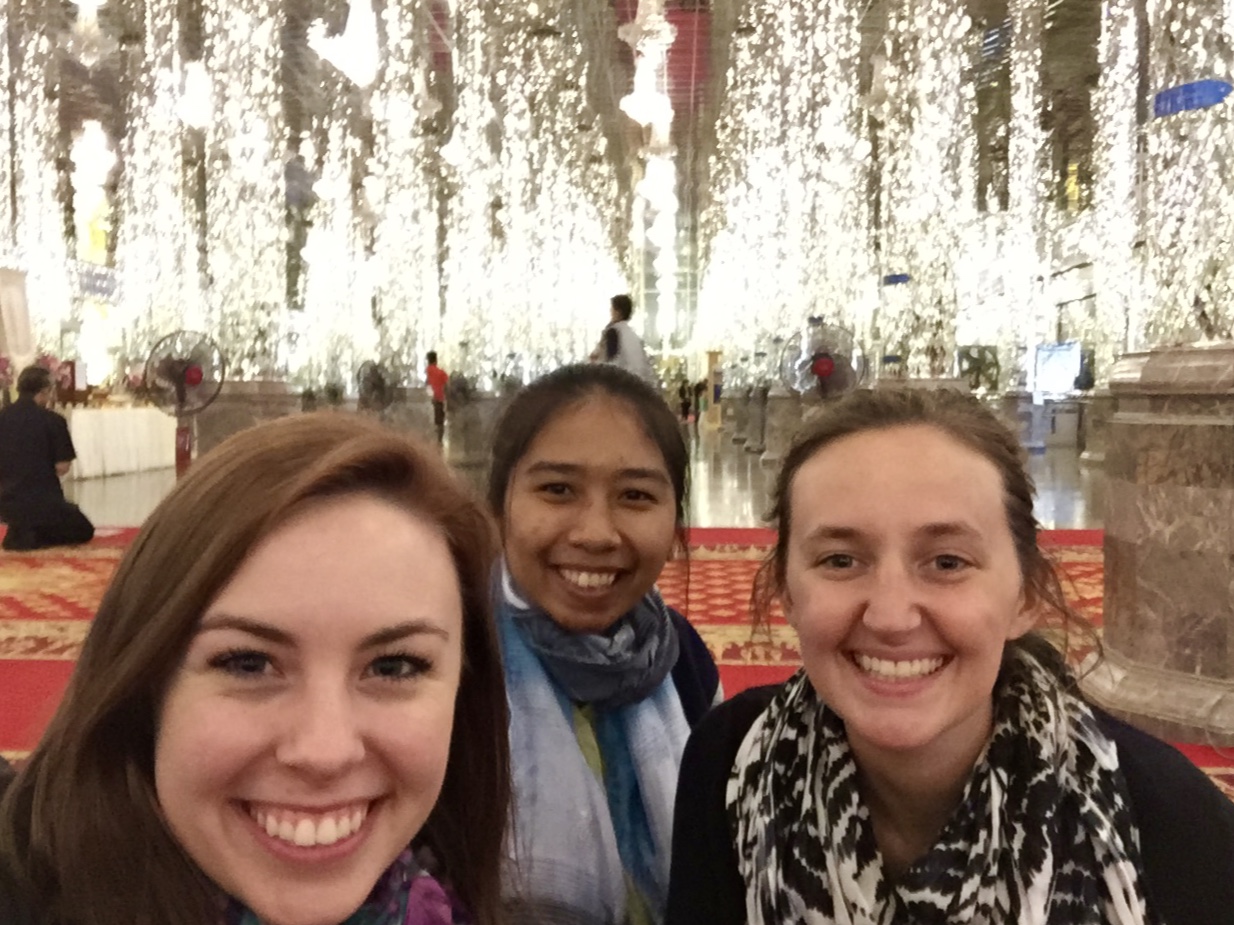 Next door to the Glass temple is the Golden Temple, with it's interior intricately decorated mostly in gold. I have to say I preferred the glass temple but there's no denying they are both beautiful.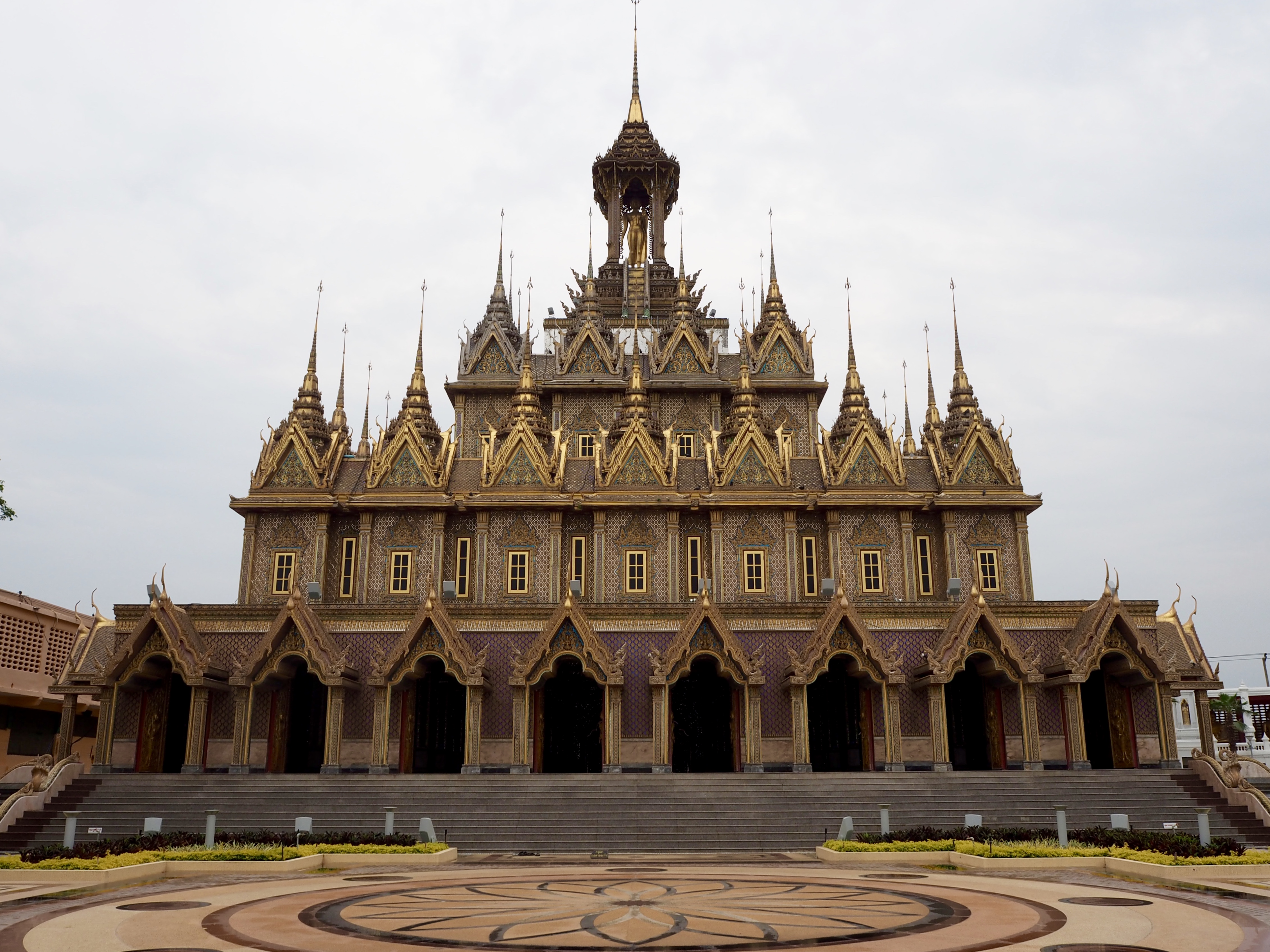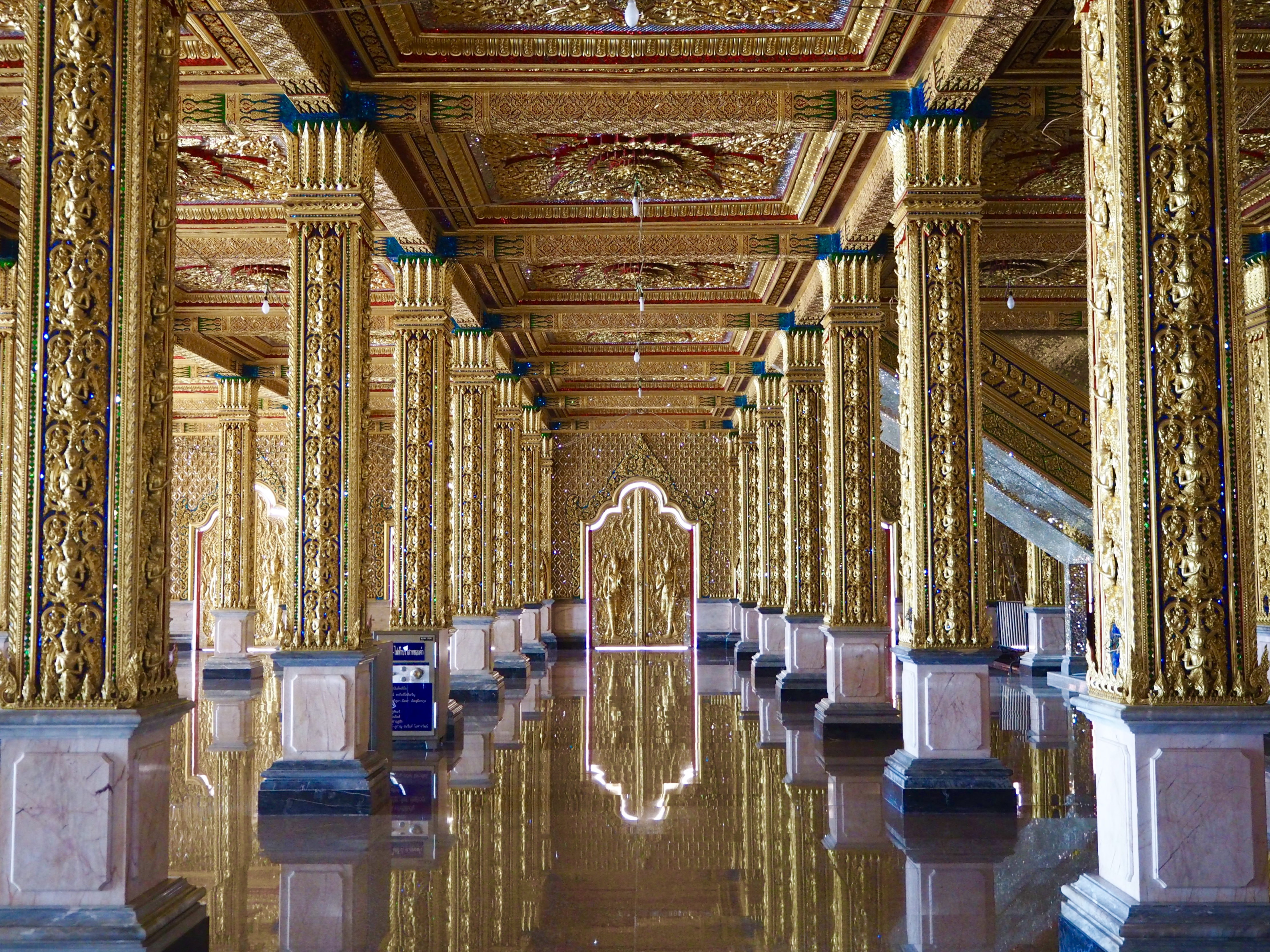 Then we went to this place where you can feed these gigantic catfish on a dock. It was weird at first but then I started to see why people liked it – it was weirdly satisfying and fun!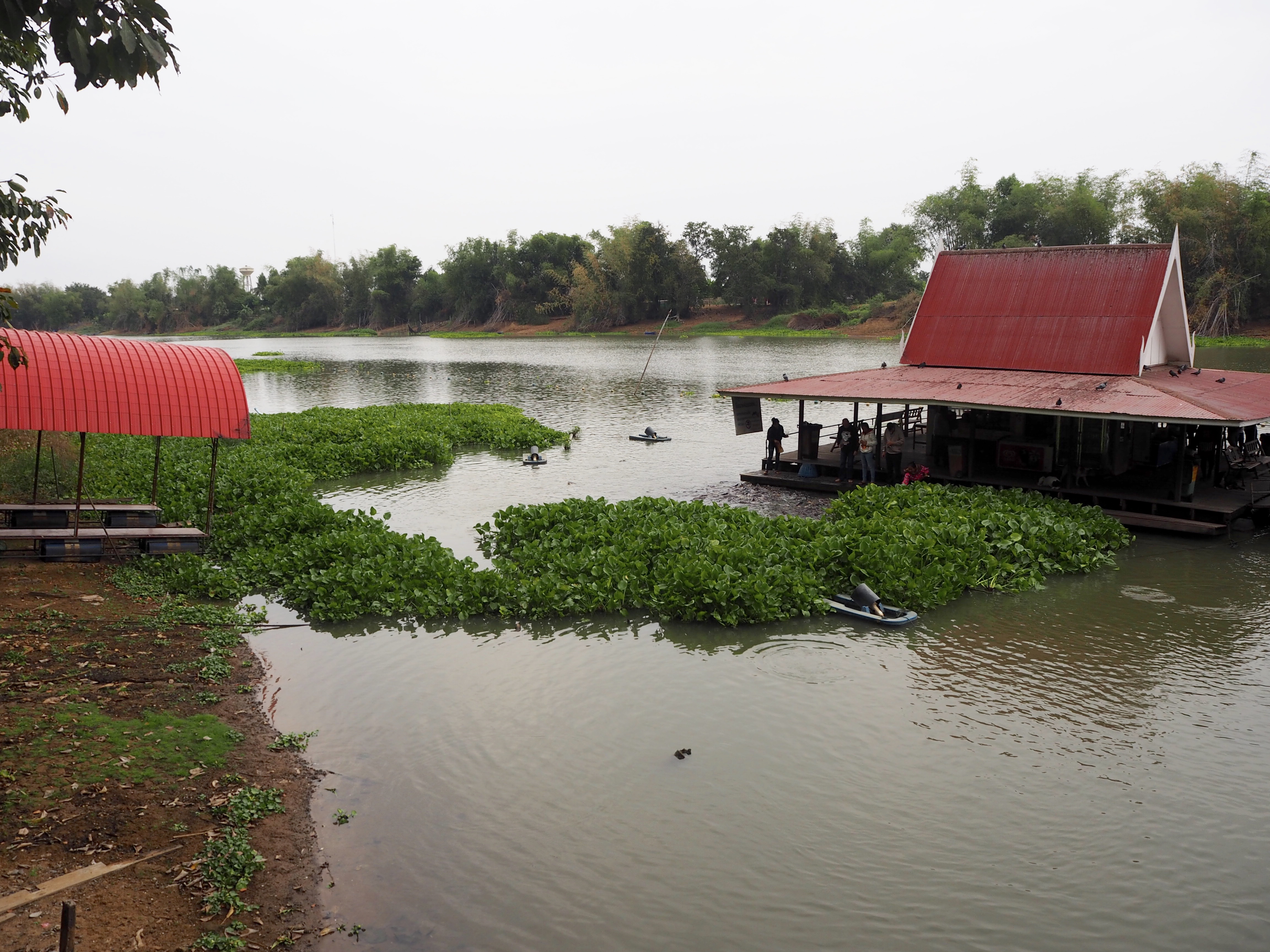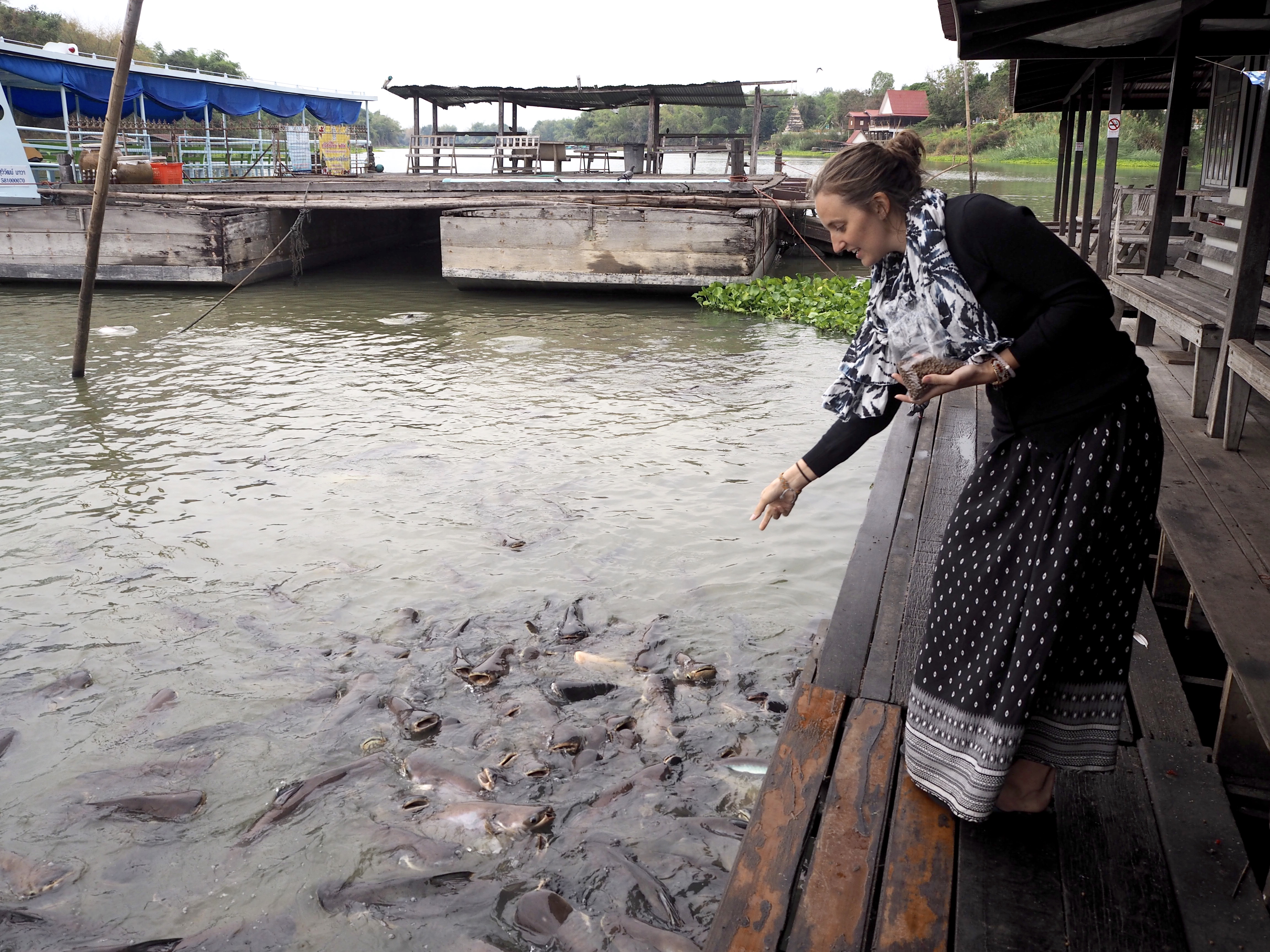 I have to say I really enjoyed my time in quaint Uthai Thani with Mary. It great to see a familiar face in such in unfamiliar place, and Mary was so helpful in explaining some of the quirks of Thai culture that she's picked up along the way since she arrived in Thailand a few months ago. It was also SO nice to get away from the hoards of tourists in Bangkok. As a tourist myself I can't help but laugh when tourists complain about there being too many other tourists in a certain place. But it really was relaxing to see the "real" Thai way of life after being overwhelmed by Bangkok my first couple of days.
As someone who has seriously considered taking the plunge into teaching English abroad myself, this experience was invaluable to me! Thank you so much, Mary, for sharing your experience with me! It was cool to see the small community of English teachers in Uthai Thani who have all found themselves in this random Thai town!
On Tuesday I packed up and headed back to Bangkok to catch an overnight bus south to Phuket. Stay tuned for my next post about a terrifying bus ride and an island full of Russians 🙂