Many times throughout my travels I'm reminded of the beginning of the film Fight Club, when Edward Norton's character is describing his life and how he frequently travels for work. He uses the term "single-serving friends" to describe those people you chat with on an airplane. They serve a purpose in that moment but you'll likely never see them again in your life. "Single-serving friends" are one of my favorite things about travel, especially when traveling alone.
As easy as it is to make great connections and keep up with people on Facebook these days, there are sometimes those people you cross paths with so briefly that you don't get a funny selfie together or exchange Facebook information. Sometimes you don't even think to ask their name until they're long gone. It's a shame when you make memories with said people but then you go your separate ways forever.
This happened to me countless times throughout my two months in Asia. There were people I took tours with, went out to dinner with, waited in lines with, etc. I always think of my time in Ao Nang because everyone seemed to be passing through the hostel I was at for one night only, leaving me to briefly get to know them before immediately saying goodbye. Sadly, Ao Nang in the Krabi province was my last stop in southern Thailand before heading way up north.
My first night there, I met two lovely Swedish guys named Markus and Martin. They were best friends traveling together and they were staying in the same dorm as me. We got to talking and they asked if I wanted to join them for dinner. There comes a point when you're traveling by yourself that you will eat dinner with literally anyone. But luckily these two were genuinely cool so I was happy to accept! The three of us went out to a nearby place for a couple beers and dinner. I remember discussing Swedish holidays vs. American holidays at length with them. I learned all about their St. Lucia traditions and slowly realized what they were describing to me sparked a memory of the American Girl Doll, Kirsten! I never knew why she wore that white dress with the candles on her head until now!
I then tried to explain Thanksgiving to them, although if you've ever explained Thanksgiving to someone who doesn't know what it is, it sounds pretty boring. As you can imagine, my memory of the First Thanksgiving story was a little foggy after not learning about it since the second grade. I tried to give them a brief overview, but I'm not sure I did it justice. We grabbed some dessert at a classy restaurant nearby before heading back to the hostel. They would be getting up early the next morning to get to their next destination so I added them on Facebook and wished them well! I'm slightly bummed I never got a photo with them, although of course I made sure to get photos of the desserts 🙂
The next day I headed over to the iconic Railay Beach! I spent the day alone but I wasn't bothered. I took the boat over and relaxed while enjoying these views: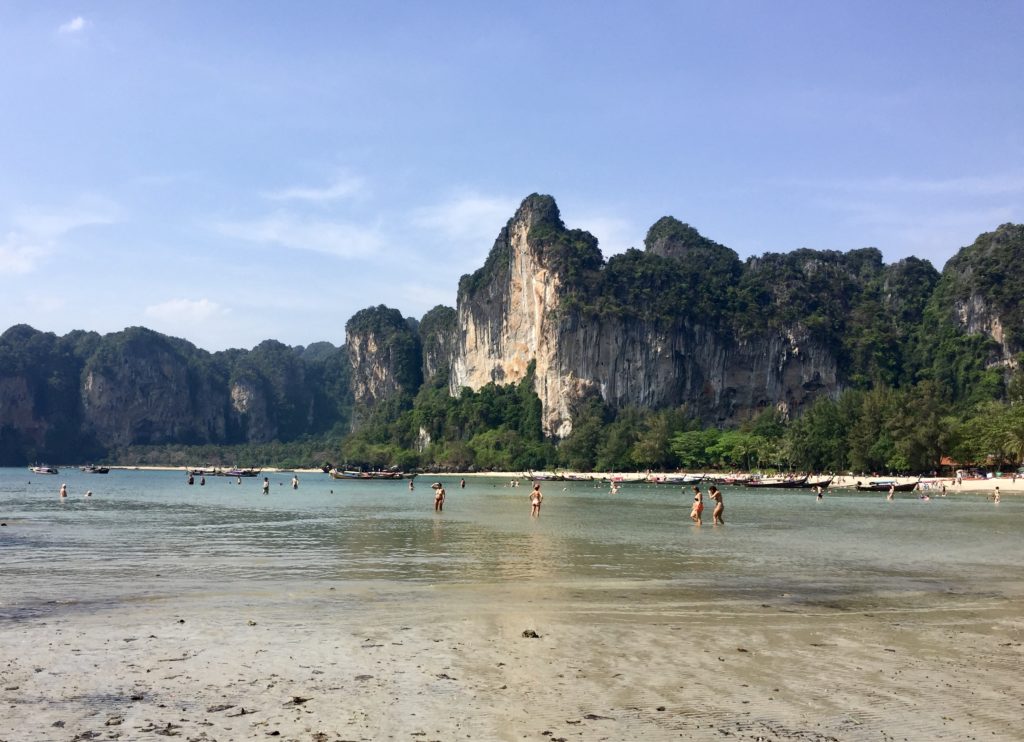 It was touristy for sure, but why wouldn't it be? Can't blame anyone for wanting to visit. It was also there that my fear of monkeys was solidified. I had seen some cute little monkeys in Phi Phi and I was able to keep my distance. But the monkeys at Railey were bigger and not afraid to jump out of the trees in front of you while you're innocently walking down the sandy walking path. I had to turn around and walk the other way at one point when a bunch of them appeared out of nowhere just a few feet from me!
That night I met some newcomers to the hostel, Zach (American) and Sam (Welsh). They had met not long before and decided to travel together for a bit. It was great to hear the stories of where'd they'd been and where they would be going next. We all ate dinner together before buying a bit of alcohol to bring back to the hostel. We drank and played cards in the open-air lobby for a while while trying some exotic soda flavors as mixers, with mixed results. It was a relaxing night of swapping travel stories and learning new card games. This time I was the one headed off early the next morning so after adding them on Instagram, we all said goodnight and headed to bed. Again, I didn't get any photos that night except for one of a gigantic spider we spotted in the hostel. Bummer.
Its nights like these that make me miss traveling. It's exciting never knowing who you're going to meet or dine with the next day. Maybe you'll never see them again or maybe you'll end up traveling with them for two weeks (Spoiler for upcoming posts on Vietnam!).
That morning I flew from Krabi up north to Chiang Mai! I have a lot to write about regarding my time in Chiang Mai so hopefully I'll have a new post up soon!