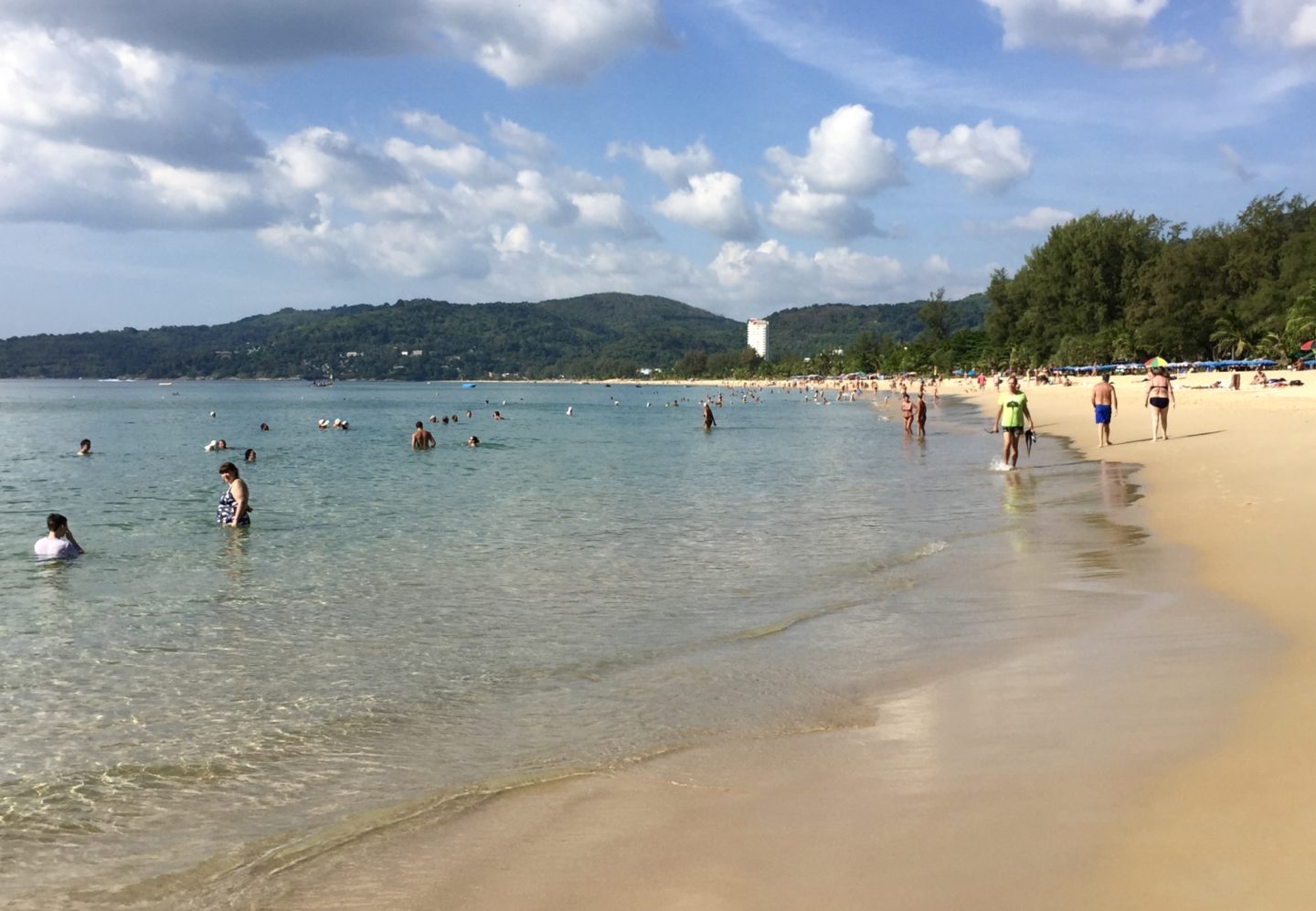 Hello again from Chiang Mai in the north! This is the last leg of my month in Thailand and I can't believe how fast time has flown by. I leave tomorrow for Cambodia but I still have so many photos and stories to share from Thailand!
Ever since leaving Uthai Thani where I was visiting my friend Mary, I have been traveling totally alone. The idea seemed daunting when I first said goodbye to Mary at the bus station, but over the past month I have really come to enjoy both spending time alone, and spending time with all the friends and acquaintances that I've met along the way. I've met so many wonderful and interesting people from all over the world, most of whom are traveling alone too! I feel so grateful to have been able to take this trip – definitely one of the most memorable months of my life, that's for sure. I will miss Thailand but I can't wait to see what the rest of Southeast Asia has in store for me!
Anyway, once I was back in Bangkok, I made my way to the Southern Bus Terminal, where all the buses heading to Southern Thailand leave from. I had a tough time getting there, though since neither of the metro lines run anywhere near the station. From the bustling Victory Monument square, it is SO easy to hail a cab – they are everywhere. But it took me 5 attempts to get one driver who knew where I was trying to go. I showed them the location of the station on a map, showed them the name of this major bus station written in Thai… but alas, they said they couldn't help me. One driver pretended to know where he was going, had me get into the cab, and had driven about a half a block when he turned to me with a quizzical look on his face. He pulled over and again, I showed him the map and the name of the station in Thai. In the end he said sorry, he didn't know, and I had to get out of the cab. It was infuriating and took much longer than I anticipated, but I made it there eventually.
I read online that the 'VIP' buses have really comfortable overnight buses with personal TVs, chairs that recline really far and are good for sleeping. I got to the ticket desk and asked for VIP. The woman said there was no VIP left, but she had first class, and the bus was leaving in 10 minutes. I felt a bit frantic and didn't take the time to think about it – and I agreed.
As you can probably imagine, the "first class" bus she mentioned was basically a run-of-the-mill coach. Maybe it had a little more leg room than the average coach, but I could already tell it was going to be a rough night. The bus was only about a quarter full when I got on. My seat was in the very last row in the back (the back row seats did not recline whatsoever), where there were 4 seats across. There were so few people on the bus and it was scheduled to leave in just a few minutes, so I sat there with my fingers crossed that I'd somehow encountered some divine miracle that would allow me to sleep across those 4 seats and that no one else would take them.
Thankfully that's exactly what happened! Having those four seats in the back was the only positive thing about the bus ride. What was supposed to be 12 hours ended up as 14 hours. Not to mention how fast the bus was traveling and the tight turns it was making around the curvy and bumpy roads. There were so many times when I was scared the bus (it was a double-decker) would just tip right over. I was constantly trying to stay in my seat and not slide right off! I think it's safe to say I didn't get a very restful sleep and I came out of the experience with some serious bruising on my legs… But I survived. I won't be taking first class in Thailand again anytime soon!
Here's a quick video I took when the lights briefly came on during the night. For anyone thinks I was intentionally shaking the camera around, please note the way the curtains on the windows were swaying with the movement of the bus!
Eventually after getting an overpriced taxi from the bus station to my hostel, it was finally time to hit my first Thai beach!
Phuket has a reputation for being overly touristy, maybe even a bit tacky, and full of partiers. So for that reason I did a little research and chose to stay at a different beach than the main party beach, Patong. I chose to stay near Kata Beach, which I read still had many bars and restaurants, but was not out of control. Then there was a similar beach, called Karon Beach, a ten-minute walk down the road from Kata.
I spent my first full day at Kata Beach with a new Chinese friend from my hostel, who was also traveling alone! As it was my first Thai beach and all I had to compare it to was the beaches at home, I was in awe! The longtail boats, the color of the water, the warmth of the water – It was incredible! I have not been anywhere tropical in MANY years so this was just what I needed!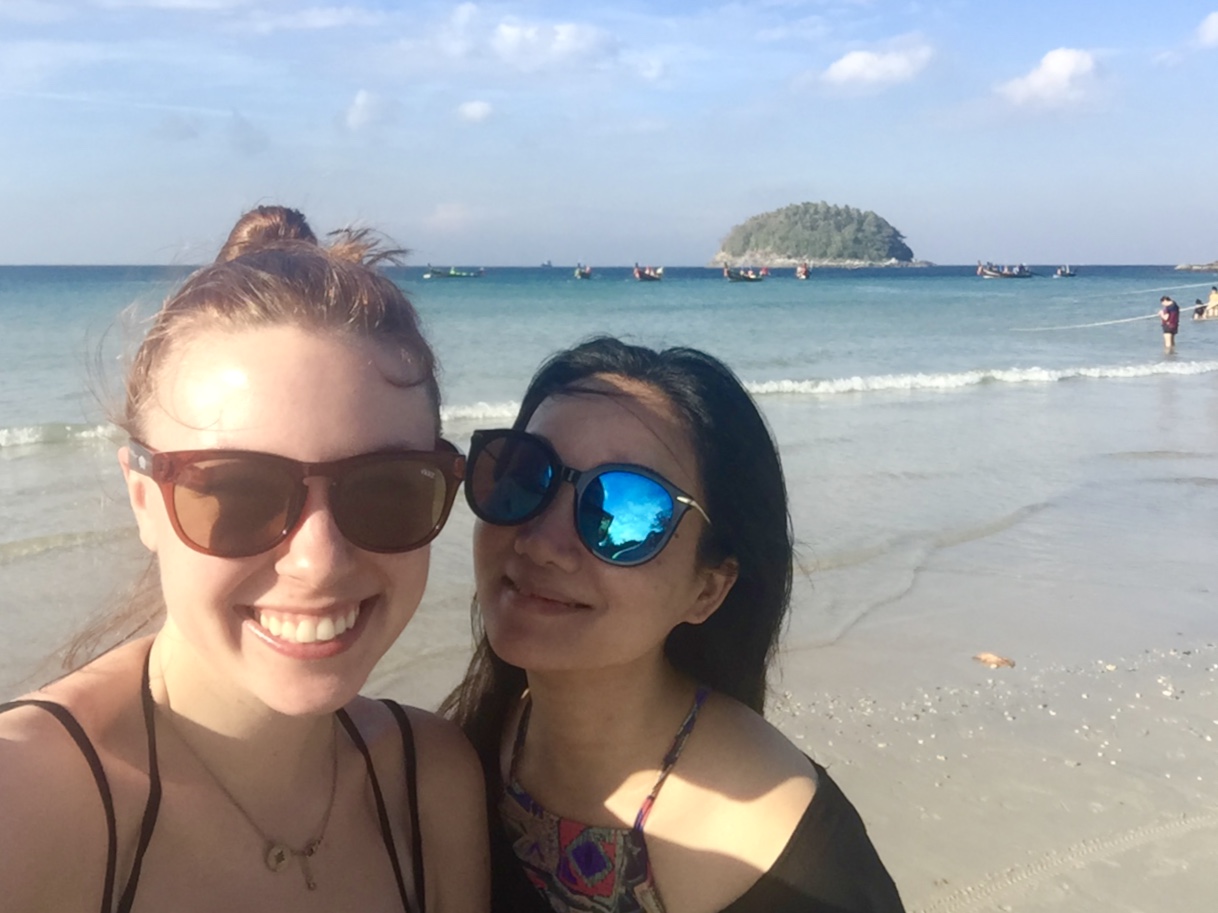 As a paranoid and overly-cautious solo traveler, I felt better going to the beach with a friend so she and I could take turns going off in the water while the other watched our belongings. But while I was swimming and Yuan Ying was watching my stuff on the beach, I was not looking out at the clear turquoise waters but I kept my eyes back on the beach. I could see that people left their belongings unattended all over the place while they were in the water! I watched those unattended towels and bags for a long time to see if anything suspicious would happen. Nope. I was starting to be glad that I chose this beach that was full of families, couples, and older tour groups enjoying their beach holiday. I didn't sense any sketchiness at all, but I guess you can never really tell.
So the next day I decided I would go to Karon Beach (10 minutes down the road) – alone – and I would go swimming, leaving my stuff on the shore. I brought my $10 purse from Walmart, the towel I rented from my hostel, sunscreen, my book, a bottle of water, 150 baht in loose bills stuffed into the pocket of my purse (about $4.20 – enough for a full meal and more water if needed), my hostel key, and that's it. The thing I'd be most nervous to lose was the overpriced book I bought at JFK airport (Missoula by Jon Krakauer – anyone read it? So good!). I left my phone locked in my hostel locker.
I decided I would set up camp as close to the water's edge as I could without worrying about the tide reaching it. That way I could keep an eye on it while I was in the water. And you know what? It was a great day with lots of swimming and not worrying about the time or getting the perfect Instagram photo! So relaxing. And everyone was right – Karon Beach was even better than Kata Beach – less crowded, clearer water, better waves. I decided that I would even need to extend my stay on Phuket an extra night so I could have another day at that beach!
The next day I even brought my phone (and it didn't get stolen!) so I could take some photos. There was this little rocky cove at the southernmost end of the beach, which is where I liked to be. I even bought a pair of really dorky goggles (like the ones real swimmers wear when competing) to do a bit of fake snokeling and see all the fish swimming around the rocks! It was amazing!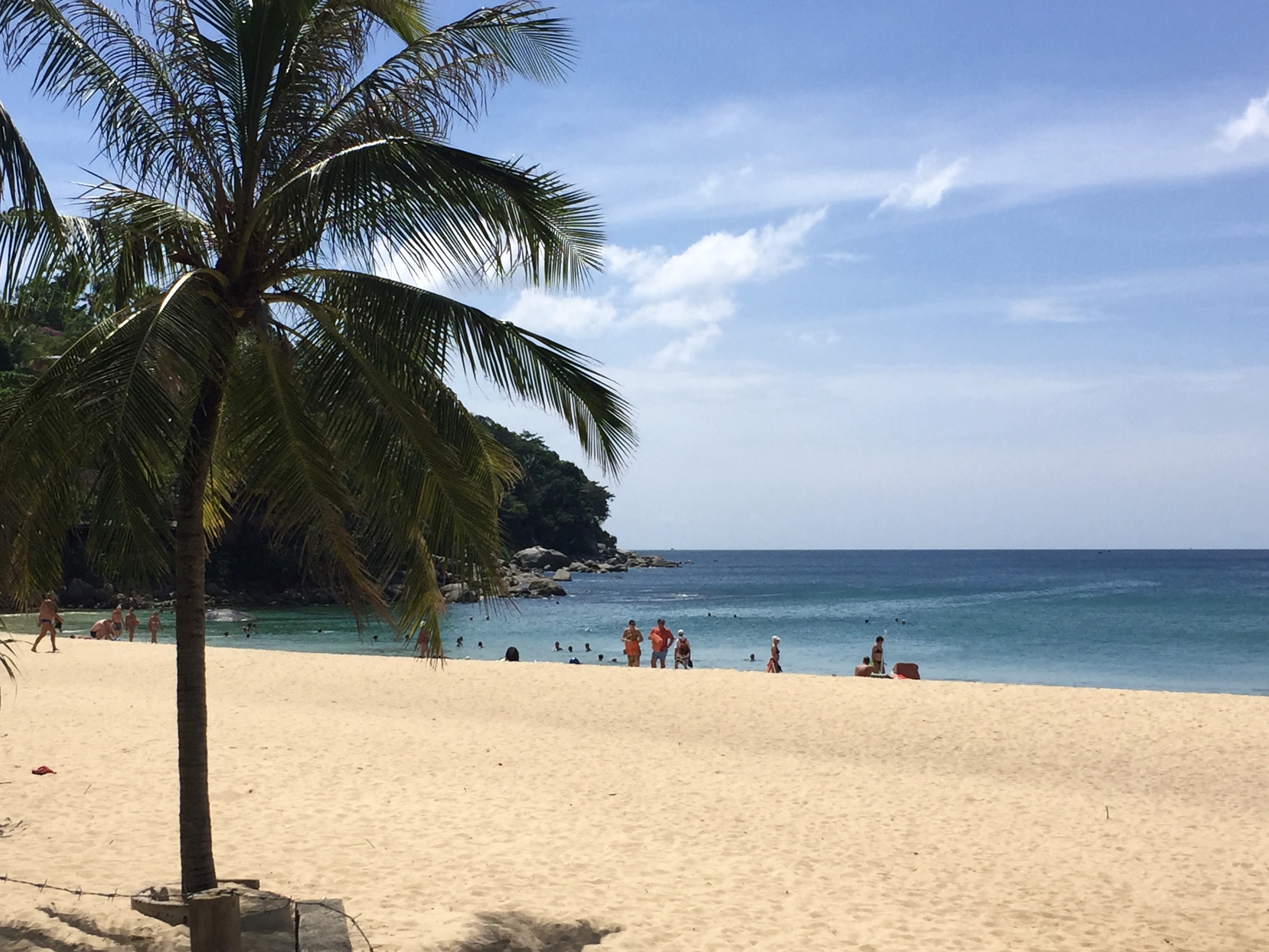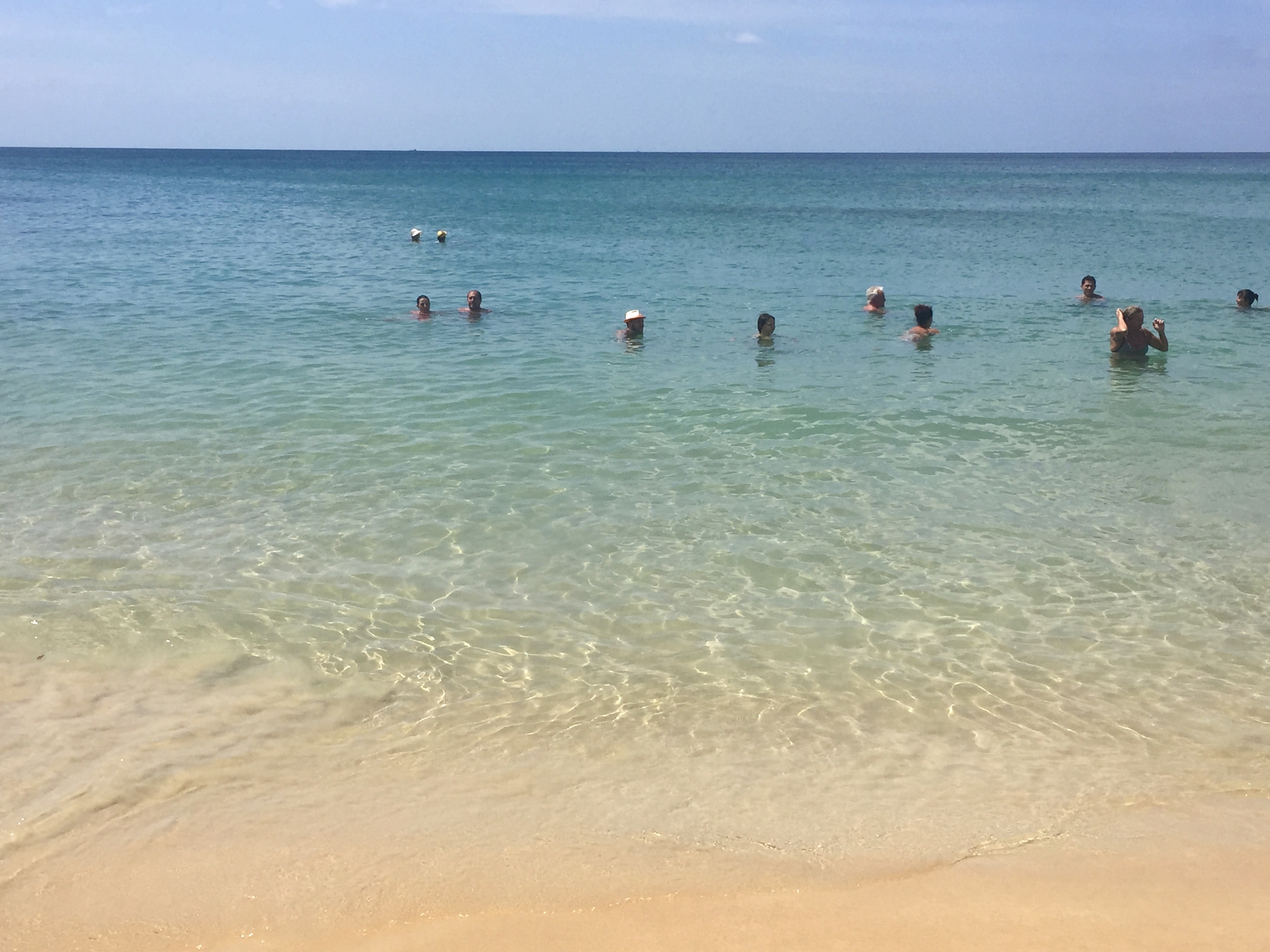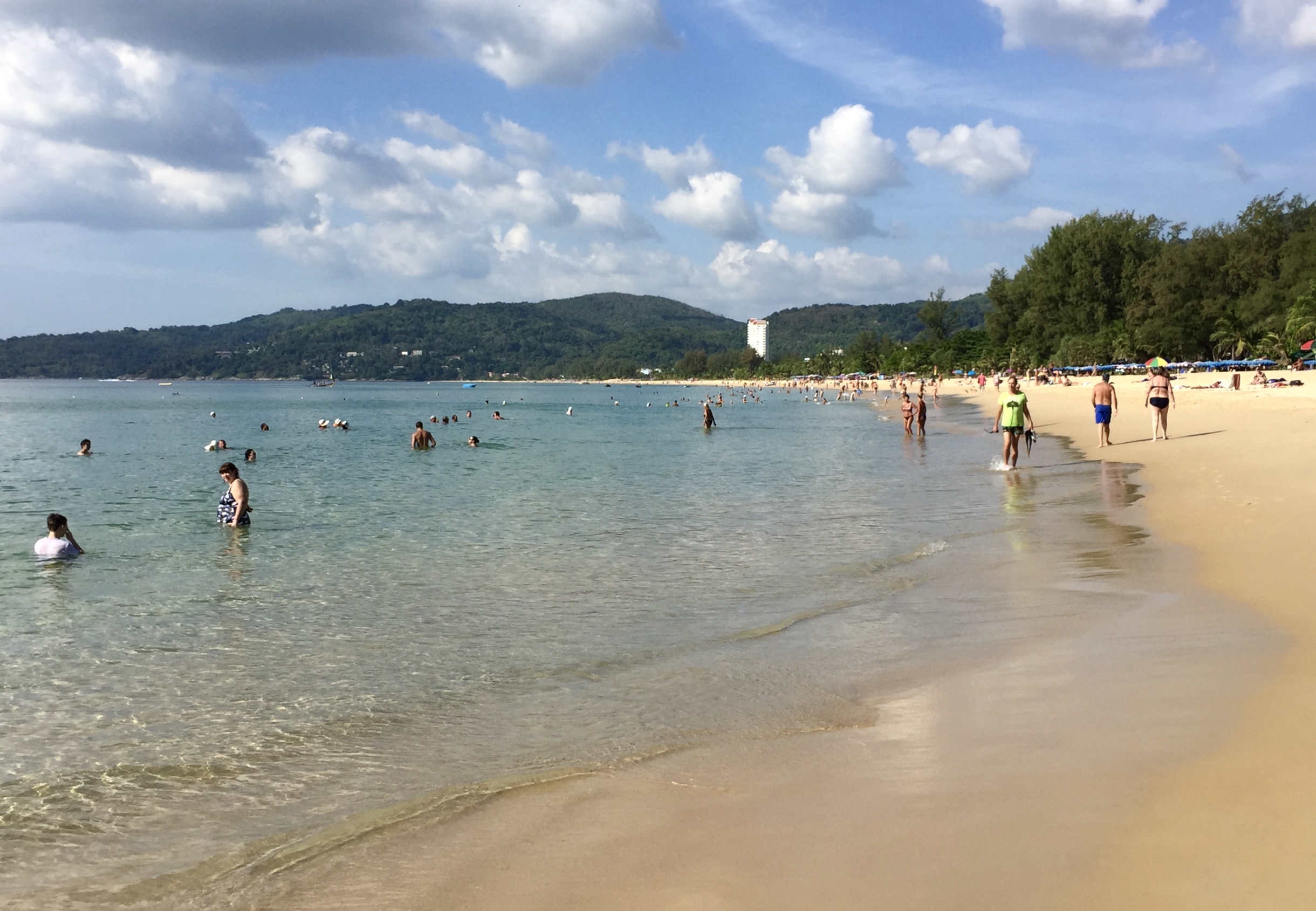 Oh and the SUNSETS! Too good to be true.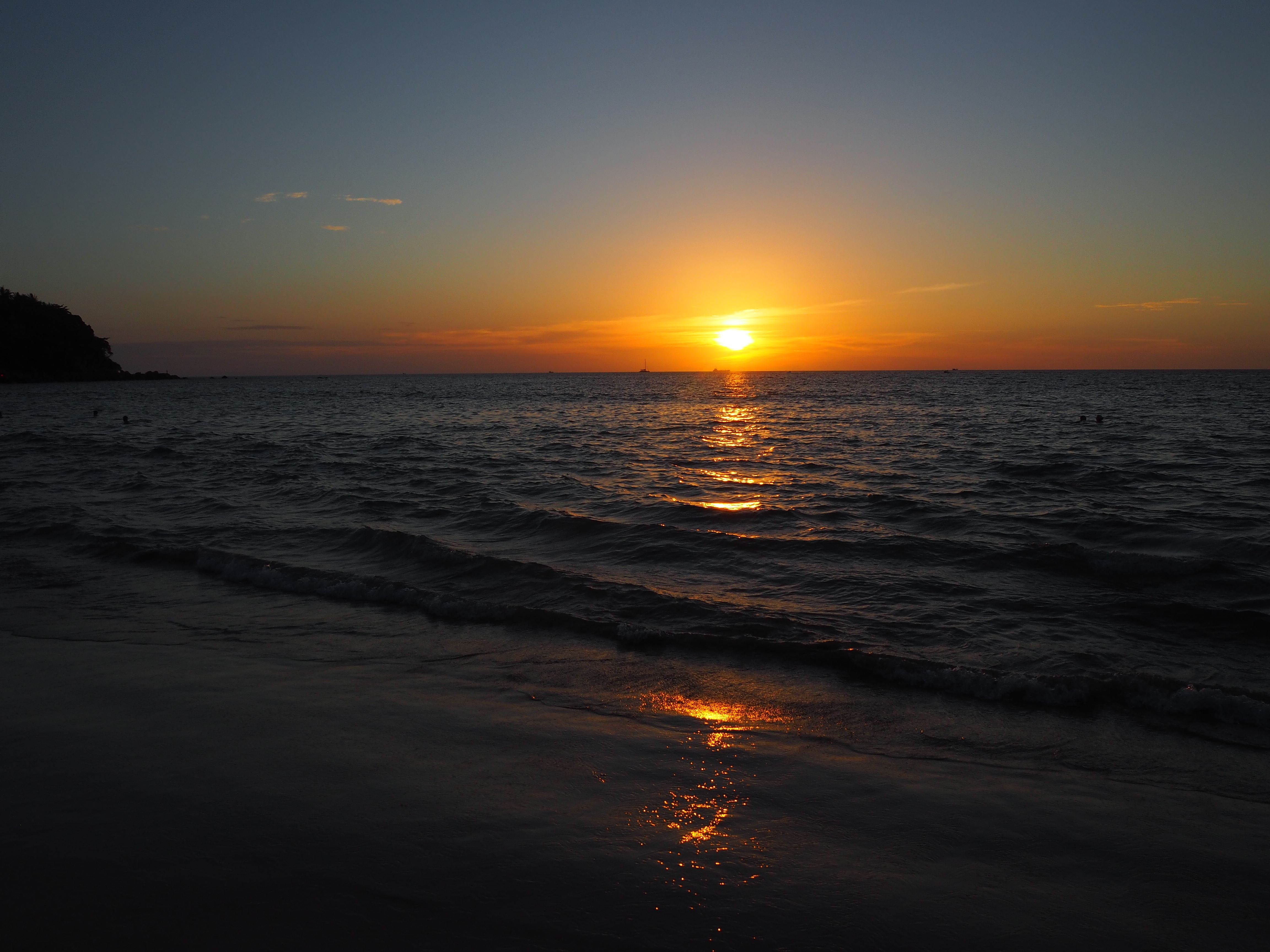 Overall, Phuket was a success! It was a quiet couple of days for me, but so relaxing. Phuket doesn't have a great reputation anymore but I would definitely recommend it, as long as you do a little research on which of Phuket's areas best suits your needs! Whether you're a backpacker, on a family vacation, on a honeymoon, looking for a bargain, or looking for something a bit more luxury – I'm sure you will find what you're looking for somewhere on Phuket. It was also the perfect jumping-off point for the rest of my island-hopping plans!