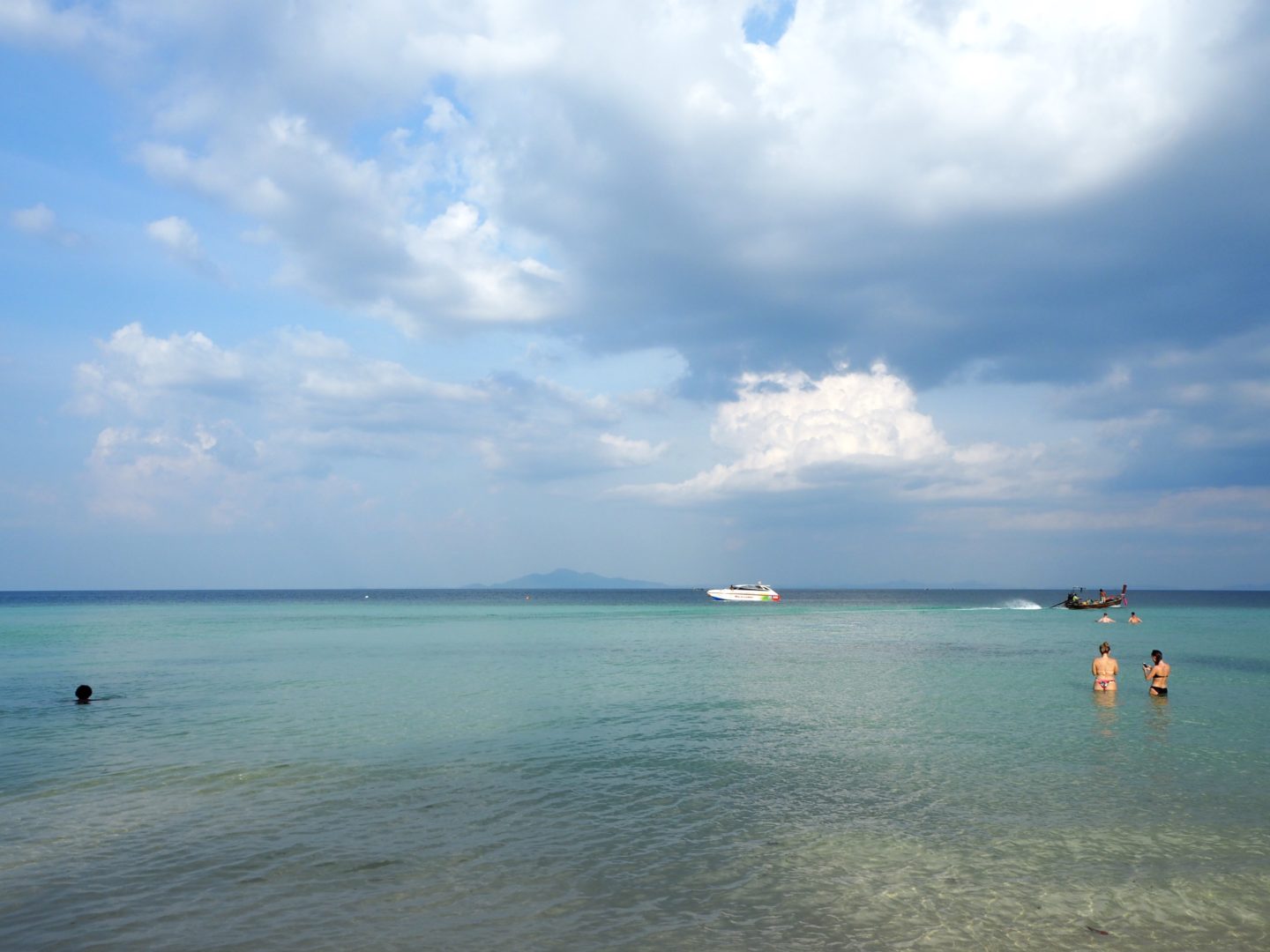 Posting tonight from my swanky $23 per night hotel room in Phnom Penh, the capital of Cambodia! And by swanky I mean there is only one bed in this room, and there's even a TV! Honestly, just having my own bathroom is the greatest luxury of all after five weeks of having to share living space with complete strangers. Experiencing Cambodia the past couple days has been an adventure in it's own right but I'll make another post about that eventually!
After my time in Phuket, I moved on to the much anticipated island of Ko Phi Phi! And much like Phuket, I had heard mixed reviews about Ko Phi Phi from reading popular travel blogs about how awful it is, and speaking to people I know who thought it was nice!
I had found that I could easily escape the crazy party atmosphere on Phuket and wanted to believe that I needed to give Phi Phi a chance after finding out for myself how great Phuket is. But Phi Phi is also a smaller island so if I hated it, I may not have anywhere to escape to! But the photos just looked too beautiful. So I had to check it out and see what it was all about.
I hopped on the ferry from Phuket to Ko Phi Phi with a thousand other tourists and it took about 2 hours. When I got off the ferry in Tonsai Bay and headed for my hostel, I couldn't help but notice the lack of cars, motorbikes, and tuk tuks. Everything was pedestrianized which was actually a welcome change for me. The walking paths were surrounded on all sides by restaurants, cafes, bars, tour agencies looking to sell you a boat tour, diving shops looking to sign you up for a diving course, and of course the millions of hole-in-the-wall shops selling elephant pants, tank tops, sunglasses, and other typical Thai souvenirs.
But after walking along the road for a while, I started to see the scenery emerging on my right hand side, just beyond all the open-air restaurants lining the bay. I had to stop and take it in for a moment. Despite the touristy stuff everywhere, this was the most beautiful place I'd seen yet.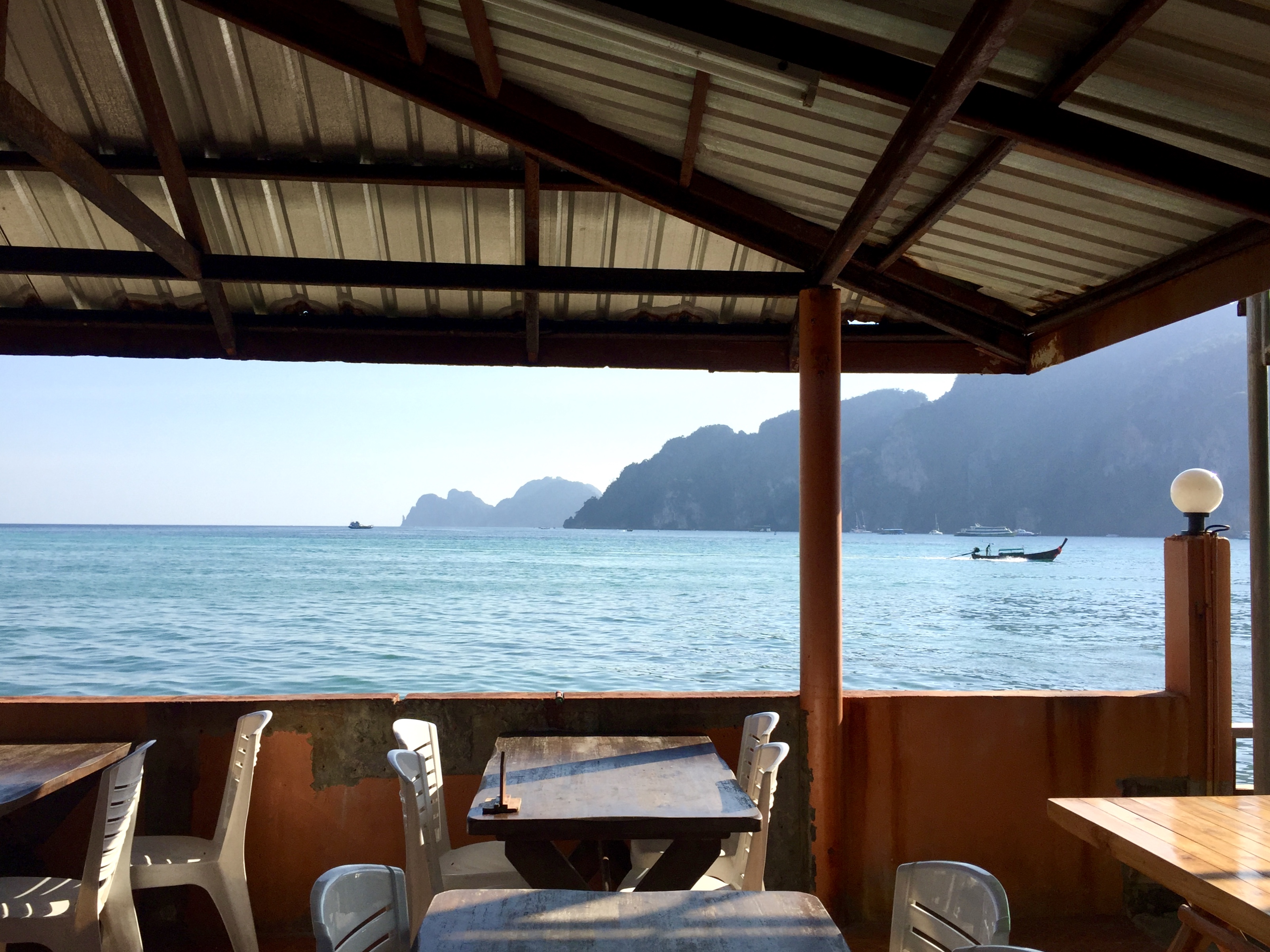 I checked into my hostel, threw on my swimsuit, and went off to explore for an hour or two before the sun set. The first stop was the main party beach on the island, since it was just a ten minute walk away. The beach is located in Loh Dalam Bay and it's lined with bars, clubs, and restaurants, right up along the sand. The scenery was nice but the water didn't seem that clear/clean and I wasn't inclined to go swimming there. It was then that I realized I'd become a bit of a beach snob! Thailand will do that to ya.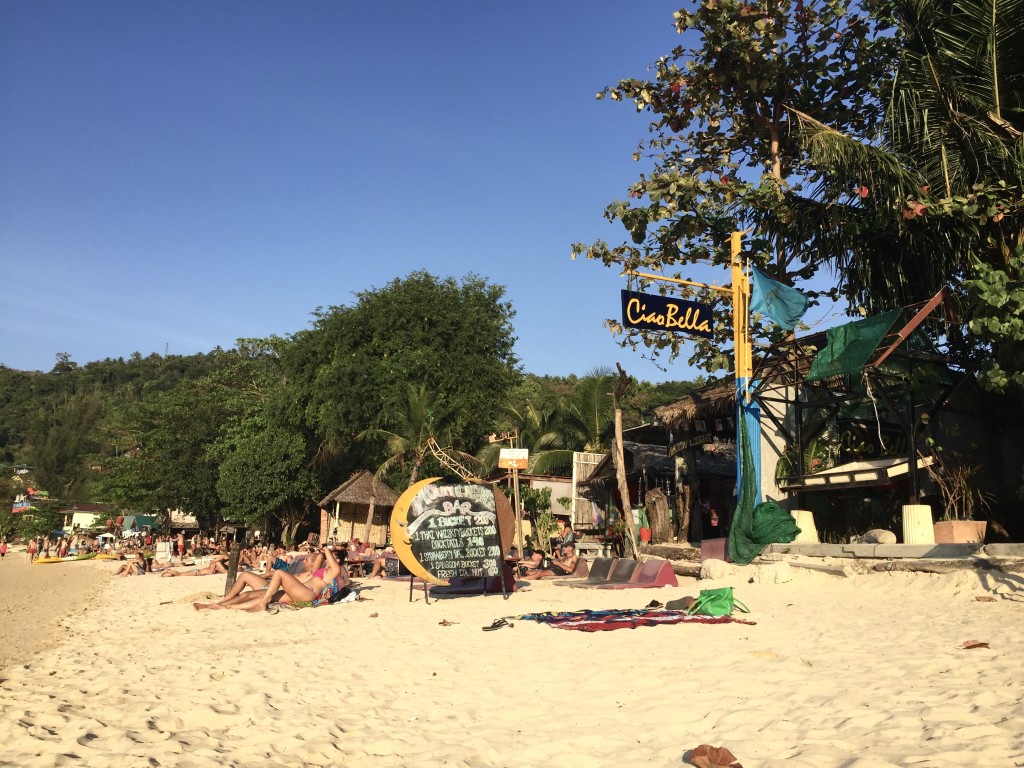 The beach was really busy with tourists and people were already beginning to drink for the night. I wasn't feeling the vibe so I only spent a few minutes there before heading back toward Tonsai Bay to wander around the shops and take in the views. I needed a snack anyway so I grabbed a mango smoothie and found a small patch of beach with only a couple of other people there. I sat and took in the beauty of my surroundings as the sun started to set. I jumped in the water for a quick swim before dark.

After I grabbed some dinner, I headed back to my hostel and figured I'd start getting ready for bed and read for a bit. While in line for the bathroom I started chatting with a really nice girl from Brazil, who invited me to come out and wander around the island with some other people from her dorm room. After my quiet existence on Phuket, I could have used some friends and a little excitement, so I went along!
I ended up meeting a bunch of really great people from all over the world who were all traveling alone too! We wandered around a bit, watched a fire show, went to the infamous "Reggae Bar" (more on that later), and ended at a nightclub on the beach.
After a slow start the next day, a group of us decided to grab a private taxi boat to take us to a secluded beach on the other side of the island. We all paid the equivalent of a couple bucks each and was it was so worth it! The beach was called Loh Moo Dee – If you ever find yourself on Phi Phi and want to escape the crowds and literally be in paradise – please go here! The water was so warm and clear. I could have hung out in the shallows there all day.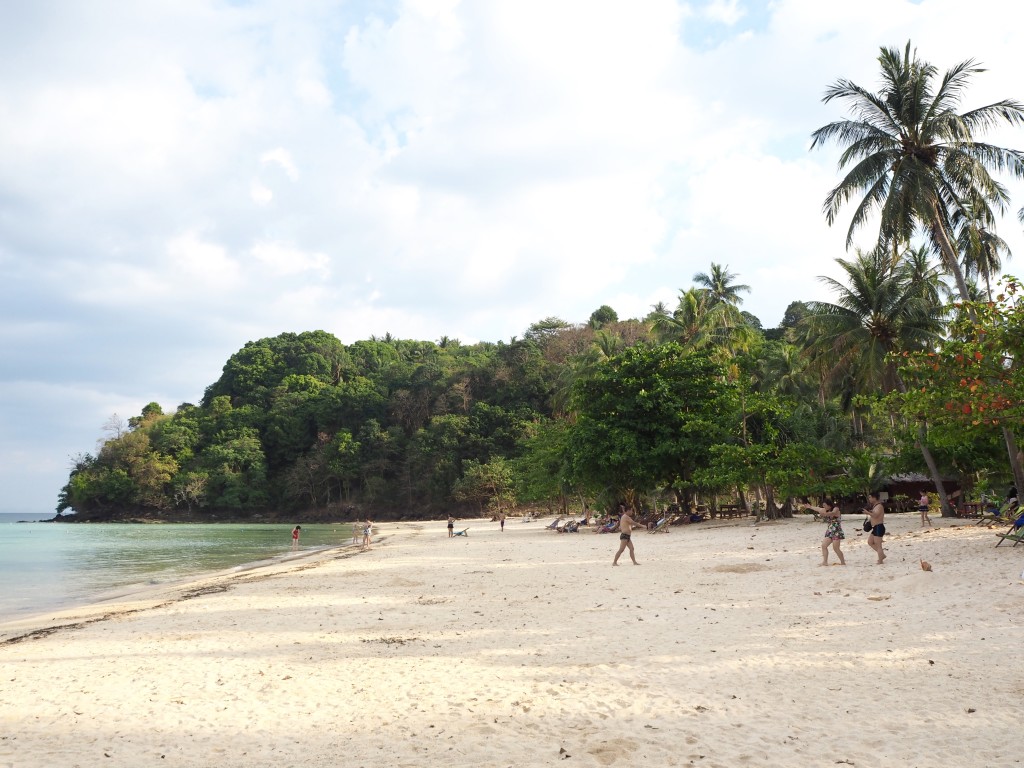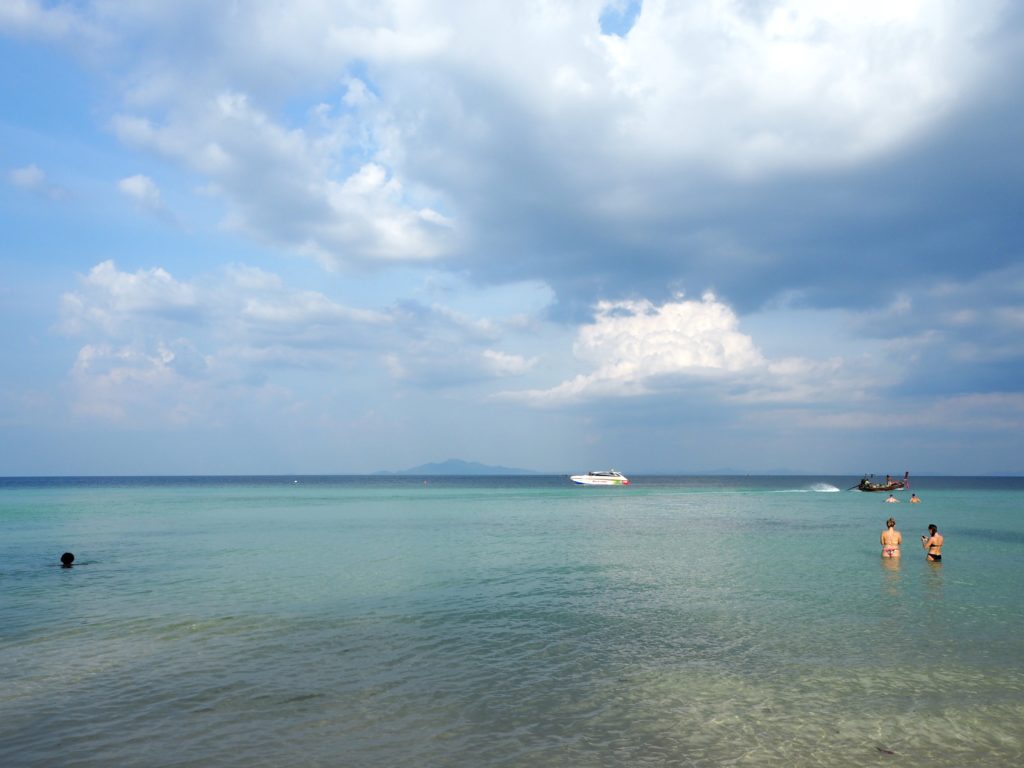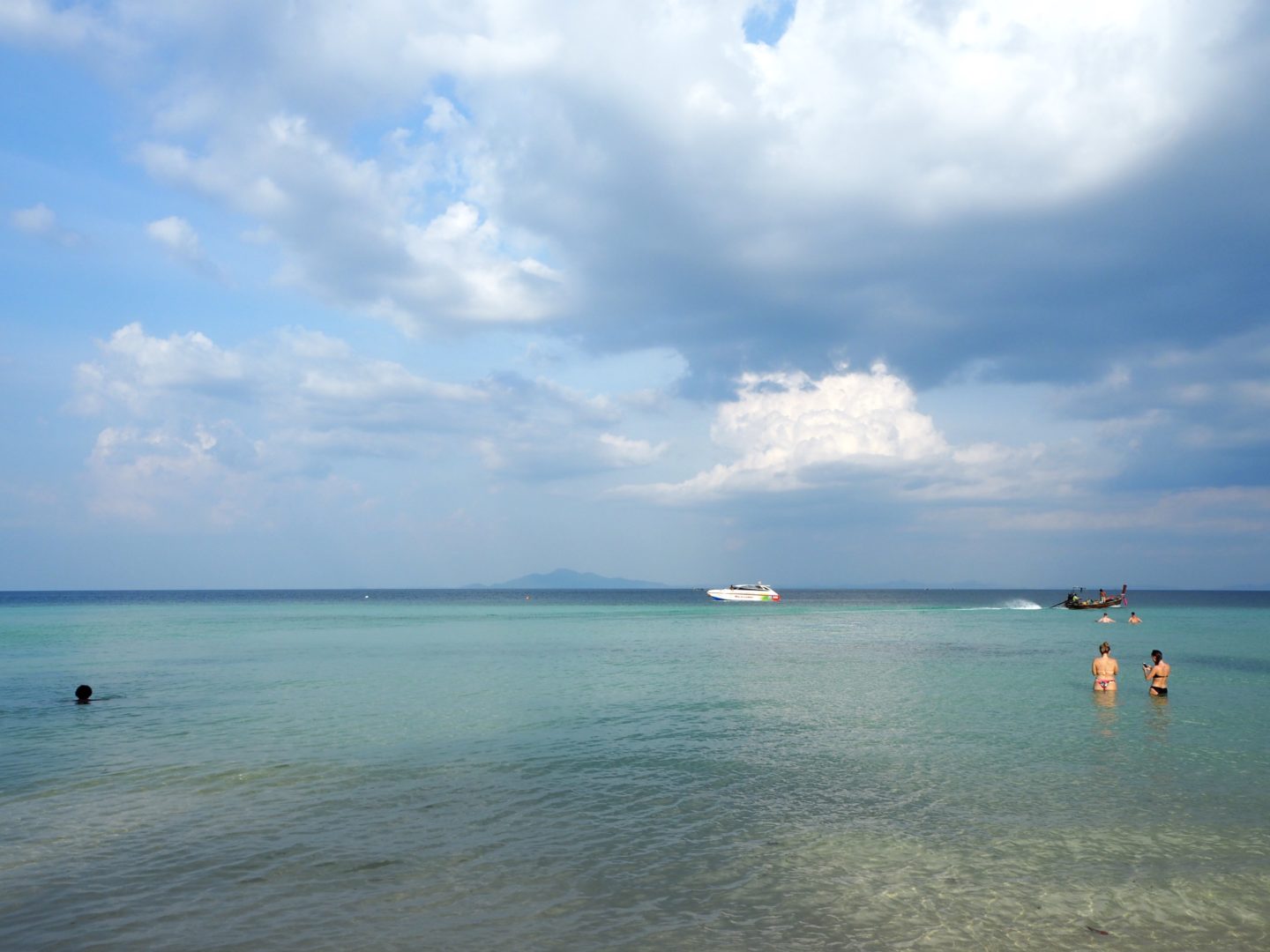 That night, we met even more people at our hostel and a group of us went out together. Again, we ended up at the Reggae Bar. It's a very strange place with a Muay Thai boxing ring in the center of the bar, surrounded by tables, and even bleachers for spectators. They play popular music until a boxing round starts, when they blare traditional Muay Thai music (not my favorite genre, I've found).
The tourist fighters (who generally have no idea how to box properly) get suited up in protective gear and gloves. The winner gets bragging rights as well as a free bucket of their choice… A "bucket" being a literal beach pail filled with your favorite mixed drink, some ice, and a couple colorful straws – the drink of choice for backpackers in Southeast Asia due to their portability and their ability to get you drunk without having to buy drinks all night. This particular bar had a buy one get one free deal for buckets, so we all helped ourselves without having to get in the ring! Most of the fighters we saw were male but we did witness one bizarre girl fight. I have no idea what would posses anyone to get into that ring, especially since we witnessed one guy whose arm got mangled.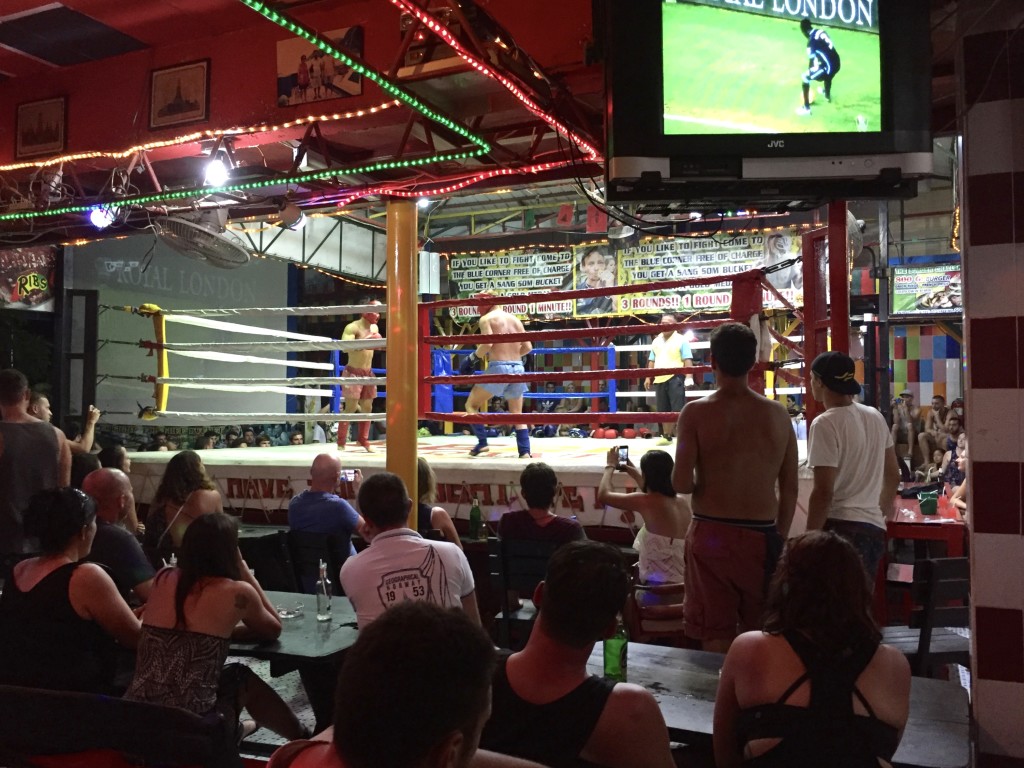 The next day we decided to do an island tour to see the sights around Phi Phi. Because we had a group of five, we got a private boat again and could choose exactly where we wanted to go and how much time to spend there. We only paid about $13 USD each for four or five hours with our boat and driver and it ended up being one of my favorite days so far on this trip!
The first stop was Monkey Beach! It was not someplace you want to stay for more than half an hour, I'd say. We stayed for about 25 minutes just observing the monkeys running around. For a tiny beach, there were a lot of tourists there doing the exact same thing as us. But they were the first monkeys I'd seen until that point on my trip so it was pretty cool! There were so many of them too.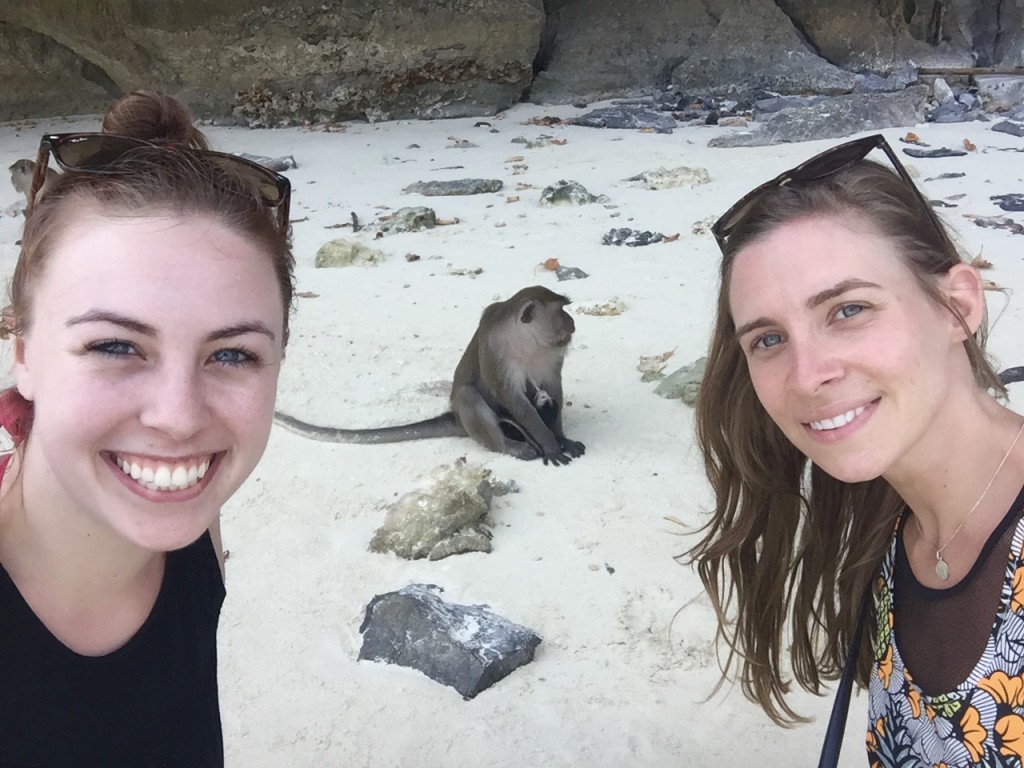 I honestly don't even know where exactly we were for the next two stops of the day. I couldn't show you on a map but I'm pretty sure we were in some little cove on the smaller Phi Phi island. The next place we arrived at had several other boats floating around a lagoon with vibrantly colored water, and surrounded by limestone cliffs. There was no beach so we all hopped out of the boat and swam around for a while. Earlier that day I bought a waterproof phone case which allowed me to take some funny seflies of us in the water!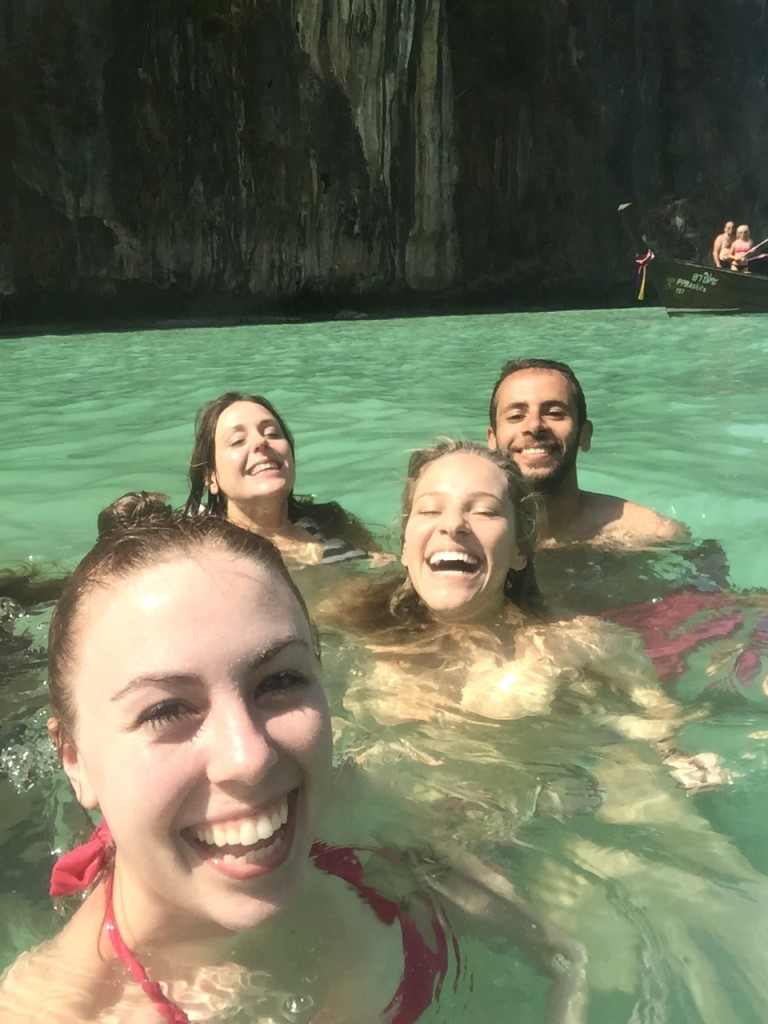 The next place seemed pretty nondescript when our boat driver stopped the boat. He handed us some snorkeling gear and pointed to us where to go, over near one of the limestone cliffs. We hopped out of the boat and I was immediately so in awe of the coral reefs and the abundance of fish swimming around everywhere. I hadn't been snorkeling since I was about 8 and had forgotten how fun it is! I even managed to take some underwater videos with my phone! I couldn't see very clearly what I was recording so some of it is a bit blurry and shaky!
The last stop of the day was the famous Maya Bay, where the film "The Beach" was filmed with Leonardo DiCaprio. I had never seen or heard of "The Beach" at the time, so I took everyone's words for it that it would be amazing. And it was! We arrived in the late afternoon for the last hour before we had to head back to the pier.
Since Maya Bay attracts so many tourists and they need to keep it clean, they charge 400 baht for anyone who wants to visit the main tourist beach. Luckily the group I was with knew this ahead of time and knew of a little beachy cove off to the side of the main beach. We had our boat driver take us there so we wouldn't have to pay the fee. It was probably even nicer than the main beach because there were only a handful of other people there! The swimming wasn't spectacular since there were some leaves and stuff in the water, but the views were still amazing!
It was such a great end to a perfect day! I didn't think I would like Phi Phi but I am so glad I gave it a chance. I probably wouldn't spend more than 3 nights there, but I would have been really bummed if I missed it. Yes, there are tons of tourists and people who are only there to party, drink, and take drugs. There's no denying that. Our group never got that wild but we still had such a blast taking boats around and enjoying some of the most beautiful scenery I've ever seen. If I've learned anything so far on this trip is that you have to create the experience you want. Someone else's negative experiences shouldn't dictate whether or not you visit a certain place. I need to stop listening to snobby travel bloggers making me feel like I'd be wasting my time and money by visiting somewhere touristy. "Untouched" and "unspoiled" locations are amazing too, but I think sometimes there is a good reason why so many tourists come to a destination like Phi Phi – it's just so amazingly beautiful!
Speaking of "untouched", the next stop on my Thai island-hopping tour was the less-developed and much quieter island of Koh Lanta!