Hello from home in lovely Massachusetts!
I'm ashamed that it's taken me so long to get back to my blog after promising myself to keep up with it. The story behind my lag in posting isn't even good. Long story short, it was a combination of the fact that I could not find a three-pronged outlet in Vietnam where I could charge my laptop, and also because my time in Vietnam was extremely busy with some lovely friends I made there!
I would love to keep posting about my trip because I've barely gotten halfway through everything I wanted to blog about! But I am blogging from home now, so I hope I don't forget too many important details!
After all the excitement of Ko Phi Phi I headed to the final island on my Thailand hit list: Koh Lanta. Unlike Phuket and Phi Phi, I was so confident that I would love this island and had very high expectations! For once both the travel bloggers and people I spoke to actually agreed: Koh Lanta is amazing. I was told it was less touristy, less developed, and more laid back with nice beaches and a chilled-out vibe. Sounded like paradise to me!
I took the ferry over to Koh Lanta and was shuttled over to my hostel. I checked in with June, the wonderfully jolly Thai owner of Hey Beach Hostel and she showed me to my dorm, which was in a separate structure just a stone's throw away.
After seeing that I had checked in alone, June asked if I wanted her to show me where I could grab some dinner. She offered to walk me down to the beach and over to one of the restaurants where I could get a discount as a guest at her hostel. As it was really dark and I had no idea where to go, I agreed. Completely abandoning the hostel and her reception duties, we chatted about the island as we walked ten minutes down the restaurant-lined beach. We finally got to the restaurant where I could get a discount and she flagged over the waiter, whom she knew. They got me set up with a table and menu right on the sand, as well as a much needed Chang beer on the house 🙂
The next morning I was finally able to understand the layout of this amazing beach hostel. Everything was open-air. The reception area led to the kitchen, which led to the dining area, which led straight out to the beach. I took a video of myself walking through the grounds to the beach and then sped it up so it would be quicker to watch! Sorry if it's a little too fast but I just thought the lack of floors and walls throughout was pretty fun and unique!
The only thing about my stay in Koh Lanta was the weather forecast. I could hardly complain, after weeks of hot, beautiful sunshine literally every day. But I was disappointed that this island I had heard so much about would be cloudy and rainy.
But I tried to make the best of it. I got a couple of blog posts up while I was there, had the opportunity to read and journal quite a bit, and also treated myself to a lazy afternoon when I streamed the film "The Beach" on my laptop in my bunk after hearing so much about it!
I must admit that the some of my time there did get a little lonely. I did go out to an outdoor nightclub one of the nights with the friends I had made on Phi Phi, who were staying at a different hostel. But once they left the island I spent most of my time on Koh Lanta flying solo. As an introverted person, the quiet alone time was welcome. The past week or two had been exciting but also overwhelming at times.
Some of the highlights from Koh Lanta included the wildlife (crazy sand crabs, jumping fish, and this insane purple starfish), delicious Pad Thai, and some killer sunsets.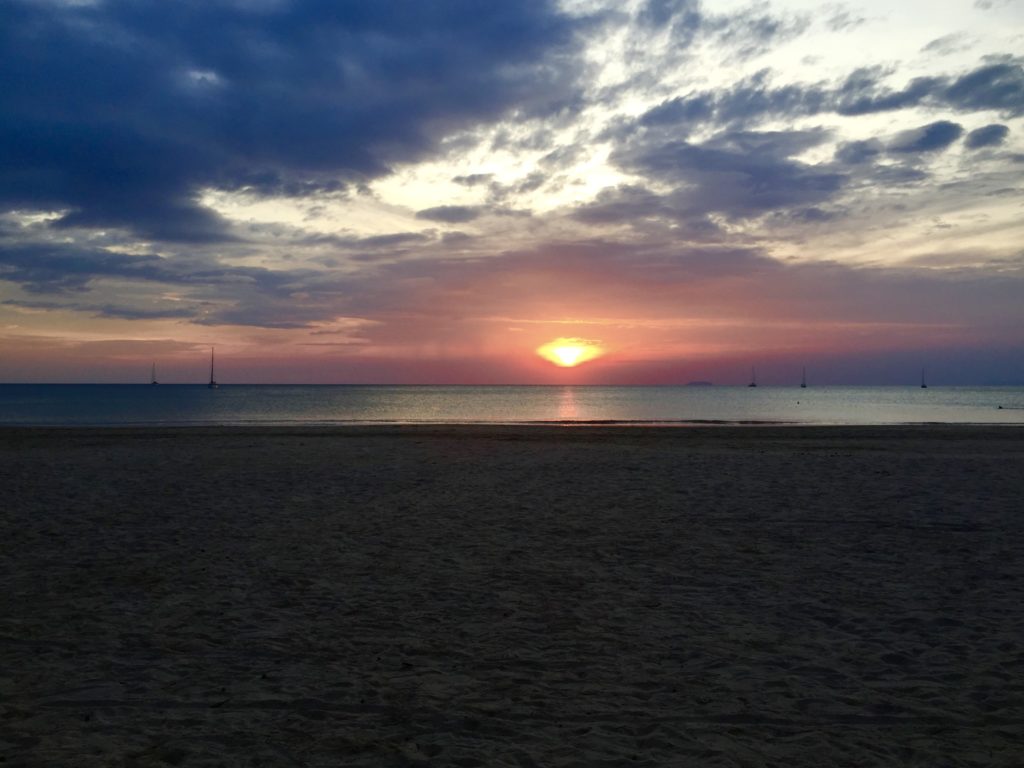 My time in southern Thailand was drawing to a close. The last stop would be Ao Nang before I would fly from Krabi up to Chiang Mai in the north. As much as I'd been enjoying the island life, I was starting to get excited for what northern Thailand would have to offer!