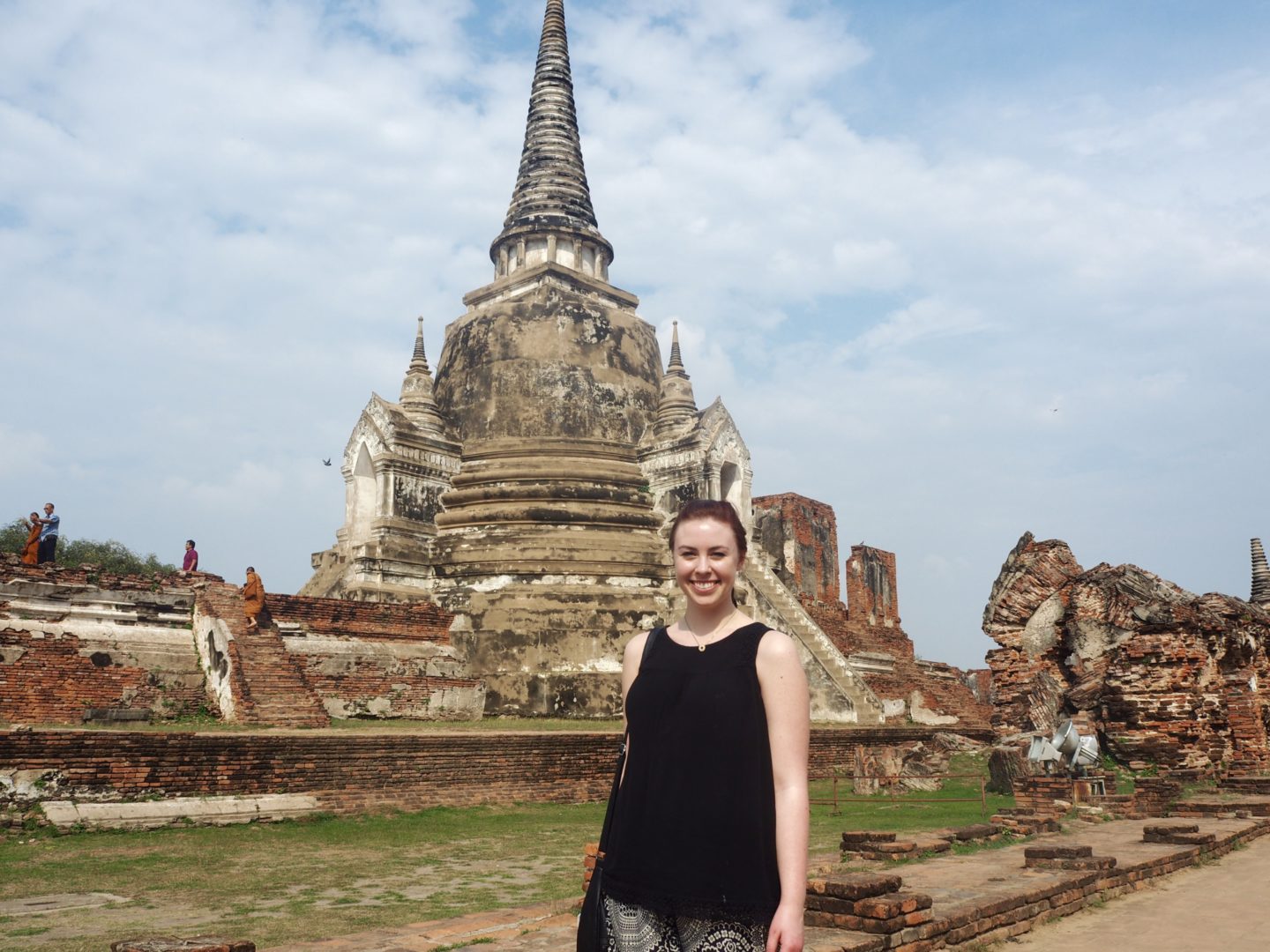 After my big sightseeing day in Bangkok last week, I decided to take a day trip outside of the city, to Ayutthaya. I didn't know much about it to be honest (and still don't, actually), but it came highly recommended from Mary, my friend teaching English in Thailand, and also from Grace, my new Thai friend who I had spoken to about it the day before. All I knew was that Ayutthaya was once a major capital city of Siam and is now a UNESCO World Heritage Site.
Ayutthaya is only about an hour and a half outside Bangkok and you can get there pretty easily by a minibus. I've come to understand that minibuses are a really simple and popular way for Thai people and tourists alike to get in and out of Bangkok and to various surrounding cities. Minibuses can be found at Victory Monument square, a gigantic, hustling and bustling spot in Bangkok and there's a Skytrain stop there as well.
As this was my first time taking a minibus I wasn't sure where to go or how things worked, naturally. Eventually I found the spot where the minibuses to Ayutthaya leave from. An unfriendly woman was selling tickets so I went up to her to buy one. She didn't speak much English but communicated that it was 60 baht one way. When I went to pay, she pointed to the pad of paper she was holding that said "60 + 60 = 120" and basically said if I was planning on coming back to Bangkok I needed to pay the 120 baht for a round-trip ticket. I definitely wanted to come back so I shelled over the 120 baht and hopped on the bus. I didn't get a receipt or anything but there are so many things about Thailand that are different than what I'm used to, I just figured this was probably normal and everyone on the bus must have gotten a round-trip ticket. The buses don't leave until the bus is full, but it only took about 15 minutes for all the seats to be filled and we headed off.
When we arrived, we were dropped at a spot with a bunch of tuk-tuk drivers and taxi drivers hanging around, clearly waiting for us. I knew I would need some way of getting around as Ayutthaya has many interesting temples but they are scattered far apart. One man approached, me noticing that I was alone, and started talking to me about paying for 3-4 hours and driving me around in a tuk-tuk. He even showed me this notebook he had where apparently some English-speaking tourist had written him a rave review in English about what a great time he had in Ayutthaya. I was skeptical that it was a real review but figured why not? When I agreed to his rate, a man in the SUV parked next to us hopped out and opened the back door of his car for me. Confused, I asked "no tuk-tuk?" as that's what I thought we had agreed upon. And I also thought I'd be going around with the guy I'd been speaking with. He assured me the car would be better because it has air conditioning. In the end I decided to roll with the punches. While the idea of getting into an unmarked SUV with a strange man offering to show me around Boston would sound like an unsavory idea, as I learned the day before on the motorbike taxis, things are just different here. Something I would consider terrifying at home is perfectly normal in Thailand. While I certainly don't intend to get into cars with strangers on a regular basis, I was glad that everything  turned out fine… And it was actually a really nice day! My driver was very kind and even bought me a bottle of water at one point during the day!
The man spoke almost no English but would point out to me on a map where we would be going to before he headed there. I pretty much never knew any history behind any of the temples. Even the informational placards at the sites never provided much information. They would describe the physical appearance or design of the monument/temple/statue, but I never once could find any information on how old the structures were! So for that reason I was a total blank slate and could only take things at face-value.
As I don't have much commentary on any of the places I visited, I'll just include some photos of each place!
Wat Yai Chai Mongkol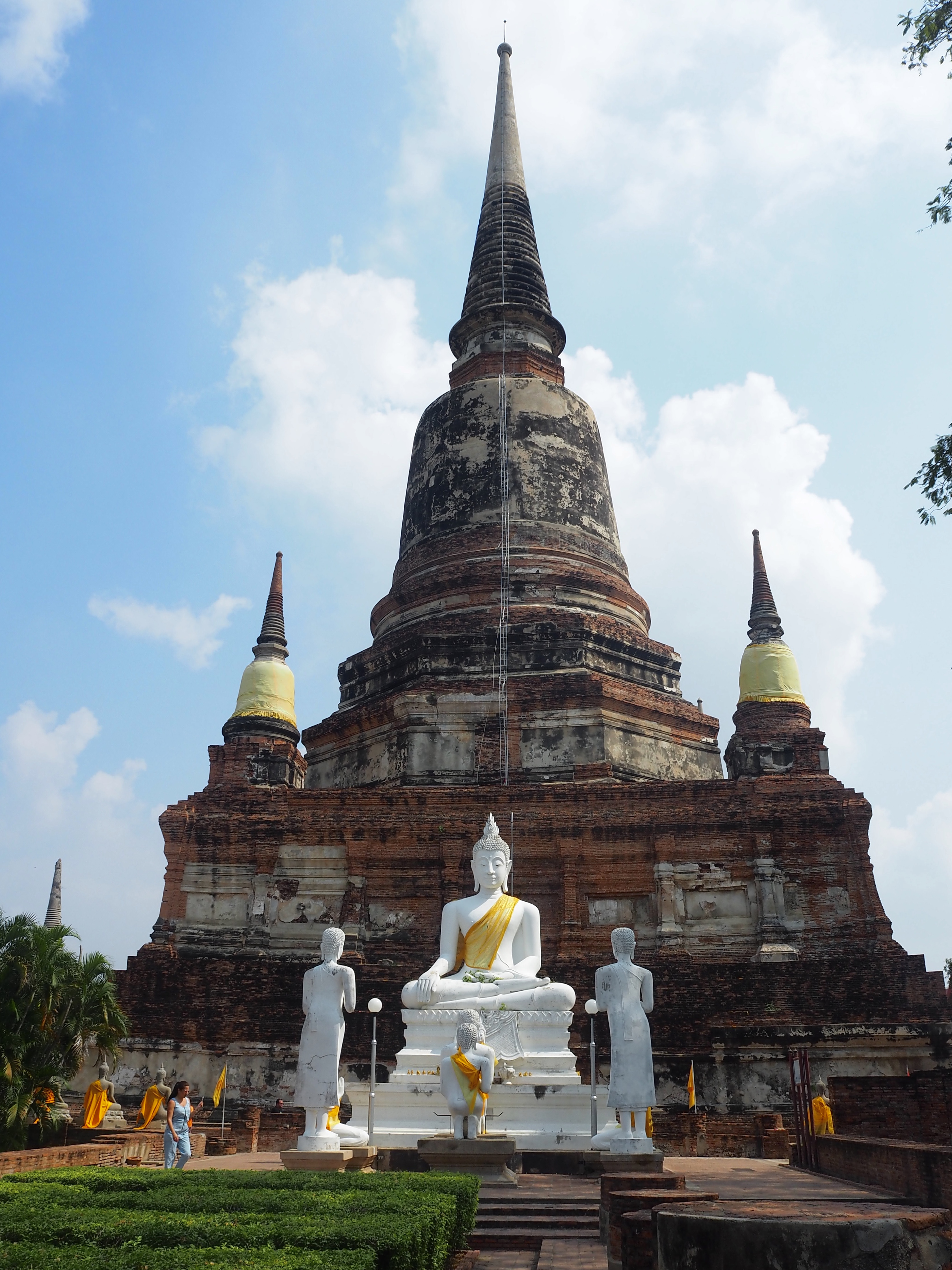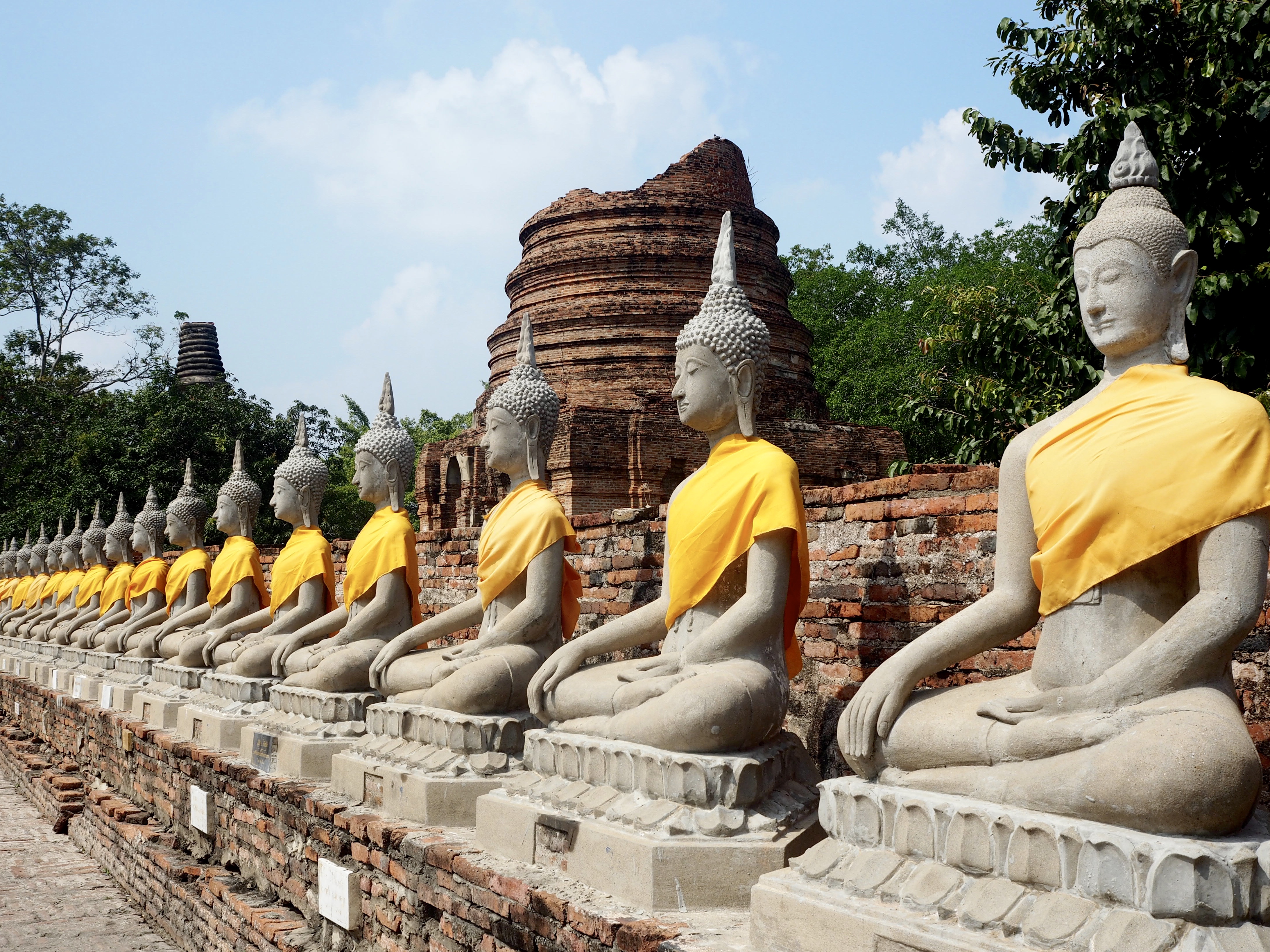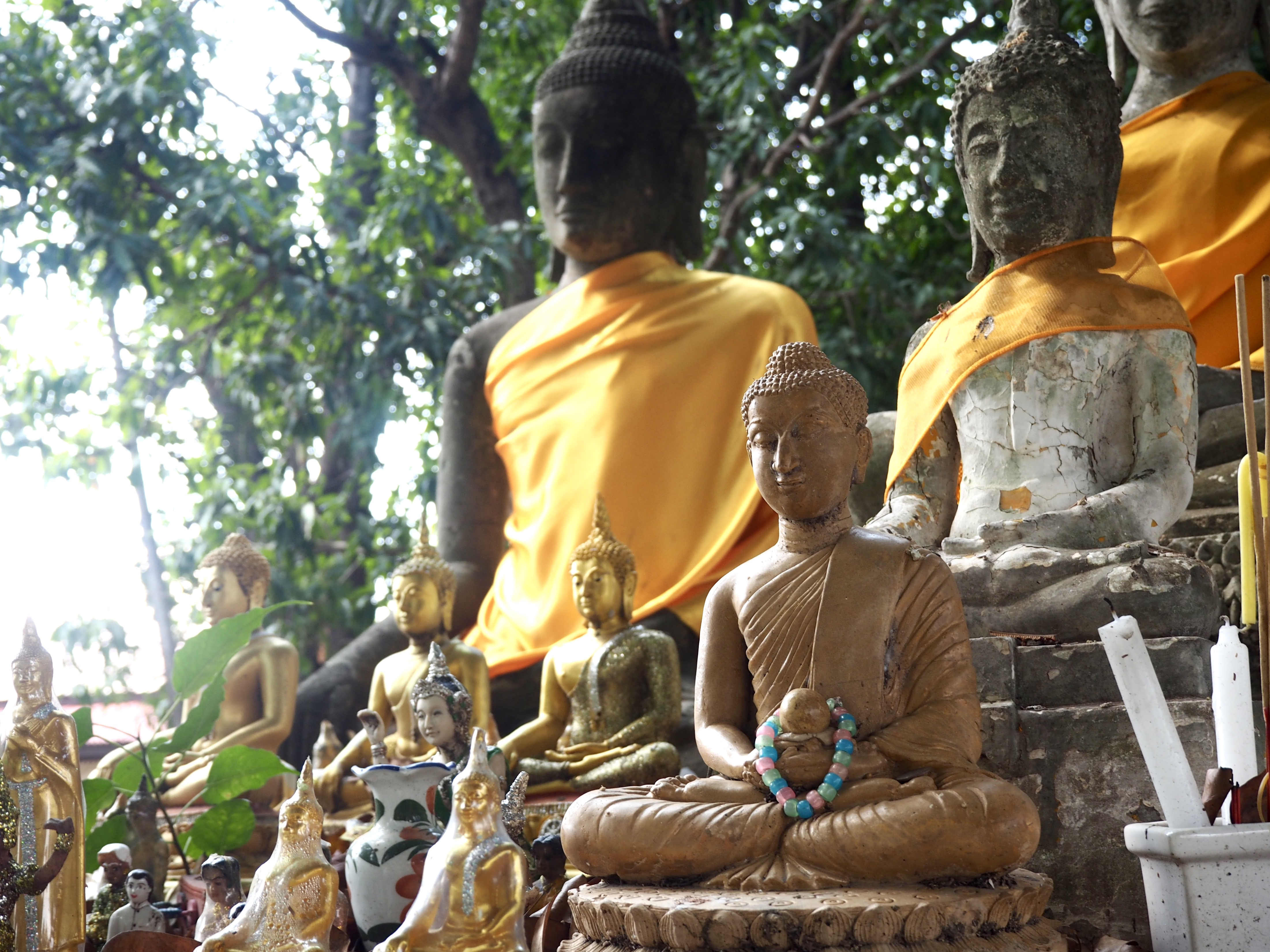 Wat Phanan Choeng
Wat Chaiwatthanaram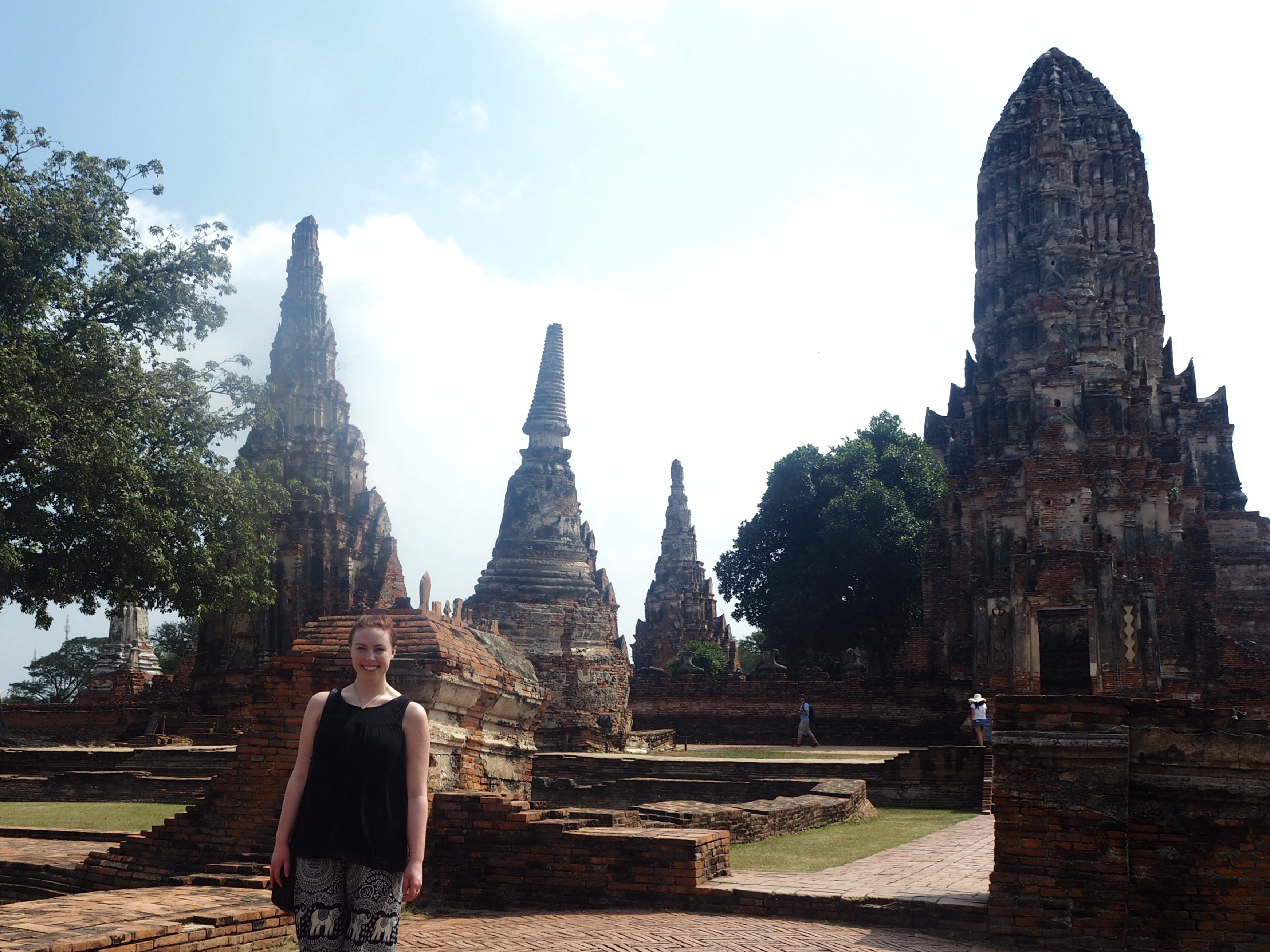 Between the heat, my own sweat, and sunscreen, my camera lens seems to have gotten a little smudged over the course of the day! Hence the weird fuzzy brightness in the middle of most of my photos… my bad.
Wat Lokkayasutharam
Wat Phu Khao Thong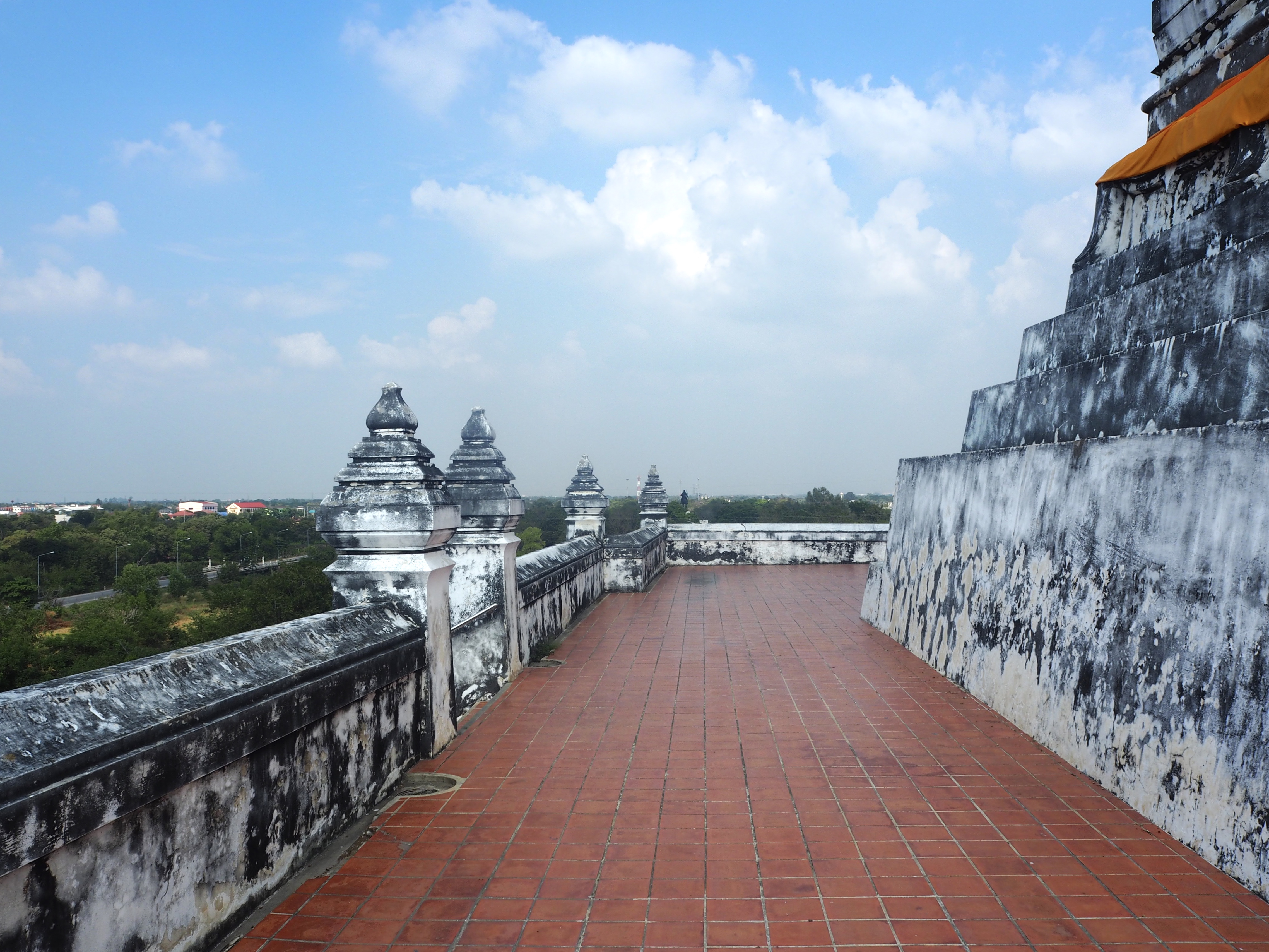 6. Wat Phra Sri Sanphet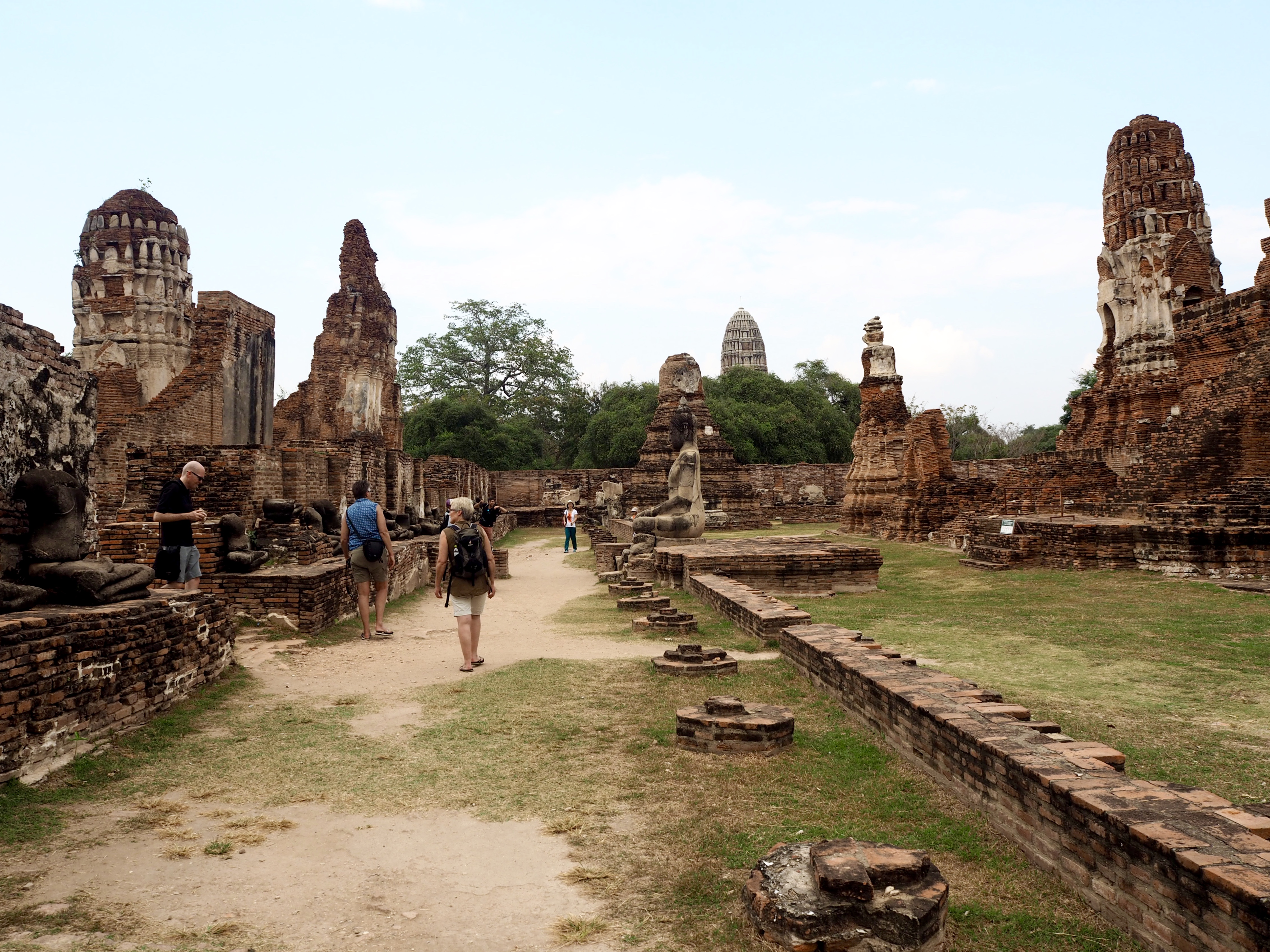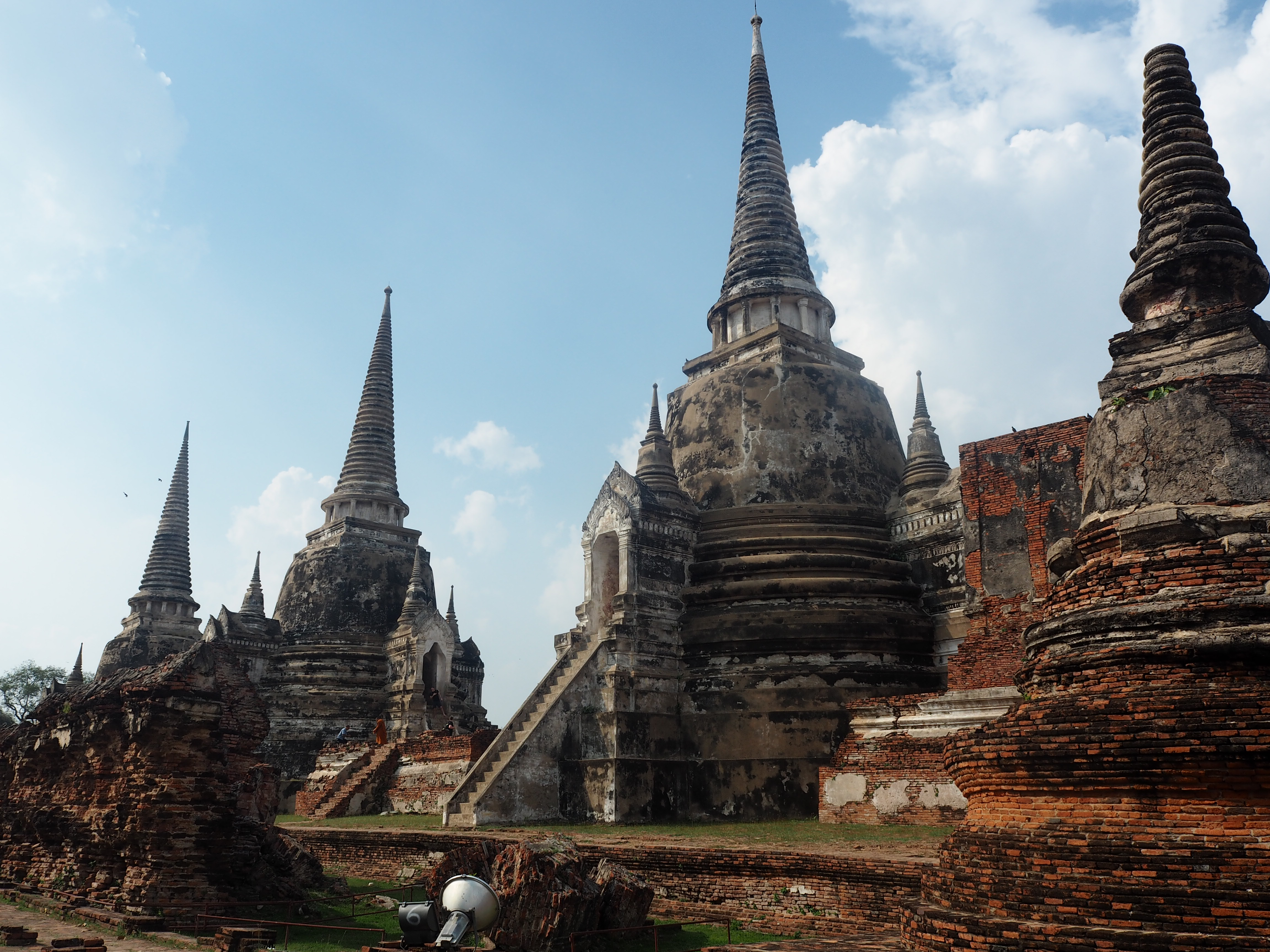 That was all for Ayutthaya! My driver (I like the sound of that) drove me back to the spot where I was to pick up the minibus back to Bangkok. I got on the bus and waited for the bus to fill (only about 10 minutes). Then the bus driver asked for the 60 baht for the trip back to Bangkok. I watched as everyone else handed over their money. When he got to me I told him I already paid. He looked at me blankly. I said, "I paid 120 baht for a round trip. The woman told me I needed to pay 120 for a round-trip. I already paid…" I was starting to anticipate what was about to happen next but there was an English speaking German man on the bus who condescendingly confirmed for me that I had been scammed and that they don't sell round-trip tickets for the minibus. Fuming, I handed over the 60 baht.
Even though I knew going into it that things like this were going to happen to me in Thailand, I was still really angry on principle. I was angry at the lack of fairness and that no one even cared. And I felt stupid. But how was I supposed to know they didn't sell round-trip tickets? I think I just wished I had someone there with me to complain to about it, but I was alone. Luckily I got over it in about 20 minutes and decide to move on. I looked up the conversion rate once I was back to my hostel and on wifi… turns out 60 baht is equal to about $1.65 USD 🙂
I hope that woman really enjoyed the 60 baht!
For more information on the history of Ayutthaya, here is a very quick video I found! I figured this will explain it better than I could!