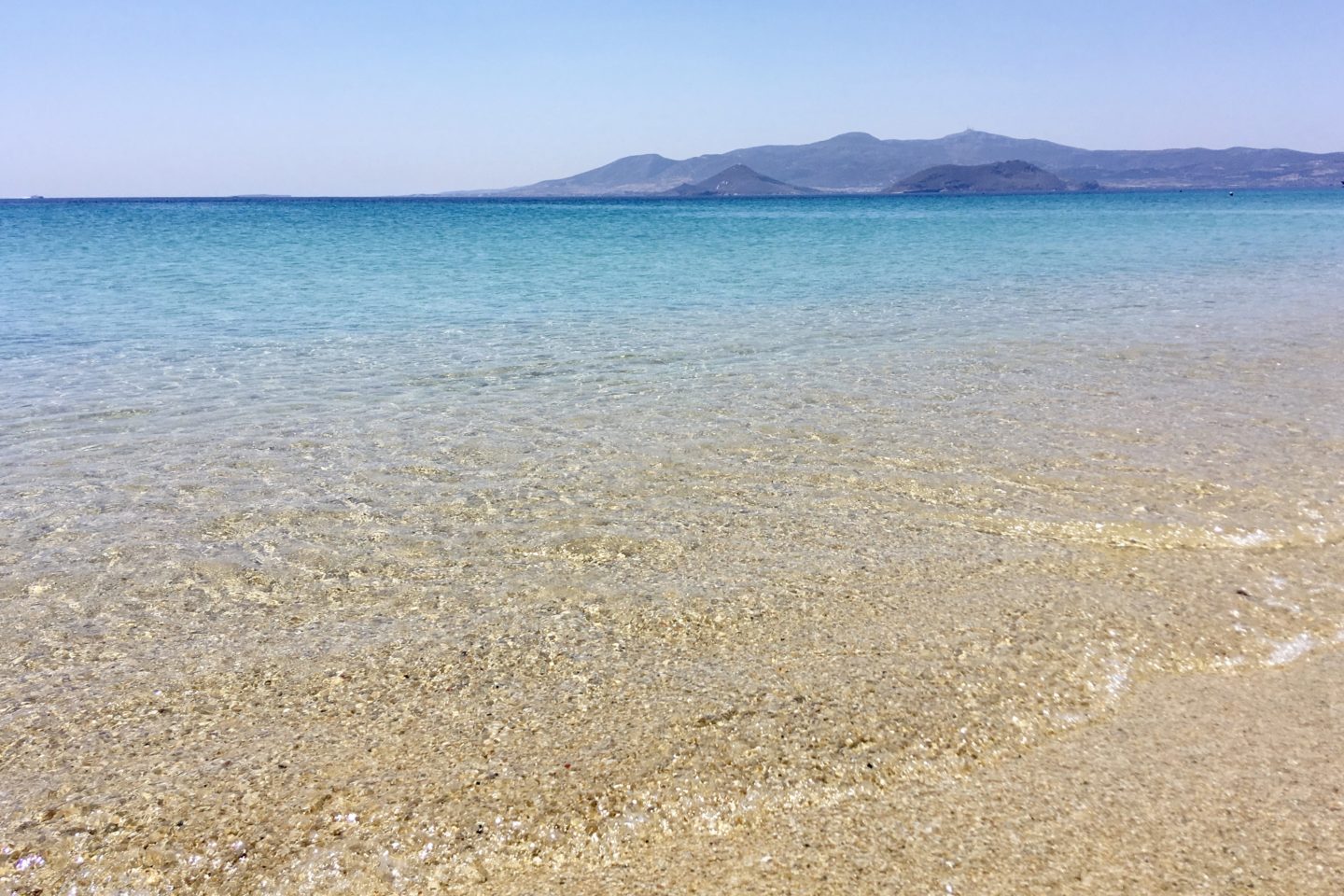 This past year in Ireland has been wonderful but by last spring I was desperate to swap the cool and unpredictable Irish weather for a bit of Greek sunshine. It had been a lifelong dream to visit Greece so once the thought popped into my head, I went ahead and impulsively booked flights for June!
I knew I wanted to hit the Greek islands – But how many? And which ones? There are SO many to choose from!
I would be in Athens for a day or two and I'd have about 4 days for islands. I really learned to enjoy slow travel while in Asia so in the end I decided to stick to one island. That way I'd have more time to relax and less time wasted on ferries.
So which island? As it was my very first trip to Greece I knew I had to pick somewhere good. I researched some of the islands I'd heard of before – some just sounded too busy, crowded, or full of partiers. I'd still like to see Santorini and Mykonos someday, but this time I wanted somewhere more quaint.
I had never heard of Naxos but I kept seeing it pop up on lists of the best beaches in the Greek islands. At the end of the day, all I wanted was a good beach anyway so Naxos was starting to sound pretty good! And from what I read, Naxos was neither too quiet and deserted, nor overrun with partiers. I was sold!
In the end I fell in love with Naxos and was so happy I chose it! Here are some of the reasons why…
Beaches
Duh! Sorry, I just need to say it again. LOOK AT THIS!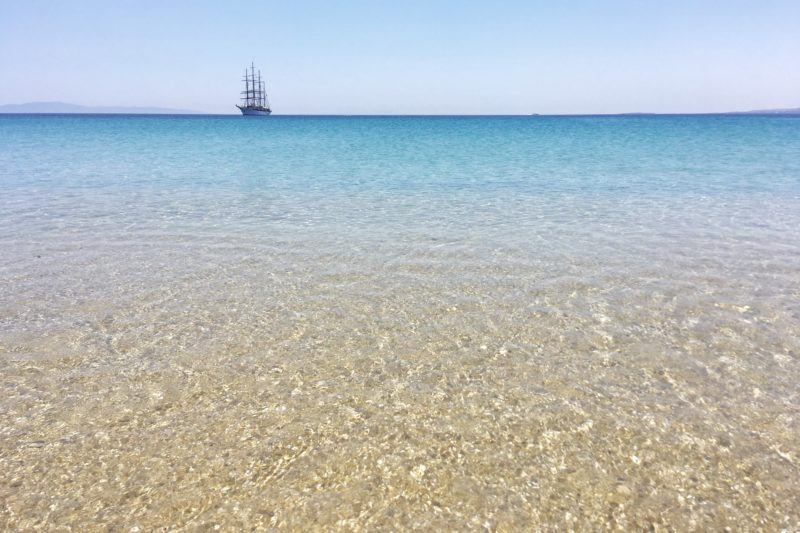 The blogs and articles were right. I've seen some incredible beaches in Thailand and Cambodia but Agios Prokopios Beach certainly ranks!
Not to mention it was so easy to get to this beach from the main town. It was about a 20 minute ride on a coach bus that picks up right by the port and drops off right at the beach. Luckily a nice Canadian man sat next to me on the bus and we started chatting. He'd been coming to Naxos on holidays every year for the past 30 years! He recommended a few restaurants but best of all, he told me that when I get to the beach to walk allllll the way down, past the 'umbrella farms' as he called them (the area jam packed with umbrellas and lounge chairs). He said that's the best place to be, away from all the crowds, and was he ever right!
I followed his advice and walked down past all the crowds. The far end of the beach was essentially deserted, with only one small patch of umbrellas and chairs that were only half full. I wouldn't have ever known to walk down that far had it not been for the man on the bus! I can't imagine being more relaxed than I was that day.
The water was so gorgeous so I was constantly going in the water to swim. I never felt that my belongings on the beach were unsafe as there were so few people around and I could keep my eyes on them. I don't think I would have felt as comfortable in the 'umbrella farm.'
The best thing of all was the man who walked up and down the beach all day selling donuts. A tough way to make a living in the scorching heat, but I can't imagine a more welcome treat on my perfect beach day!
There were a few other beaches I wanted to try on Naxos but in the end I kept coming back to this one – it was just too good!
Naxos Town
Ah, the beautiful vista of the main town of Naxos. It's the first thing you see when you step off the ferry and it lures you in immediately with it's stacked white buildings and mountain vista. It just looks so 'Greek' and lovely!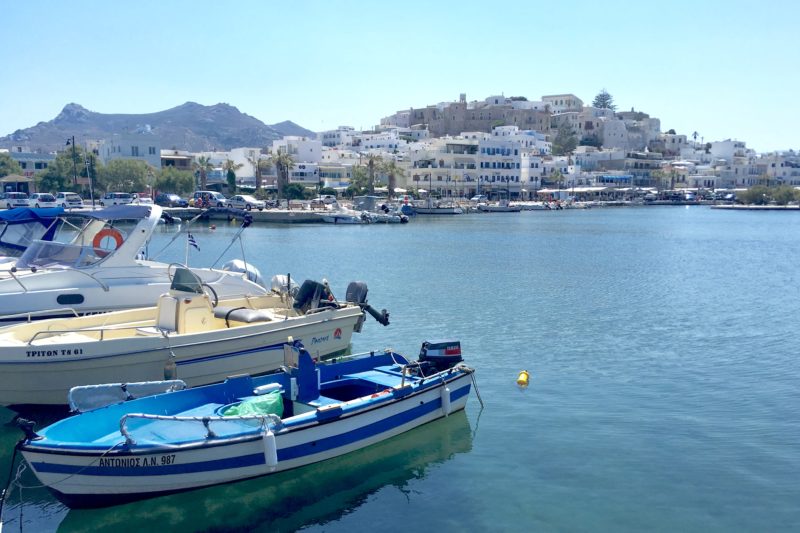 The town is the the most touristy part of the island, especially at night. There are loads of souvenir shops and there are restaurant staff lining the pavement trying to convince you to come in. Not my favourite thing, but sure it's unavoidable in tourist hotspots!
One night I headed into town around golden hour to sit and have a nice cocktail. I must say the sunsets on Naxos are something else. The town lights up gold and the sky goes pink and purple. It's an incredible sight!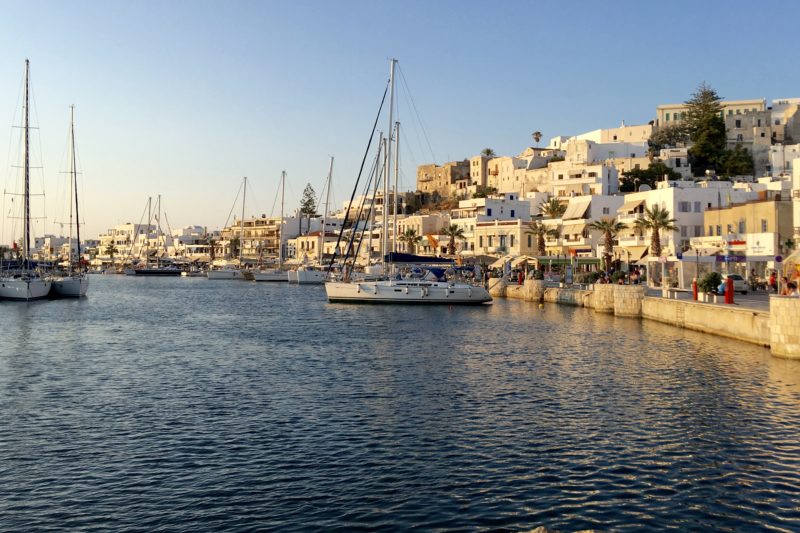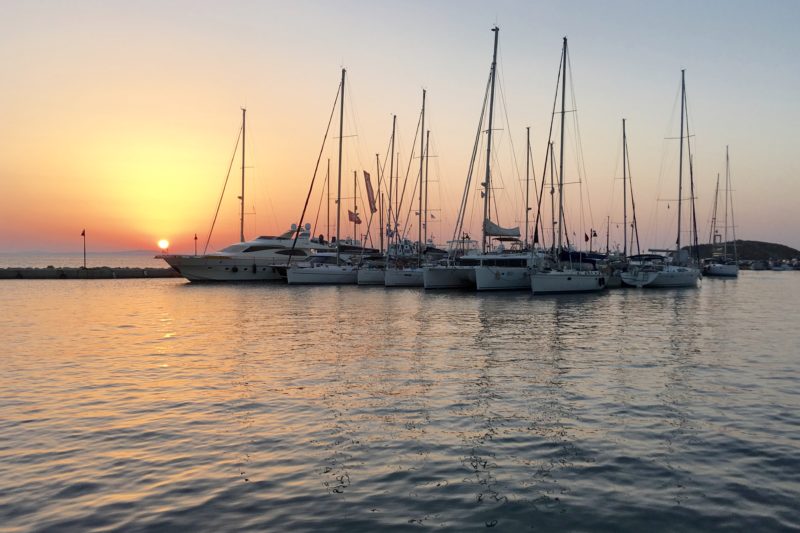 Captain Panos Sailing Tour
I'm going to do a separate post about my sailing excursion, but my day on the water with Captain Panos Sailing Tour made me love my time on Naxos even more!
Portara (Temple of Apollo)
As I said above, when you're walking off the ferry onto the island of Naxos, the first thing you will probably see is Naxos town, just to your right. But look left and you'll see a mysterious archway sitting atop a nearby hill.
This is the Portara, all that remains of an ancient Temple to Apollo. It's a quick 5 minute walk from Naxos town along the water and up a path to the top. The Portara is free to go up and see, and it's a very easy climb up some stairs.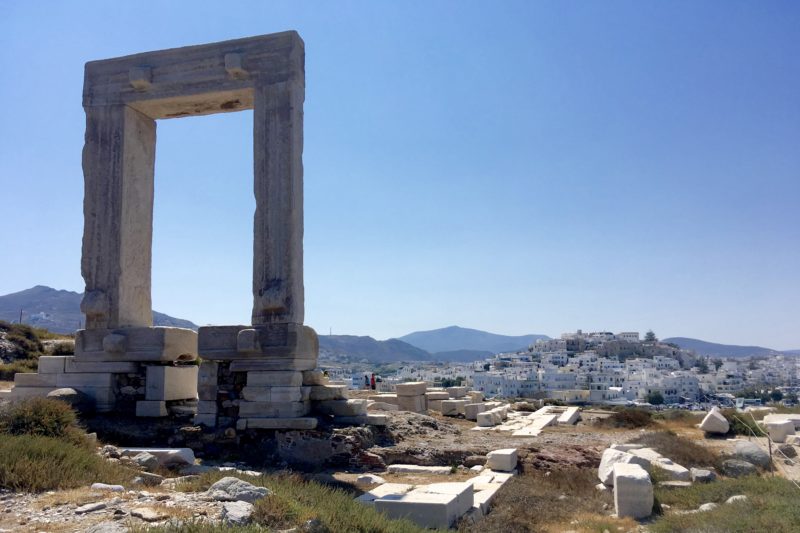 It's easy to see why the ancient inhabitants of Naxos would build their temple here. It's clearly a magical place with breathtaking views!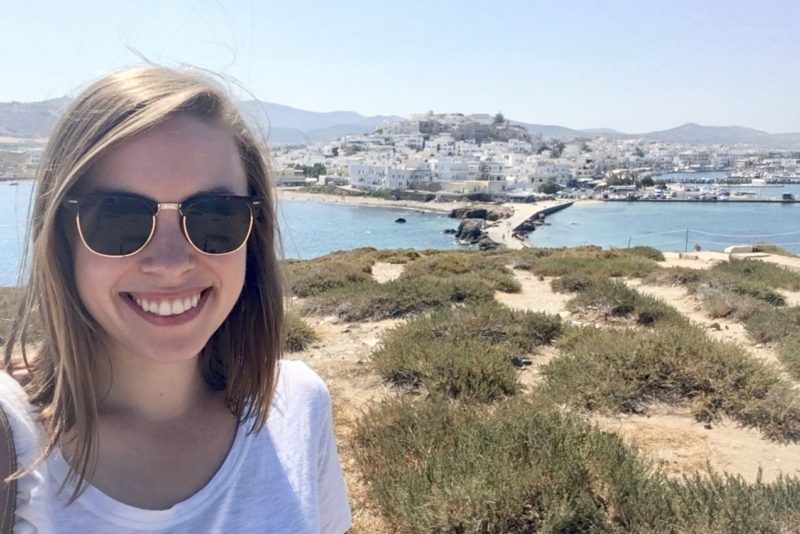 If you visit Naxos, it goes without saying that you'll want to see a sunset from up here. At first I was laughing at all the people crowded together, practically climbing over one another to get a perfect sunset photo through the arch. But then I realised I wanted that photo too!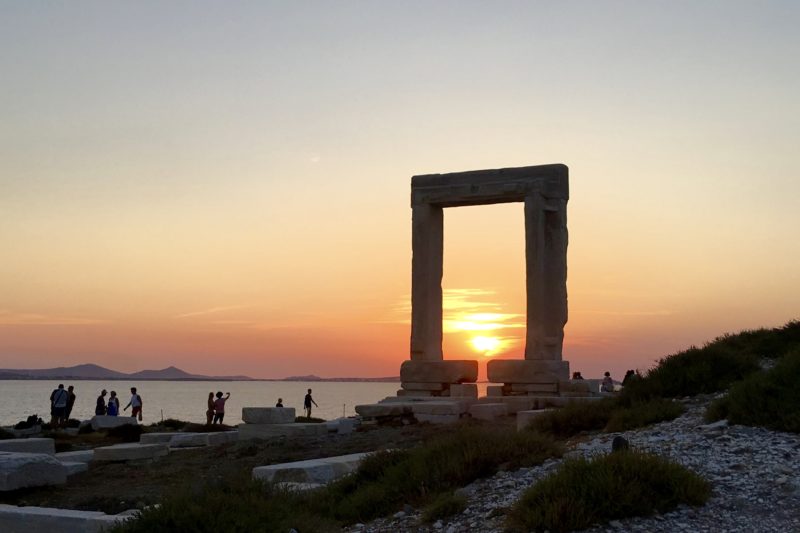 Stunning!
As an aside, there is one thing I meant to do but never got around to it. The island is home to a small castle in Naxos town with an archaeological museum. Normally I would probably make a beeline to a place like that straight off the ferry. Castles and archaeology are two of my favourite things! But for some reason the pull to the beach was a bit stronger and I couldn't tear myself away!
One of my goals of traveling is usually to learn a bit about where I am and visit a museum or two. But I think it's ok to to skip the cultural stuff every now and then and kick back! It just gives me an excuse to go back to Naxos and visit the museum another time 🙂
Naxos was the perfect introduction the the Greek islands for me. I already can't wait to plan more trips to other islands in the future (although I know I'll be tempted to go straight back to Naxos!)
Have you been to the Greek Islands? Which one is your favourite?