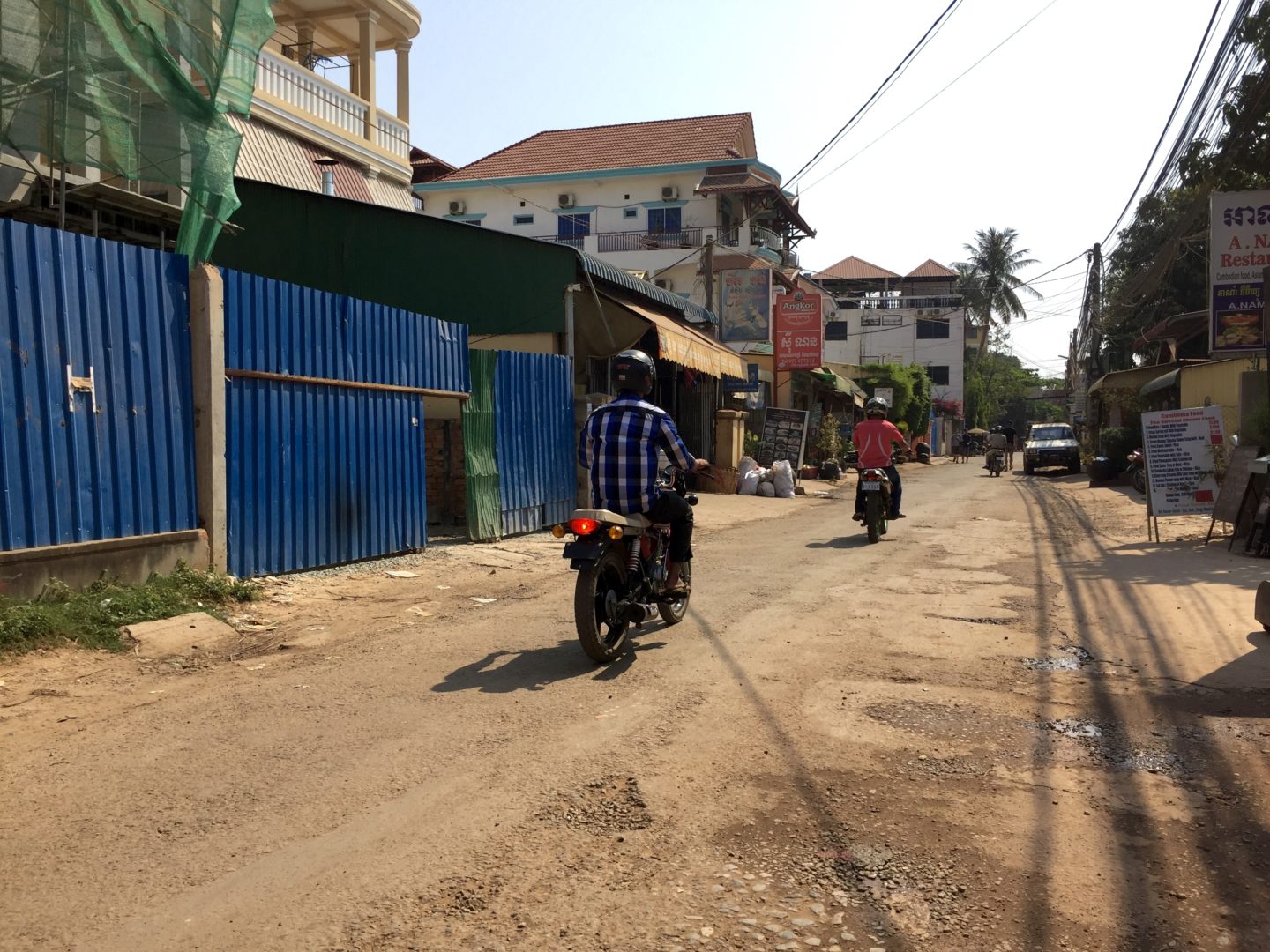 I want to warn you in advance that this post is going to be text-heavy. I decided to write about something less concrete and less photograph-able than my past posts.
Before I studied abroad in college, I was warned about culture shock. But as I was moving to study in Italy, the culture shock was very minor, just the odd frustrating moment here and there. Even going to Thailand wasn't too overwhelming due to the huge tourism industry and the fact that I was always surrounded by other Western travelers. But for me, my first night in Cambodia was really tough.
Visiting Siem Reap was a very exciting prospect for me as it is the home of the famous Angkor Wat temples. But to be honest I didn't know much about the country of Cambodia going into it. I've had some great experiences in the past, showing up in countries that I know nothing about with no preconceived notions, and loving every minute of experiencing a new culture. In fact, Poland and Hungary are now two of my favorites countries based on my experiences there after going in completely blind!
While I was both nervous and excited to get to Cambodia, I made it to Siem Reap and got in line for my visa upon arrival at the airport. After filling out a couple forms and waiting in a couple different lines, my passport, photos, and documents were taken from me and I was told to wait at the end of the counter with a handful of other tourists.
The immigration officer on the other side of the desk was a middle aged man, probably a supervisor. He was funny and tried to entertain us while we waited for our visas to be processed. After a few minutes he started speaking about his king and all the wonderful things he has done. He even asked if we wanted to see a picture of his king. He pulled out his phone and showed us a majestic photo of the King of Cambodia on his throne. It was actually the background on his phone. In Thailand I saw countless images and monuments dedicated to the Thai king, but I had not experienced any Thai people randomly bringing up the king in conversation like this. I was standing with a Canadian family with two young kids. I could tell from their expressions they weren't sure how to react to this either so we all smiled and nodded. The officer was beaming with pride.
I got my visa and headed for the airport cab stand. A woman at the cab stand desk assigned me to a cab driver and we headed off to my hostel.
As a solo female traveler, I have all sorts of little rules and guidelines for myself. Most of them are second nature but at the end of the day I just want to make sure I'm safe. One of those rules is I try not to arrive in a new place at night. It just makes things more difficult and can also be a little eerie trying to get around on my own at night before I understand the lay of the land. However, the flights into Siem Reap were more expensive than I would have liked and I went for an evening flight that arrived after dark. So for that reason I made sure I took an official airport taxi with a licensed and documented driver, even though it would be more expensive than a tuk tuk or public transportation.
The driver took off out of the airport parking lot and the first thing I noticed was how dark Cambodia was. At first I thought maybe he was taking some sort of creepy back road but then I realized that there just weren't any streetlights in this area between the airport and the city. The roads were really bumpy and clearly unpaved.
While I was silently taking in all this sensory information in the backseat, my very friendly driver was trying to chat and get to know me. I tried to chat without revealing too much about myself. He then asked me what I was doing tomorrow and when I would be going to see the temples (the main reason tourists go to Siem Reap). He started trying to get me to hire him as a driver to take me around to the Angkor Wat temples. Later, I would realize this is the norm in Siem Reap. Every taxi and tuk tuk driver wants to capitalize on the tourists coming to see the temples. But in the moment, I was starting to feel uncomfortable by his hard sell plus the fact that we were clearly driving through the middle of nowhere at night and I couldn't even see  anything out the windows. He even made a strange comment about driving me around to dinner and drinks after the temples. Again, now that I've experienced Cambodia, it all seems less weird to me and he was just trying to get me to hire him. But I have to say that first taxi ride into Siem Reap was the only moment I felt nervous and uncomfortable while traveling alone in Asia.
When I started to see the lights and bustle of Siem Reap coming into view I breathed a sigh of relief. Once again, I'm glad to have a healthy sense of paranoia to keep me on my toes but at the end of the day my anxiety is mostly due to cultural differences. We pulled up to my hostel and he tried to get me to commit to hiring him. I told him I'd take his information and I'd be in touch. He gave me his business card, which I stuffed in my wallet and wouldn't look at again until months later. Just last week I realized I still have it in there!
I dropped my stuff in the hostel and went out to find food before bed. Walking through the streets of Siem Reap was something else. It's difficult to describe how it is both similar yet very different than what I'd become accustomed to in Thailand. The hustle and bustle was definitely similar, with tuk tuks, motorbikes, and people everywhere. But many of the roads, even in the middle of the city, were just dirt and mud. Siem Reap is not the capital of Cambodia, but it is one of the largest cities and a massive tourist attraction. I was surprised to see the lack of modern infrastructure. Any sidewalks they had were cracked and crumbling. The poverty level was striking and it's the thing I remember most about my time in Cambodia.
Then there were the tuk tuks. Tuk tuk drivers in Thailand would of course ask if you need a ride but I've never been accosted the way I was in Siem Reap. If there were 10 tuk tuks all parked in a row along a street where I was walking, every. single. driver. would call out to me (LADY! TUK TUK?? LADY!!!) despite me clearly ignoring all of them or explicitly telling them NO. I also didn't know where to go to get food and even if I wanted to use a tuk tuk, that night I wasn't planning on giving any of the drivers the time of day out of pure stubbornnness so I insisted on walking around aimlessly until I found a restaurant. After a long day, my patience was growing thin, having (what seemed like) every tuk tuk driver in the whole city asking if I needed a lift.
I found that I was actually angry at Cambodia for being so obnoxious. I had never felt unsafe in Thailand but all of a sudden I felt like I was on high-alert in this new place. For the first time I actually missed home and how easy everything is there. I think this was my first instance of pure culture shock in my life.
There came a point, once I was back in the hostel, where my emotions of being on my own for so long and being so frustrated by everything around me that I shed a couple tears. But that's exactly what culture shock is and what it does to you. Luckily I had prepared for this moment and I knew that everything I was feeling were textbook symptoms of culture shock. I knew that I would be fine once I had some sleep and had some time to adjust. I texted one of the friends I had made in Thailand during my mini-breakdown. She gave me some great advice: book myself a nice, comfortable hotel room at my next destination. Sometimes hostel life wears you thin and you need to recharge after a while. Of course she was right and I instantly booked a room for myself at a hotel in my next destination, Phnom Penh. Knowing that I would soon be in the lap of luxury (my own bed and bathroom!) in a few days' time, I slept well and the rest of my stay in Siem Reap was much less dramatic. 🙂
Cambodia is not a terrible place but this was just my instantaneous reaction to it. I can't say I ever really fell in love with this country but it certainly wasn't as bad as I've just made it seem!
Once again, a not-so-happy post but I promise my next post about the rest of my time in Siem Reap and visiting the temples of Angkor Wat will be more positive and will have more photos!
Have you ever experienced culture shock like this in a new place? How did you overcome it?